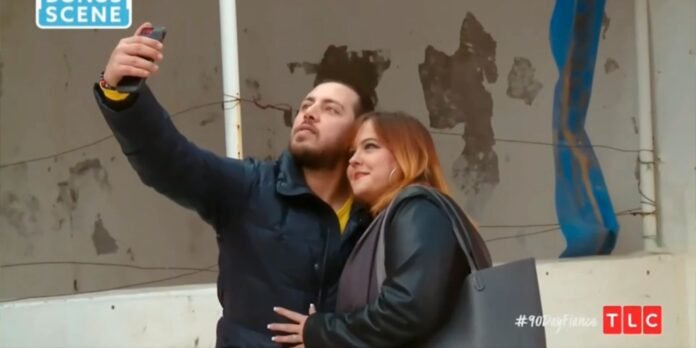 On Rebecca Parrott's 50th birthday, her fiance Zied created a video montage of some adorable and unseen pictures, to the surprise and delight of fans.
90 Day Fiance star Rebecca Parrott recently turned 50! Although she didn't post any celebration pictures, it appears that she celebrated her milestone birthday around her loved ones. It looks like the Georgia native is still going strong with her Tunisian fiance Zied Hakimi because he posted a cute video montage on his Instagram. He wished Rebecca a happy birthday and shared some unseen pictures in the video.
Many TLC viewers would be surprised to know that Rebecca is 50 because she hardly has any wrinkles on her face. But, it seems like she feels a little insecure about the way she looks. Before celebrating her 50th birthday, Rebecca underwent a weight loss procedure, which involved laser liposuction and body contouring. She appeared quite content with the results and posted before and after weight loss comparison on her IG. She then proceeded to have her lips injected with Dysport, which works just like botox. She is now showing off her puffier and symmetrical new lips on Instagram. Still, many 90 Day Fiance viewers think that she looks gorgeous without these temporary cosmetic treatments, and she should just age naturally.
Continue scrolling to keep reading
Click the button below to start this article in quick view.
Related: 90 Day Fiance: Angela Deem's Mini-Me Shows Off Her Skills on IG
It's possible that Rebecca feels insecure that her fiance is 20 years younger than her, and she needs to look young. However, she has nothing to worry about because her future husband is madly in love with her! On Rebecca's 50th birthday, Zied created a beautiful video montage and wrote, "Happy birthday," followed by a Tunisian and an American flag emoji. He included several cuddly pictures with Rebecca in the video. In one of the photos, he is dressed as Santa while Rebecca is holding her hand.
Most of the 90 Day Fiance fans love this couple, and they were glad to see that they are still going strong. They wished Rebecca a happy birthday and left tons of lovely comments on the post. A fan wrote, "Beautiful photos Zied!!" Another fan wrote, "You two are bada** together." Somebody else noted, "Zied got tattoos!!! Best his parents don't know." Well, it looks like the tattoos are fake. Zied is Muslim and follows Islam, and tattoos are against his culture and religion.
Rebecca's daughter, Tiffany, who briefly appeared on the show with her fiance, also posted some throwback pictures with her mother. By looking at those old pictures, it's clear that Rebecca is an ageless beauty. In the decade-old photos, she looked exactly the way she looks today. Many 90 Day Fiance viewers are now convinced that the mama-of-three Rebecca has stopped aging!
Next: 90 Day Fiance: Rebecca Suffers Makeup Malfunction On 'Facetuned' Face
Source: Zied Hakimi
90 Day Fiancé: Skinny Angela Deem Looks Half Her Age In New Stunning Pic
About The Author