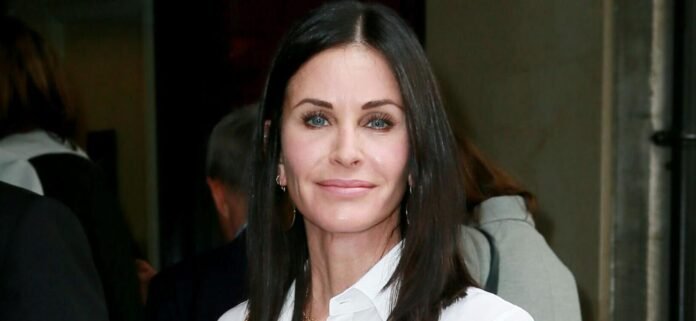 Courteney Cox is making rounds with her latest cover story, which she did for The Sunday Times Style Magazine. The "Friends" alum dazzled in various looks and received many compliments from her celebrities, friends, and fans.
The actress was styled in various stunning looks, which she shared on Instagram. She posted a video that showed off her abs in a cropped blazer held together with a button and paired with flowy black pants. She captioned the video with, "Playing dress-up, very seriously."
The star highlighted her figure in a series of leather looks as she looked stunning in a leather blazer. She leaned over a table, hand in her tousled hair, donning an oversized denim logomania blazer by Giorgio Armani.
A horde of celebrities flocked to the post to compliment the mother of one. Jennifer Garner commented, "Beautiful!" while Olivia Munn posted "Queen," alongside Celeste Barber, who responded with "Um, excuse me, please."
Sara Foster, Tan France, and Leslie Mann also dropped comments.
Cox's Struggle With Ageing
In the cover story, which was headlined "Up Close And Personal With Courtney Cox," she promoted her new show for Starz. She also shared some surgical procedures that left her feeling unrecognizable and odd.
"There was a time when you go, 'Oh, I am changing. I am looking older.' And I tried to chase that [youthfulness] for years," Cox began. "The next thing you know, you are layered and layered and layered. You have no idea because it is gradual until you go, 'Oh s–t, this does not look right.' And it is worse in pictures than in real life. I have one friend who was like, 'Whoa, no more!" I thought I had not done anything in six months. I did not realize."
The star added that "people would talk about me, I think," and that "there was a period where I went, 'I've got to stop. That's just crazy.'"
This Isn't The First Time She's Expressed Her Regret
In 2017, she admitted to New Beauty that she had some regrets about her looks.
"You go to a doctor who would say, 'You look great, but what would help is a little injection here or filler there," she recalled. "So you walk out and you don't look so bad and you think, 'No one noticed — it's good."
However, after meeting several dermatologists, she explained she ended up getting more fillers than initially intended.
"I've had all my fillers dissolved," she disclosed at the time. "I'm as natural as I can be. I feel better because I look like myself. I think that I now look more like the person that I was. I hope I do."
She added, "You need movement in your face, especially if you have thin skin like I do. I've had to learn to embrace movement and realize that fillers are not my friend."
The star's glowing skin at the moment isn't due to any work or surgical procedure; it's owing to her love for skincare and makeup as a self-acclaimed product junkie.
In December 2021, she divulged her skincare secrets to Popsugar. "I think cleaning your skin and moisturizing is the best beauty tip you could have," the "Cougar Town" star revealed while she swore by the Clarisonic brush.
Fans' Reactions To Cox
Many fans of the "Scream" actress shared their thoughts in a Reddit thread, with one expressing their sadness at celebrities feeling like they had to keep up by having a cosmetic procedure.
A fan responded, "I hope more women in the film industry will let themselves age naturally," while another said, "She looks like herself again!"
Most fans also appreciate her honesty and request to have her fillers taken out to feel like herself again. They also hope this would inspire and spur others to discard plastic surgery while embracing a natural way of getting older.
Other Celebrities Who Have Also Spoken About Their Cosmetic Surgery Experience
In 2019, Cardi B announced that she had recently undergone liposuction. She later discussed the healing process in an interview with E!News.
"When you see somebody that had lipo, you think that they just go into the doctor's and like boop, you come out and you look amazing. But it's actually like a very long process, recovery. It actually takes like a little bit more than three or four months."
Two years after, Clare Crawley underwent a breast explant surgery, citing health conditions as her reasons. "As much as I love my implants, my body is fighting them and recognizes it as something obviously foreign in my body," "The Bachelorette" star explained in an Instagram video. "As much as I loved having these, this is so important to me that I love my health more. I love my well-being more. That's what matters."