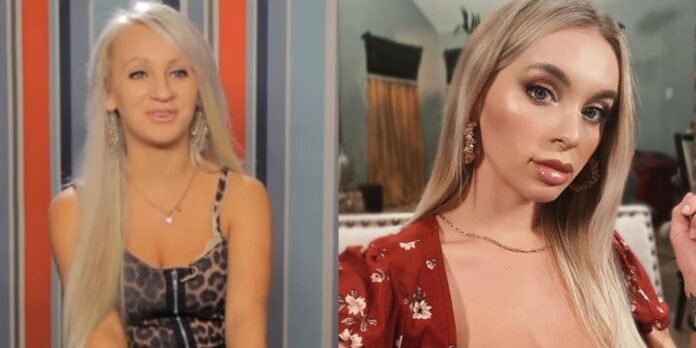 With curiosity over Yara Zaya's looks on the rise, she has revealed the shocking truth about her plastic surgery procedures on Instagram.
It's a fact that whenever a certain 90 Day Fiancé star looks different on their Instagram than they do on TV screens, fans wonder if they've undergone plastic surgery – just take Yara Zaya, for instance. The Ukrainian blonde wowed fans with her confident gait, style, and make-up when she showed up on episode 1 of season 8 with Jovi Dufren. But as Yara's storyline evolved on TLC, so did her looks on her IG posts. Alongside, an old video of Yara from a Ukraine dating show also gave rise to nose job and breast augmentation rumors. But in a recent Q&A, Yara has promptly denied going under the knife, for her chest, back, or otherwise.
Continue scrolling to keep reading
Click the button below to start this article in quick view.
While Yara's initial storyline on 90 Day Fiancé season 8 showed her as someone who could be using Jovi for money when not even being in love with him, things seem different now. It was also Yara declaring that she was on the prowl for rich "foreign" men in the throwback video when she was 19, added to the speculations. But the Yara who had then suggested that she doesn't believe in love proved TLC viewers wrong with the honesty with which she dealt with Jovi's stereotype-believer parents. While adding that she won't think twice before leaving America to go to Budapest after marrying Jovi, Yara now comes across as someone who deeply wishes the best for her alcohol-favoring husband-to-be. But should Yara be believed when she says that she hasn't undergone any cosmetic surgery?
Related: 90 Day Fiancé: Jovi's Yara Looks Different With Brown Hair In IG Pic
After spending the Valentine's Day weekend celebrating her one-year wedding anniversary with Jovi and their baby daughter in Miami, Yara is now in Los Angeles. Accompanied by Jovi in California, Yara took to Instagram to while away some time, and answer some burning questions from her Instagram followers. And while revealing that she wants three kids with Jovi and that she was born with "toilet-colored" blonde hair, Yara confessed that she'll be launching her clothing website soon. However, Yara shocked 90 Day Fiancé fans when she chose to answer the question, "Do you have fake boobs?"
Bluntly, Yara replied, "So many people are saying this, no guys." While pointing to her chest, Yara claimed, "this is natural. No silicone." For those saying that Yara's rear end is "silicon too," Jovi's wife clapped back with, "my a** is flat like pancake. There is no silicone." Furthermore, Yara added that she's not had any "Botox too." But in a later story, reposted by 90DayFianceFanatics, she confessed to getting lip injections. "Yes, I did probably four years ago or something," Yara revealed before sharing that she wasn't happy with it, but said she could change her mind "one day."
With her ever-increasing popularity on 90 Day Fiancé, Yara's fame and list of critics is forever on the rise. But on the personal front, life seems to be much better for Yara and Jovi than it is on screen. Many fans believe that Jovi and Yara's "dysfunctional relationship" is a classic 90 Day Fiancé storyline. In that case, Yara's forever-changing face on Instagram may just be the result of photo-editing apps.
Next: 90 Day Fiancé: All Clues That Jovi & Yara Had A Baby Girl
Sources: Yara Zaya, 90DayFianceFanatics
90 Day Fiancé: Natalie's 'Gross' Hair Eating Pic Surfaces, Fans React
About The Author