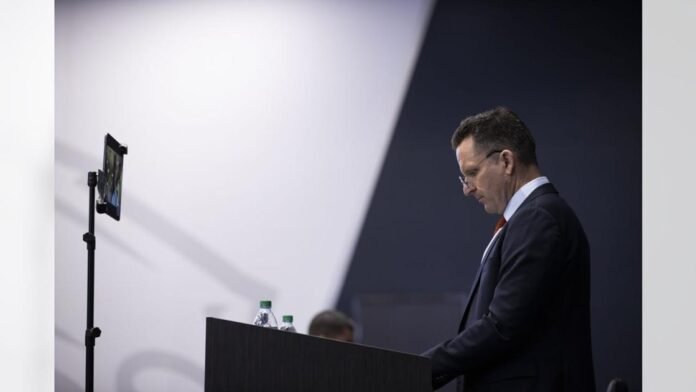 If George Paton were asked to give an important address about the Denver NFL team, he would say: "13655 East Broncos Parkway.''
When the Broncos' garden-fresh general manager does a Zoom conference call with the press every 44 days since his arrival at franchise headquarters, he uses a few short sentences instead of several long paragraphs. Paton is a man of few words, such as "He's a good football player,'' "We want him back'' and "I can't talk about that.''
GM George's actions have to speak very loudly soon.
He'll never be compared as an orator with George S. Patton or Demosthenes.
Outside his inner sanctum at Dove Valley — where 18 hours a day Paton is meeting and conversing with staff, coaches, players and agents, and staring at film — George is not a man for dissertations, discourse and dialogue.
Chitchat and on-and-off-the record conversations are not his G-Force.
In researching the archives of the Minneapolis and St. Paul daily newspapers for "George Paton interviews'' during his 14 years as an executive with the Vikings, I found zero. Google George Paton quotations from before Jan. 19, 2021. There's nothing John Bartlett would publish. Writers in Minnesota told me Paton had responded "Thank you'' and "Hello'' a couple of times.
Paton didn't come here to talk. Don't expect any witty repartee.
And certainly don't wait around for George to give Broncos' fanatics inside information and insightful news flashes. If you hear the phrase "sources close to Paton,'' pay no attention. Sources close to Paton shut up. Think Marcel Marceau or Harpo Marx.
Paton is the opposite of Doug Moe and Shannon Sharpe. Joe Sakic, The Quiet Man, is a gabfest in contrast. John Elway enjoyed debate and discussion — to a point.
So, go ahead and question Paton about the possibility of trading for Deshaun Watson or Russell Wilson, signing a veteran unrestricted free-agent quarterback or rising in the draft to select one of the Big Four college QBs.
George will provide you a moment of Drew Lock. The GM "did a deep dive,'' he said, and likes some things about Drew and is happy that the for-the-moment starting quarterback is showing up at the facility and can develop, but the team will have competition at the position. Take that intelligence report for what it's worth.
Paton did "reveal" Thursday that the Broncos want Von Miller back and Justin Simmons back and Kareem Jackson back and Phillip Lindsay back and Shelby Harris back because they are good football players, but they may not be back. Paton didn't want A.J. Bouye and Jurrell Casey back, but they are good football players, he said.
The general manager doesn't have a "tell'' (poker giveaway) on a conference video. His facial expressions ae so tight he might be accused of Botox injections.
Here's what George did say about the No. 9 overall pick in the draft April 29:
"We're open to any position at that first pick,'' Paton said. Stop the presses! Breaking bulletin! Tweet it!
"We're going to pick the best player who can help this football team. Quarterback, safety — it doesn't matter what position. Best player on the board we're going to take him.''
It goes, obviously without saying from Payton, that the Broncos won't take that direction if they trade up or trade down or make a major transaction prior to the draft for a quarterback from another team that would require six or seven picks in return. He reiterated from his only other media appearance, Jan. 19 when he was introduced as the Broncos' new GM, that the franchise "will be in on every deal'' although they really haven't been and won't be.
But Paton seemed to be suggesting that the Broncos could choose a QB if Trevor Lawrence, Justin Fields, Zach Wilson or Trey Lance (probably eighth to the Panthers) still were on the Broncos' Big Board. However, chances are the four quarterbacks, two wide receivers the Broncos don't need and offensive tackle Penei Sewell will be gone, leaving the Broncos with cornerbacks Caleb Farley and Patrick Surtain II and linebacker Micah Parsons most likely available.
The man who is not yakking and whose address is in Englewood will make the final decision without consulting us.