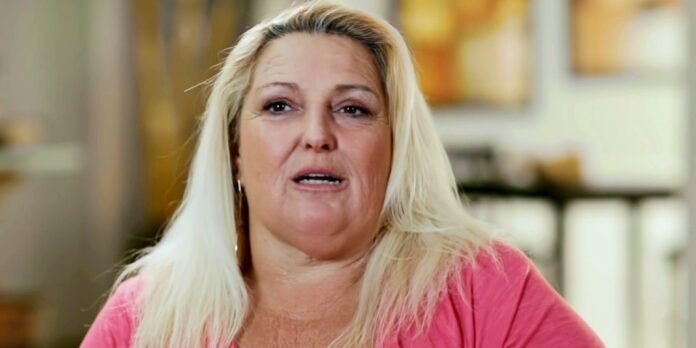 Angela Deem is a 90 Day Fiance franchise star who has opened up about why she opted for weight loss surgery. Find out the real reason now.
Michael Ilesanmi was unhappy when 90 Day Fiancé star Angela Deem revealed that she chose weight loss surgery over IVF. Angela, 55, had previously been discussing the possibility of getting IVF so she and Michael could try to have a baby. She spilled the beans at the 90 Day Fiancé: Happily Ever After? Tell-All. After her surgery, she lost almost 90 pounds, and before and after photos show that Angela looks nothing like she used to. Now, she's shared the reason for her dramatic physical transformation.
When Angela revealed her plastic surgery plans, without getting into any details, her husband's reaction was, "no, no, no!" The Nigerian man, who's currently awaiting his spousal visa, quipped that Angela was "lucky they were miles apart." The grandmother of six didn't seem to pay much attention to Michael's protests. He insisted that he didn't like all the "artificial stuff," but Angela claimed that she was getting out of breath when she climbed the stairs. The Georgia meemaw, in her typical boisterous way, added that she has been beautiful her entire life but had a weight problem.
Continue scrolling to keep reading
Click the button below to start this article in quick view.
Related: 90 Day Fiancé: Why Angela Deem Forgave Michael Ilesanmi For Cheating
Even though Michael showed he was happy with the way that Angela looked, he'd infamously called his 90 Day Fiancé wife "fat" during her first visit to Nigeria. Angela noted that during her last visit to the country over a year ago, she was "just putting on weight." While speaking to Us, Angela confessed, "Nobody can say, 'No, you're not,' because I have big boobs. And my big boobs [have] always been something that covered up my weight, you know what I mean?" However, she remembers telling Michael that she was getting "bigger or swollen." The realization that she had gained almost 25 pounds hit Angela "all at once."
Angela used to be a heavy smoker but some fans think she quit smoking recently. She claimed that she was out of breath "all the time" but didn't blame the problem on a "smoking issue." She said it was due to her weight: "And, you know, maybe at 55 I said — or I was 54 at the time — I said, 'You know, when you get older as women, we do gain weight.'" Angela said losing weight was harder because she was older. She added, "And I never believed that until I got in that situation. So, I said, you know, 'I'm going to die.'"
Apart from her face that was "blowing up," Angela confessed to having no energy. She stated that the kids suffered right along with her as she just "wouldn't move." Eventually, Angela revealed the major reason for her choice to get the three procedures. She confessed, "I've always wanted to enhance my look for Michael because of his age, but this journey, you know, people need to know I felt like [I would have] died without the weight-loss surgery." However, she maintains that Michael was neither thrilled nor supportive, as according to her, they don't have surgeries in Nigeria.
"Michael don't see me as 55, like everybody else. Michael really sees me as his age," gushed Angela, but she felt alone during the entire ordeal, as she needed his support. She said that without her grandkids, she would have been all by herself. However, Angela gets love from fans and castmates, who send her plenty of caring messages. Clearly, fans cannot wait to be a part of Angela's journey, albeit a little late, when she returns to TLC for 90 Day Fiancé: Happily Ever After? season 6.
Next: 90 Day Fiancé: Why Angela's Being Dragged For Weight Loss Pills Promo
Source: Us
90 Day Fiance: Inside Colt Johnson's Transformation (Before & After)
About The Author