The National Resident Matching Program (NMRP) announced this afternoon that this year's Main Residency Match was the largest in its history.
A total of 38,106 positions were offered, up 850 spots (2.3%) from 2020. Of those, 35,194 were first-year (PGY-1) positions, which was 928 more than the previous year (2.7%). A record 5915 programs were part of the Match, 88 more than 2020.
"The application and recruitment cycle was upended as a result of the pandemic, yet the results of the Match continue to demonstrate strong and consistent outcomes for participants," Donna L. Lamb, DHSc, MBA, BSN, NRMP president and CEO, said in a new release.
The report comes amid a year of Zoom interview fatigue, canceled testing, and virus fears and work-arounds, which the NMRP has never had to wrestle with since it was established in 1952.
Despite challenges, fill rates increased across the board. Of the 38,106 total positions offered, 36,179 were filled, representing a 2.6% increase over 2020. Of the 35,194 first-year positions available, 33,535 were filled, representing a 2.9% increase.
Those rates drove the percentage of all positions filled to 94.9% (up from 94.6%) and the percentage of PGY-1 positions filled to 94.8% (also up from 94.6%). There were 1927 unfilled positions, a decline of 71 (3.6%) from 2020.
Primary Care Results Strong
Of the first-year positions offered, 17,649 (49.6%) were in family medicine, internal medicine, and pediatrics. That's an increase of 514 positions (3%) over 2020.
Of first-year positions offered in 2021, 16,860 (95.5%) were filled. US seniors took 11,013 (65.3%) of those slots; that represents a slight decline (0.3%) from 2020. Family medicine saw a gain of 63 US MD seniors who matched, and internal medicine saw a gain of 93 US DO seniors who matched.
Some Specialties Filled All Positions
PGY-1 specialties with 30 positions or more that filled all available positions include dermatology, emergency medicine, pediatrics, neurologic surgery, otolaryngology, integrated plastic surgery, and vascular surgery.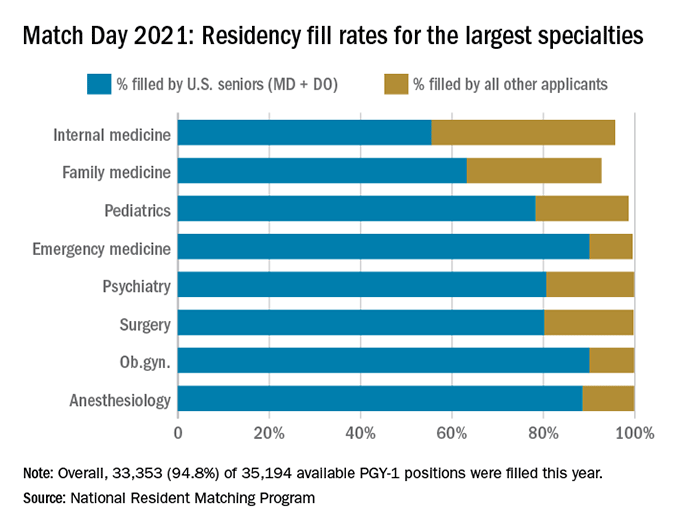 PGY-1 specialties with 30 positions or more that filled more than 90% with US seniors include dermatology (100%), emergency medicine (93.6%), pediatrics (93.5%), otolaryngology (93.2%), orthopedic surgery (92.8%), and integrated plastic surgery (90.4%).
PGY-1 specialties with at least 30 positions that filled less than 50% with US seniors include pathology (41.4 %) and surgery–preliminary (28%).
The number of US citizen international medical graduates who submitted rank-ordered lists was 5295, an increase of 128 (2.5%) over 2020 and the highest in 6 years; 3152 of them matched to first-year positions, down two PGY-1 matched applicants over last year.
Full data are available on the NRMP's website.
Marcia Frellick is a freelance journalist based in Chicago. She has previously written for the Chicago Tribune and Nurse.com and was an editor at the Chicago Sun-Times, the Cincinnati Enquirer, and the St. Cloud (Minnesota) Times. Follow her on Twitter at @mfrellick.
For more news, follow Medscape on Facebook, Twitter, Instagram, and YouTube.