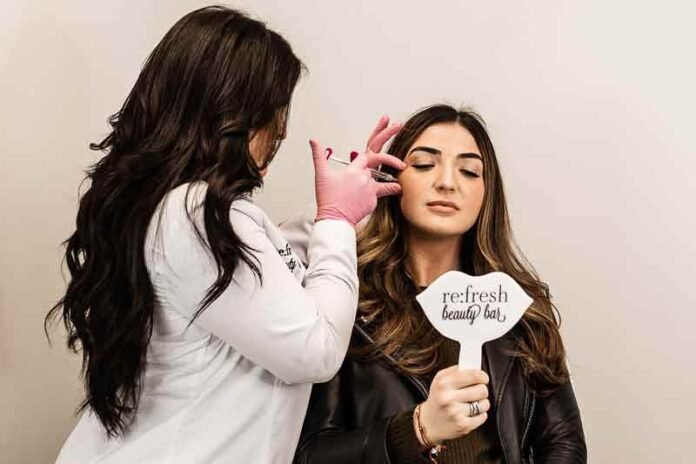 Plump lips, defined cheeks, and perfectly airbrushed skin are omnipresent on social media. And while filters can help morph Instagram users' face and skin, interest in Botox® and fillers has increased in recent years, having become trendy, with the goal of achieving that "beauty influencer" look.
Injectables like onabotulinumtoxinA (like Botox®) and fillers have seemingly become more accessible and more normalized as clients look to correct age lines and wrinkles, and a new younger audience looks to prevent. Injectables like Volbella and Radiesse also help to create more symmetrical features, like a perfect pout and full cheeks, respectively. While Hollywood has this popularized trend down pat, what's the injectable market look like in Westchester in recent years?
There are many mainstay and new medispas and facilities where to dip your toes into injectables, and many professionals to choose from, but regardless of where you decide to get injected, here are the things you need to know before you step foot in a spa.
First and foremost, not everyone is a candidate. "Botox is not recommended for anyone under the age of 18, or over the age of 70," explains Danielle Repetti, an emergency room nurse and owner of re:fresh beauty bar in Elmsford. "It is also not recommended for women who are pregnant or breastfeeding, people with known medical conditions such as muscle or nerve disorders, or any person with allergies to any ingredient found in the toxin."
Repetti is a certified aesthetic injector and says that clients' happiness with the end result and safety are her main priorities.
"Pre- and post-treatment care is extremely important. Avoid any blood thinning medications (unless doctor permitting), and alcohol for one to two weeks before injections to help minimize bruising," Repetti explains. "All-natural arnica pellets are also great for preventing bruises, as well as topical arnica gel to heal post injection inflammation." Repetti reminds her clients that "one syringe can't fix everything."
David E. Bank, MD, of Mount Kisco Center for Dermatology, Cosmetic & Laser Surgery agrees, "A syringe of filler is only a fifth of a teaspoon. More filler is usually required to correct volume deficits than people realize. It might take several sessions to achieve your desired result."
What about pain levels for these procedures? Repetti explains that while pain tolerance varies by individual, a "gentle pinch and burn" is the typical reaction to getting injectables. Unlike invasive procedures such as a face lift, breast augmentation or nose job, experts say that injectables have slim to no down time post-treatment and are safer.
"[Injectables] are minimally invasive procedures with fewer risks than typical surgical procedures," explains Brent D. Wainwright, MD, a dermatologist with CareMount Medical. "You can resume most activities immediately, although there may be short-term restrictions based on the type of procedure performed. It is not uncommon to see some redness, swelling or bruising which typically resolves in a few days to a week. Always follow aftercare instructions of your provider."
Regarding sun sensitivity, Bank explains, "The injectables are placed under the skin so they don't typically have the effect of increasing sun sensitivity. With that said, patients should always use daily sun protection to decrease the risks of skin cancer and accelerated aging of the skin."
Interested in trying a procedure, but worried about having to return for more? Even if a client's ideal look cannot be achieved in one visit, experts assure that it won't be necessary to continue injections if they are no longer wanted. "There is no need to continue the injection process unless you desire to do so," says Wainwright. "The temporary nature of Botox® and fillers is a benefit since the effects are temporary and do not need to be continued. Once the fillers are discontinued, your skin goes back to its baseline; moreover, there is evidence that the injection of fillers may cause collagen stimulation over time."
Injectables just not for you, but seeking some enhancing procedures? The HydraFacial is said to diminish the appearance of fine lines and wrinkles and CoolSculpting® offers facial services that suggest double chin fat reduction and jaw line definition. Collagen lip masks are also readily available at local beauty stores to increase the appearance of plumped lips, without the needle.
Related:Here's How to Get Glowing Skin in Just an Hour