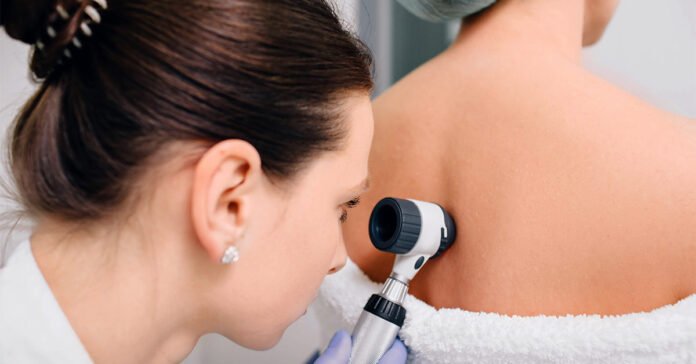 A dermatologist is a type of doctor that diagnoses and treats conditions that affect your hair, skin, and nails. They also treat conditions that affect mucous membranes, or the delicate tissue that lines your nose, mouth, and eyelids.
The Centers for Disease Control and Prevention (CDC) estimates that there are 44 million visits to dermatologists every year. The primary reasons for these visits include treating:
skin lesions
acne
skin rashes
discoloration or pigmentation
Beyond these medical and cosmetic issues, a dermatologist can also help recognize the signs and symptoms of serious underlying health issues.
For example, a condition like diabetes can cause symptoms that impact your skin's appearance. A dermatologist may be the first healthcare provider to recognize the signs.
This article will take a closer look at what a dermatologist can treat and the procedures they perform. If you want to know when it might be time to make an appointment to see a dermatologist, we have that covered, too.
The root word for dermatology is derm, or dermis. This comes from the Greek word derma, which means skin or hide.
Dermatology is a special area of medicine that focuses on conditions that affect your skin. In addition to your skin, dermatology also includes conditions that affect your nails, hair, and the delicate lining of your eyelids, nose, and mouth.
Your skin is your body's largest organ. It contains nerve endings, sweat glands, hair follicles, pores, blood vessels, and many other structures. Caring for it is important to your overall health.
While general practitioners and internal medicine doctors may be able to diagnose and treat these same conditions, a dermatologist has a deeper understanding and greater experience. In fact, many primary care doctors will refer their patients to dermatologists for specialized care.
A dermatologist's work can typically be divided into three areas. These include:
Medical. A dermatologist can diagnose and treat conditions that affect your skin. This includes conditions like plaque psoriasis, rosacea, and acne. A dermatologist can also identify symptoms on your skin that could be signs of other health conditions. For example, itchy, dry skin can sometimes indicate problems with your kidneys.
Surgery. Many dermatologists do minor surgery, like removing moles or warts or doing skin biopsies. Other dermatologists will specialize in more extensive surgery. These procedures can include removing benign cysts or skin cancer.
Cosmetic. A dermatologist can treat skin issues that affect your appearance. This may include hair loss, dark spots, or wrinkles. Many dermatologists are trained to administer cosmetic treatments, too. These include fillers, chemical peels, and laser hair removal.
Dermatologists can treat thousands of conditions that affect your skin, hair, or nails. A few of the most common conditions they treat include:
Dermatologists can perform a wide variety of procedures, from minor ones like skin tag removal to more involved ones, like skin cancer surgery.
Some procedures that dermatologists regularly do include:
Dermatologists complete extensive training. Their training includes completing all of the following:
4 years of college for a bachelor's degree
4 years of medical school
a 1-year internship
a 3-year residency for 12,000 to 16,000 hours of hands-on dermatology practice
Many dermatologists also seek out a board certification. A board certified dermatologist has completed a challenging exam that tests the knowledge and skills learned during training and residency.
Three organizations offer board certification for dermatologists in North America. They are:
the American Board of Dermatology
the American Osteopathic Board of Dermatology
the Royal College of Physicians and Surgeons of Canada
In the United States, you may also notice the letters FAAD after a dermatologist's name. That indicates that the doctor is a Fellow of the American Academy of Dermatology, the nation's largest organization of dermatologists. To be a fellow, a doctor must have earned their board certification.
If you have skin that may be prone to skin cancer, you'll want to get a yearly skin check-up from a dermatologist. During this appointment, the dermatologist will carefully check your skin for warning signs of skin cancer.
If you're concerned about your skin condition and don't already have a dermatologist, you can view doctors in your area through the Healthline FindCare tool.
If you're unsure of whether you need a yearly skin check, ask your primary care physician for their recommendation.
If something related to your skin or hair is bothering you, a dermatologist can help diagnose and treat the condition. This can include:
Some health insurance companies require that your general practitioner refer you to a dermatologist before you have an appointment.
You can connect to a dermatologist in your area using the Healthline FindCare tool.
When you're looking for a dermatologist, consider these factors:
What type you need? Do you need medical, surgical, or cosmetic treatment? Some doctors specialize in just one or two of these areas. You'll want to find the right one for you.
Does the dermatologist specialize in treating people of color? People of color are more likely to experience certain side effects from some common treatments. For example, people with dark skin tones are more likely to develop keloid scarring after a lesion removal. A dermatologist with extensive experience treating people of color will be better able to avoid these issues.
Are they board certified? The American Academy of Dermatology has a search tool that will help you find a board certified member of their organization near you.
What does your primary care doctor recommend? Based on your type of skin issue, your primary care doctor can help refer you to a dermatologist who's got experience treating that particular condition.
Dermatology is a specialized area of medicine that focuses on conditions that affect your skin. In addition to your skin, dermatology also focuses on conditions that affect your nails, hair, and the lining of your eyelids, nose, and mouth.
A dermatologist is a highly trained doctor who can help diagnose and treat a wide variety of skin, hair, and nail-related conditions. These doctors use many different procedures, treatments, and medicines to help treat specific skin conditions or improve the appearance of your skin.
A dermatologist can look after your skin's health and also help you avoid skin issues later in life, like premature aging or skin damage. Regular check-ups with a dermatologist may also help reduce your risk of more serious conditions like skin cancer.