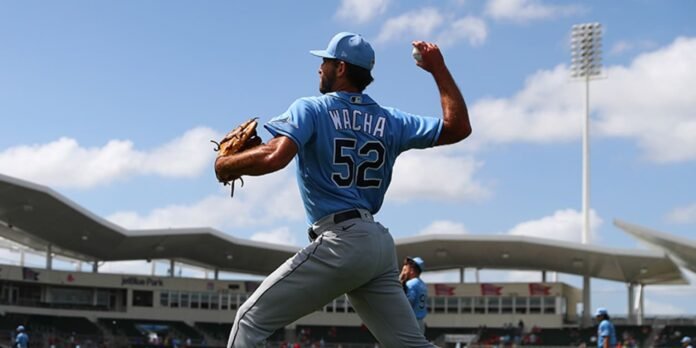 FORT MYERS, Fla. — Last year, Michael Wacha decided to try something the Rays always encourage their pitchers to do: pitch to his strengths and throw his best offerings more often.
Wacha's changeup has long been his "bread and butter" pitch off his fastball, he said, but he hadn't used it more than 25 percent of the time in a season since 2013. He leaned on the offspeed pitch even more heavily with the Mets last year, generating a 40.8 percent whiff rate as he threw it a career-high 29.2 percent of the time.
Wacha's changeup stood out as he bounced back from a leadoff walk to retire three straight batters in his first Spring Training outing with Tampa Bay. He struck out J.D. Martinez and forced Rafael Devers to ground out on a pair of changeups during his scoreless 21-pitch first inning to start the Rays' 9-3 loss to the Red Sox on Tuesday afternoon at JetBlue Park.
"It's been my best swing-and-miss pitch, so I figured I'd throw it more and see if I can get a little bit more weaker contact with it and try to pitch off my best pitch a little more," Wacha said. "I think that's a big part of it, to pitch toward your strengths and understanding what your strengths are. And understanding who you are as a pitcher and not trying to overdo it and go out there and be somebody else out there.
"But knowing who you are and staying within yourself and trusting yourself with all your pitches and the command of those pitches, I feel like that's what will work out best."
Wacha's surface-level statistics last year might make some fans question why the Rays were excited to sign him to a one-year, $3 million contract in December. The longtime Cardinals starter posted a 6.62 ERA and a 1.56 WHIP in 34 innings over eight appearances last year.
But it stands out that Wacha also struck out a career-high 9.8 batters per nine innings, generated his best whiff rate (11.3 percent) since 2013 and racked up 24 of his 37 strikeouts on changeups last season. And his home run-to-fly ball ratio the past two years (22 and 20.5 percent) seem like outliers considering his career 12.5 percent mark.
"We like what he's done, and we always talk about how guys can recognize some really positive traits from a pitcher and maybe we can get those to come out a little bit more consistently," Rays manager Kevin Cash said.
Perhaps it's fair, then, to think Wacha is primed to bounce back in the right environment. His first inning in a Rays uniform was a good start.
"I know it was one inning, but it's encouraging to see any of our guys that we go in on in the offseason with high hopes — and he's certainly right at the top of that list that can be big for us throughout the season," Cash said.
Game notes
• Facing Josh Winckowski to lead off the sixth inning, Rays corner infield prospect Kevin Padlo launched a homer high off the batter's eye beyond the center-field wall. Middle-infield prospect Xavier Edwards doubled and scored on a well-struck single by Vidal Bruján in the eighth, then the speedy Bruján scored from first on a single by Joseph Odom.
• Non-roster invitee right-hander David Hess gave up seven runs on six hits (including four homers) and one walk while recording four outs. Lefty Kenny Rosenberg relieved Hess in the third inning, which wound up being "rolled" (ended early) due to a high pitch count. Tampa Bay's bullpen worked cleaner innings after that. Right-handers Chris Mazza, Ryan Thompson, Louis Head and Yacksel Ríos made scoreless appearances, and Ryan Sherriff allowed one run before finishing his inning by snagging a hard-hit comebacker.
• Catcher Francisco Mejía started behind the plate on Tuesday, his first game action with the Rays, and he pulled a double to the right-field corner in the fourth inning.
Cash said the club has been trying to get Mejía acclimated with a new pitching staff by having him catch bullpen sessions and live batting practice sessions. Additionally, Cash said they'll single out certain pitchers they want Mejía to work with and line him up against specific opponents — like the Red Sox — who the Rays will see more often during the regular season.
"We're excited, thrilled with where he's at," Cash said. "We've got to make sure that we can continue getting him around the pitchers, having conversations and learning the little things that are so important that [pitching coach Kyle Snyder and bullpen coach Stan Boroski] value as far as the simple messages."
Around the horn
• Cash said infielder Joey Wendle was "totally fine" when they spoke on Monday night, hours after he sustained a facial contusion when he was hit in the helmet by a pitch. Wendle was off Tuesday, but he should be back in the Rays' lineup on Wednesday afternoon.
"That was scary. I think it scared the heck out of him. It scared the heck out of us," Cash said. "But he was laughing and joking last night, you know, something about hitting fourth and that's how four-hole hitters get pitched or something like that. So he's good."
• Center fielder Kevin Kiermaier (hip tightness) faced pitchers in live batting practice on Tuesday morning. Cash said the following pitchers threw live BP: Chaz Roe, Nick Anderson, Diego Castillo, Pete Fairbanks, Collin McHugh and Drew Strotman.
• Lefty reliever Cody Reed said he felt good facing hitters on Monday and he is scheduled to do so again on Wednesday. The Rays acquired Reed on Aug. 28 of last year in a trade with the Reds and activated him on Aug. 31. After two scoreless appearances, Reed was placed on the injured list with what the team initially called "left pinky finger irritation" and he sat out the rest of the season.
Shortly after joining the team, Reed said he woke up with "some weakness and numbness" in his left hand, which spread to his index finger and thumb. It affected his grip and his ability to hold the ball. He received a Botox injection in his pec minor and scalene muscles. Reed said he was informed he might have had a "mild form" of thoracic outlet syndrome, but he's back at full strength.
"I feel good now," Reed said, "and hopefully that's just past us."
Up next
The Rays will return to Charlotte Sports Park on Wednesday to host the Pirates at 1:05 p.m. ET. Hard-throwing lefty Shane McClanahan, who made his Major League debut in the postseason, and ground ball-inducing southpaw Josh Fleming, competing for a spot on the staff, are scheduled to pitch. Relievers Hunter Strickland, Andrew Kittredge, Stetson Allie, Jeffrey Springs and Joey Krehbiel are also scheduled to pitch.
Top prospect Wander Franco is slated to start at shortstop. Ji-Man Choi will make his spring debut as Tampa Bay's designated hitter, and Yoshi Tsutsugo will get a look at first base. The game, which is scheduled for seven innings but could be reduced to six, will air on FOX Sports Sun and MLB.TV, with a radio call available for free on MLB.com.