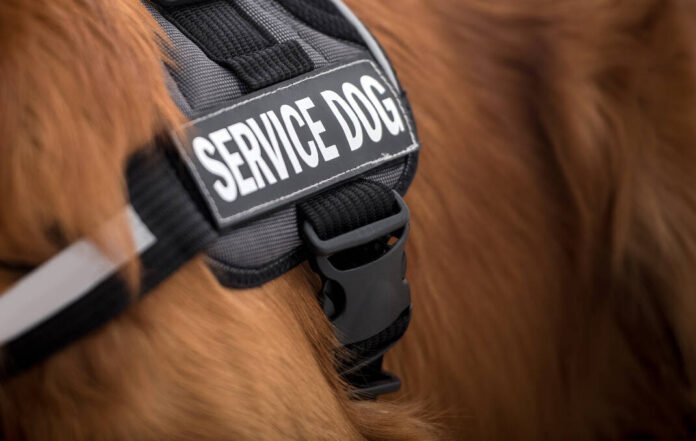 U.S. Xpress boosts pets for vets program
U.S. Xpress Enterprises is providing cash and in-kind services of about $25,000 in support of a local program that provides service dogs to military veterans.
The Chattanooga-based trucking giant is aiding the non-profit group Warrier Freedom Service Dogs, which helps combat veterans cope with post-traumatic stress by giving the vets trained service dogs that have been rescued from area animal shelters.
"From our drivers to shop teams to our office staff, military veterans make up a significant portion of our workforce," said Eric Fuller, President & CEO of U.S. Xpress. "Warrior Freedom Service Dogs is doing amazing work in pairing veterans struggling with the debilitating effects of post-traumatic stress with a canine specially trained to provide comfort and support."
In addition to a monetary donation towards dog training, U.S. Xpress is providing a range of in-kind multimedia and communications services, including the development of virtual training content to reach more veterans. Ultimately, the goal is to help train and match more dogs and veterans, identify fundraising and awareness opportunities with company team members, and even help with raising puppies and weekend fostering.
"This generous support from U.S. Xpress will help drive awareness of the work we're doing and ultimately, help more of our military vets," said Adam Keith, executive director for Warrior Freedom Service Dogs.
Biotech company moves to Nashville
Another Silicon Valley tech company is moving its headquarters from California to Tennessee.
Revance Therapeutics, a biotechnology company now based in Newark, California, is moving to Nashville where the company plans to invest more than $10 million and create nearly 150 jobs over the next five years. Revance, which also has more than 450 employees currently located in its California offices and throughout the U.S., is developing a next-generation, investigational neuromodulator product known as DaxibotulinumtoxinA for Injection.
The new headquarters will include a training and education center where employees, healthcare providers, consumers and patients can learn about the latest innovations in the company's aesthetics, therapeutics and financial technology (fintech) products and services.
Texas says Google limits competition
Texas Attorney General Ken Paxton on Wednesday announced a multistate lawsuit against Google, accusing the search giant of "anti-competitive conduct" in the online advertising industry.
Paxton said Google is using its "monopolistic power" to control pricing of online advertisements, fixing the market in its favor and eliminating competition. His office released a redacted copy of a federal lawsuit, but it was not immediately clear if it had been filed in court.
"This Goliath of a company is using its power to manipulate the market, destroy competition, and harm you, the consumer," Paxton said in the video posted on Twitter.
Google called Paxton's claims "meritless" and said the price of online advertising has fallen over the last decade.
"These are the hallmarks of a highly competitive industry," the company said in a statement. "We will strongly defend ourselves from (Paxton's) baseless claims in court."
Texas is bringing the suit along with Arkansas, Idaho, Indiana, Kentucky, Mississippi, Missouri, North Dakota, South Dakota and Utah, according to the complaint released by Paxton's office.
Robinhood accused of downplaying risks
Regulators in Massachusetts claim Robinhood Financial targets and manipulates inexperienced investors and has failed to prevent costly outages on its popular stock trading platform.
In an administrative complaint filed Wednesday, Secretary of the Commonwealth William Galvin alleges that Robinhood's business practices violate state securities laws. The state seeks an unspecified fine against Robinhood, among other penalties.
Robinhood has nearly half a million customers in Massachusetts with accounts valued at more than $1.6 billion, according to the complaint. The Menlo Park, California-based company said it disagrees with the complaint and intends to mount a vigorous defense.