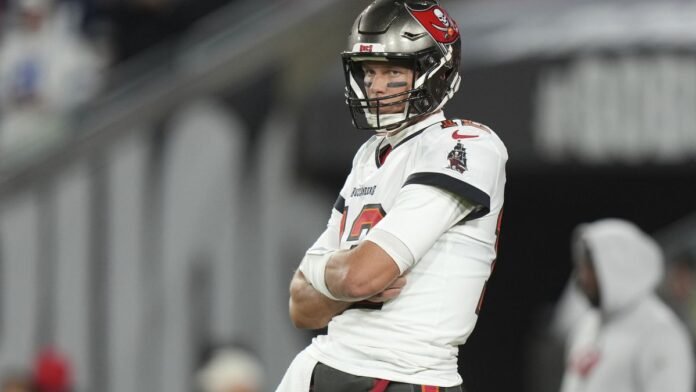 When the Tampa Bay Buccaneers' season came tumbling down Monday night, hot takes about old Tom Brady started flying. And I do mean old.
Everyone was making fun of his age, a decrepit, dusty 45. Get back in the crypt, Tom! A New York Magazine headline read: "Tom Brady Is a Rickety Old Man Still Chasing the Dragon." Shazam! Our own Times columnist John Romano opined that Tom should look into the AARP app.
After snorting out some Diet Coke, I felt a little bad for Tom. Yeah, comments about his age come relative to the sport of football, not his usefulness on Earth. And 45 is hardly elderly. He can take myriad more drunken boat rides around Tampa Bay, should he desire.
Then, a little gremlin voice rose from my temporal lobe sounding like Edna Mode. She said, "HISS. WHY DO YOU FEEL BAD, LADY? FIE ON TOM. FIE ON THE MEN. MAY THEY SUFFER. MAY THEY RETURN TO DUST." The gremlin reminded me what it's like to exist as a woman getting older. Haha! Welcome to hell, Tommy!
You see, advertisements, movies, tabloids and social media inform women repeatedly and in perpetuity that our youth, desirability and value will dry up at an early age. We will stop being hot and fresh around… oh, 14? Or so? That's when our faces begin to crease from expressing emotion, a big no-no. The standard of beauty in the west is a blonde, white-but-tan, oiled porpoise with no body hair. She smells like a strawberry jelly bean, has lips like pontoons, eyelashes in the chrysalis stage of the caterpillar life cycle.
We must achieve this proximity at all co$t. Have you watched a woman contouring her face? Do you know the difference between liquid and powder blush, universal C skin refiner and microencapsulated retinol? Do you know how much a high-quality tube of concealer costs so that we may most effectively hide our hideous natural countenance? You know who probably knows this? Gisele probably knows this!
Do you know how we keep our nails looking fresh, young and healthy? We dip them in a combination of ETHYL CYANOACRYLATE and POLYMETHYL METHACRYLATE for $50 every three weeks.
Do you know about hair extensions? Microblading? Electrolysis? Have you heard of a butt mask? A microcurrent device? Do you know we are hiding in our bathrooms sending low-voltage electrical currents into facial muscles to achieve "snatched jawlines"?
Do you know about Restylane, Botox, Dysport, Xeomin, Belotero, Volbella, Voluma, Kybella? Do you know my friend sent me photographs of her red, puffy injection points last week, and we had a heart to heart, made a pact to let our faces turn into whatever our faces turn into?
Has Tom Brady had buccal fat pad removal? This is a serious question, because his cheekbones are popping.
Furthermore, you must know, women's body types are trends. For instance, the Brazilian Booty Lift aesthetic is out. It is fashionable to look hungry, as if constantly sucking a lozenge. In addition, we must deploy photo filters with utmost care. We shall appear young and effervescent, but not too young and effervescent, else the internet will roundly mock us in the manner of Madonna and Paula Abdul.
Spend your days with Hayes
Subscribe to our free Stephinitely newsletter
Columnist Stephanie Hayes will share thoughts, feelings and funny business with you every Monday.
You're all signed up!
Want more of our free, weekly newsletters in your inbox? Let's get started.
Explore all your options
Women can no longer date Leonardo DiCaprio past 25; this is canon. But let's turn to Nicole Kidman for further analysis of midlife in Hollyweird, the laboratory for all arbitrary gender rules. In 2021, she said: "There's a consensus in the industry that as a female actor, at about 40, you're done." While men can flourish as salt and pepper daddies, female love interests are often decades junior to leading men. Women over 40 are more likely to be cast as a psychotic school headmistress with a penchant for shot put (see: Emma Thompson in "Matilda." Inspired performance).
We already know having children causes career interruption. The pandemic worsened working conditions for women of a certain age, many of whom were trying to teach their children to reduce fractions while balancing a laptop atop of a pile of KN95 masks. An AARP study (did you get your card, Tom?) found midcareer and older women suffered outsized job interruption since 2020, with Black and Hispanic women topping that list.
And since we're talking about football, no one ever seems to discuss the plight of athletes with periods, or who carry and deliver actual human beings. What about their changing bodies? Their perimenopause, fluctuating hormones, hot flashes, sweating, muscle aches? Do you know about the benefits of hyaluronic acid applied via jade ice rollers???
Serena Williams, who was two months pregnant when she won the Australian Open in 2017 (!!), retired from tennis last year at 40. She wrote this in Vogue: "If I were a guy, I wouldn't be writing this because I'd be out there playing and winning while my wife was doing the physical labor of expanding our family. Maybe I'd be more of a Tom Brady if I had that opportunity."
We don't know what creaky, fossilized, enfeebled Tom will do next, though he will likely announce his decisions just past deadline on a Friday night, because that is his vibe. But it's fair to say that once he steps off the field, he will be allowed to age gracefully, with his fine lines and gray hairs blazing on television as long as he chooses, never needing to know what a butt mask is. So, he can take a few more hits.
Get Stephanie's newsletter
For weekly bonus content and a look inside columns by Stephanie Hayes, sign up for the free Stephinitely newsletter.
Related:
Read more columns from Stephanie Hayes