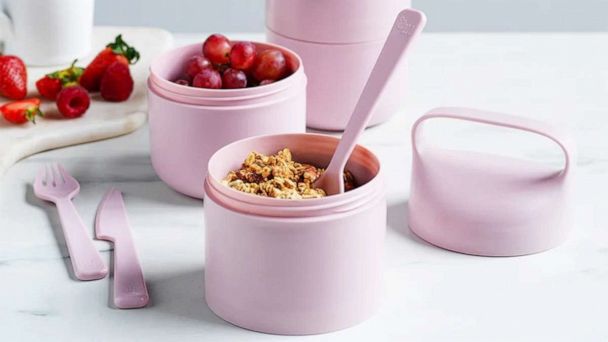 ---
This week, save on brands like Hip with Purpose, YEOUTH, Soul Journey and more. These deals are only available while supplies last, so be sure to shop now.
Find all of Tory's exclusive offerings for "GMA" viewers at 40Boxes.com and remember to check back throughout the week, as new items are added daily.
Sign up for our new "GMA" Shop newsletter to get the latest deals delivered to your inbox and discover more products to help you live your best life.
1. Use the links provided below on the date(s) listed to receive the savings.
2. All deals are available only while supplies last.
3. Deals cannot be combined with other coupons and offers.
4. Shipping rates indicated are valid in the continental United States only.
NEED HELP? CONTACT TORY: If you need assistance with a deal, please email [email protected] The 40 Boxes team will respond to all viewer emails within two hours during standard business hours.
By clicking on these shopping links, visitors will leave Goodmorningamerica.com. These e-commerce sites are operated under different terms and privacy policies than Goodmorningamerica.com. ABC and Tory will receive a commission for purchases made through these links. Prices may change from date of publication.
HIP with Purpose: Reusable Containers & Straws
GMA Deal: $13.99 to $24.49
•
30% Savings
Original: $19.99 to $34.99 Valid: 09/22/2022 to 09/02/2022
Prioritize sustainability with purposeful, functionally designed products from Hip. This assortment of reusable containers, cups, bottles and straws is meant to be used in place of your disposable plastics and are made using OBP (ocean-bound plastic), a sustainable material. Dishwasher, microwave and freezer-safe, choose from salad bowls, compartmentalized lunch pods, bottles, coffee cups and on-the-go silicone straws.
YEOUTH: Skin Care
GMA Deal: $13.19 to $19.99
•
40% to 53% Savings
Original: $21.99 to $42.99 Valid: 09/22/2022 to 10/02/2022
Look better and retain that YEOUTHful glow — that's the motto of YEOUTH skin care, which targets skin concerns with medical-grade ingredients that are clinically tested for purity and efficacy. This assortment features products for different skin types and issues, including the best-selling potent Glycolic Acid Peel, which exfoliates dead skin cells to reveal a brighter, more even and smoother skin surface.
Soul Journey: Gemstone Flower Bracelet
GMA Deal: $19.99
•
65% Savings
Original: $58 Valid: 09/22/2022 to 10/02/2022
Showcase your style. Designed with genuine gemstone beads and accented with a gunmetal and CZ flower charm, this Soul Journey bracelet embodies an elegant, bohemian look. Choose one or pair multiple to make a cosmic connection of energies and inspiration.
KOBLE: Speaker Lanterns & LED Lights
GMA Deal: $59.99 to $149.99
•
25% to 40% Savings
Original: $79.99 to $249.99 Valid: 09/22/2022 to 10/02/2022
Transform an ordinary space into an experience. Koble LED speaker lanterns will illuminate any room, add outdoor ambiance or fade into sleep while listening to your favorite sounds accompanied by soothing light features. The Cascade Floating LED Balls are an ideal addition to your front yard, pool, garden, backyard or patio to add a pop of color and brilliance to outdoor entertaining.
More from 40 boxes
Crayo: Fashion Watches
GMA Deal: $19
•
67% Savings
Original: $59 Valid: 09/21/2022 to 10/02/2022
Add a pop of color to your wrist with fun and fashionable watches from Crayo. Each piece is designed to help you celebrate colorful moments in life. Featuring leatherette straps, non-glare, scratch-resistant mineral crystal, Japanese quartz movement and unique bold faces, there's an option for everyone!
Majestic Pure: Natural Skin Care
GMA Deal: $11.87 to $13.27
•
29% Savings
Original: $16.95 to $18.95 Valid: 09/21/2022 to 10/02/2022
Nourish your skin with pure, simple ingredients. Majestic Pure believes in the healing and revitalizing power of plants and natural formulations. The masks, scrubs, creams and oils in this assortment are all made in the USA and free from toxins, additives, and any harmful chemicals.
i-On BY DR. XI: Age Disrupting Skin Care
GMA Deal: $85 to $172
•
20% to 32% Savings
Original: $125 to $215 Valid: 09/21/2022 to 10/02/2022
Disrupt the aging of your skin by preventing free radicals from forming — that's the premise behind this brand. Free radicals are known to be responsible for the appearance of skin aging and are formed when iron on the surface of the skin is exposed to sunlight and environmental factors. i-On BY DR. XI formulates products using De-Ironizing Inducer, a proprietary and patented technology designed to help prevent free radicals from forming by removing excess iron from the surface of the skin. Deeply hydrate to reveal a more youthful experience with the Age Disrupting Skin Cream. The skin care trio is a regimen bundle designed to simplify your routine while strengthening and nourishing your skin. Free shipping!
Prepd: Sheet Pan Cooking Dividers
GMA Deal: $19.49
•
35% Savings
Original: $29.99 Valid: 09/21/2022 to 10/02/2022
Make one-pan meals and meal prepping a breeze. Prepd cooking dividers are a convenient and organized approach to sheet pan cooking. These oven-safe, non-stick dividers help streamline your cooking and divide your ingredients so you can cook all of your ingredients with more organization and control. This system helps to easily remove each ingredient/dish as it's ready without overcooking. Made of 100% food-grade silicone, dishwasher and oven safe up to 450 F.
Seriously Shea: Aromatherapy Shower Steamers (6-Pack)
GMA Deal: $15.99
•
27% Savings
Original: $22 Valid: 09/20/2022 to 10/02/2022
Enhance your shower experience with a spa-like aroma. These unique steamers from Seriously Shea are like a bath bomb for the shower. Vegan and cruelty-free, made with natural essential oils. Handmade in the USA and offered in unique fragrance combinations.
Beer Can Candle: Hand-Poured Candles
GMA Deal: $16.80
•
40% Savings
Original: $28 Valid: 09/20/2022 to 10/02/2022
Proudly made in the USA, Beer Can Candles feature a 100% soy wax blend that is hand-poured as a fun, unique gift for the craft beer lover. All seven fragrances are 100% paragon and phthalate-free with 50-60 hours of burn time. Each candle comes with a can topper and gift box.
Lenny & Eva: Sentimental Jewelry
GMA Deal: $16 to $20
•
41% to 42% Savings
Original: $28 to $34 Valid: 09/20/2022 to 10/02/2022
Tell your story with sentimental and uplifting jewelry from Lenny & Eva. The Anchor collection, accented with an enamel and gold-plated anchor pendant, acts as a reminder that hope can carry you through the most challenging of times. The cross necklace and bracelet encourage you to trust your instincts, follow your heart, and believe in the power of faith and hope. The beautiful gemstone Butterfly bracelet emphasizes the magic of new beginnings and that there's beauty in the start of something.
Nuovaluce Beauty: Microcurrent & Red Light Device
GMA Deal: $119.97 Free Shipping
•
50% Savings
Original: $239.95 Valid: 09/20/2022 to 10/02/2022
Get a facial treatment at home. Nuovaluce microcurrent technology delivers controlled energy three layers deep into the skin to help reactivate your natural collagen production, restoring the skin's natural support. While the microcurrent treatment works to firm and tone your skin, the red-light treatment targets skin tissue to reduce wrinkles. The device has five intensity levels to customize your sessions and is safe to use with your current, ongoing skin care regimen. Free shipping!
Cariloha: Memory Foam Mattresses
GMA Deal: $424.50 to $1149.50 Free shipping
•
50% Savings
Original: $849 to $2299 Valid: 09/19/2022 to 10/02/2022
Sleep comfy, cool and clean with memory foam mattresses from Cariloha. Made of viscose from bamboo, the layers of foam adapt to your body shape, alleviating pressure from the body's main contour points. The Flex-Flow Base Foam™ is naturally breathable and moisture wicking, improving airflow to help beat the heat. Designed to repel odor and support a fresher-smelling sleep environment. Free shipping!
Brew Buddy: Crossbody Water Bottle Holder
GMA Deal: $15
•
40% Savings
Original: $25 Valid: 09/19/2022 to 10/02/2022
Carry your favorite reusable water bottle around hands free. The On-the-Go Crossbody Bag from Brew Buddy is designed with insulating neoprene to keep your drink colder for longer. Lightweight for ease on the go with a removable, adjustable strap. The front-zip pocket is ideal for phones, keys and cards. Neoprene fabric stretches to fit most bottles.
Phiaton: Headphones and Earbuds
GMA Deal: $41.99 to $149.40 Free shipping
•
40% Savings
Original: $69.99 to $249.99 Valid: 09/19/2022 to 10/02/2022
Upgrade your sound with sleek, eye-catching headphones and earbuds. Phiaton products combine innovative technologies and elegant designs to take your audio gear to the next level. The Wireless Earbuds feature active noise canceling for entertainment, work, travel and every adventure in between. The Aluminum Wireless Earbuds blend modern design, aluminum construction and quality sound. The Over the Ear Headphones are equipped with a long-lasting battery, digital hybrid noise canceling and innovative features to create quality headphones designed for your lifestyle. Free shipping!
Easy Living Products: Pure Fiber Mop Set
GMA Deal: $40 Free shipping
•
50% Savings
Original: $80 Valid: 09/19/2022 to 10/02/2022
Clean the whole house with this all-in-one mop system. Designed to provide effortless cleaning, this mop kit from Easy Living Products is ideal for floors, furniture, windows, bathroom, kitchens, vehicles and more. The eco-friendly system eliminates the need for replacement or disposable pads with durable microfiber machine washable pads that can be used wet or dry, on or off the mop.