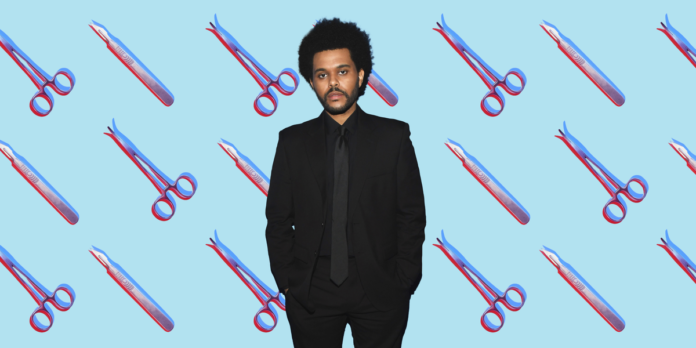 I fell for it too, momentarily. His curiously sloped eyebrows, defying gravity. Eyelids strained tightly against his eyeballs. Pillowy lips pouting in a perfect circle. A zig-zag silhouette from temple to pointed cheekbone to jaw. The prosthetics were pretty impressive, after all.
Plus, considering the near-satirical hellscape that was 2020, it wasn't entirely outside of the realms of possibility that Abel Tesfaye, AKA The Weeknd, could reinvent his bone structure. That he could re-emerge from an aesthetician's office with a face inspired by the facial proportions of Jocelyn Wildenstein, or Kylie Jenner, or even his ex-girlfriend, supermodel Bella Hadid.
But at The Weeknd's Super Bowl half-time performance, his appearance reverted back to its pre-2020 normalcy. Only his backing dancers were wrapped in head bandages (a move which felt more of a creative approach to COVID face covering requirements, than an extension of Tesfaye's 'narrative'). Some fans have been left confused about the motivation behind his 'performance art' – and to be honest, I'm with them.
Why did The Weeknd get fake plastic surgery?
We barely knew what Canadian singer The Weeknd looked like back in 2011 when he released his first ever mixtape, House of Balloons, as a free download. An achingly edgy trip-hop producer, he was widely regarded, quite simply, as the nonchalant soundtrack to our collective Tumblr scrolling.
But ten years later – with a whole load of fame, 28.8 million Instagram followers and many a magazine cover under his belt – Tesfaye embarked on a year-long stunt. For one year, all of his public appearances would involve some form of bandages, bruises, blood or prosthetics – visual implications that he was undergoing a series of traumas, and was in the process of dramatically reconstructing his face.
This content is imported from YouTube. You may be able to find the same content in another format, or you may be able to find more information, at their web site.
From a bloodied nose on the Jimmy Kimmel show, to full head-bandages at the American Music Awards, to what looked like a drastically altered face in the video for single Save Your Tears, Tesfaye stuck religiously to his ruse. And during the series of months it took for his "performance art" to unravel, many fans remained confused – and frightened – for the fate of Abel Tesfaye and his face.
This content is imported from Instagram. You may be able to find the same content in another format, or you may be able to find more information, at their web site.
That extended stunt came to a boiling point this Sunday, during the singer's long-awaited performance at the Super Bowl half-time show. Many anticipated another appearance from post-procedure The Weeknd – but as the lights rose, there was 'the old' Tesfaye, and all became clear for those still in doubt.
What was the meaning behind The Weeknd's stunt?
The same week, Variety published an interview revealing the intentions behind The Weeknd's actions. Fans have speculated that later stages of his narrative were a dig specifically at the aesthetic choices of his supermodel ex-partner Bella Hadid, along with the many other women who have chosen to opt for aesthetic procedures to alter their appearance. He has not confirmed or denied these claims, though he told Variety: "The significance of the entire head bandages is reflecting on the absurd culture of Hollywood celebrity and people manipulating themselves for superficial reasons to please and be validated."
But, while Abel Tesfaye is well-placed to comment on the tribulations of fame, his commentary on tweakment culture feels as though it misses the mark. In the same Variety interview, he seems to imply that his stunt was 'in character' – but with the project taking place under his 'The Weeknd' moniker (the same persona responsible for past lyrics like "I'm just tryna get you out the friend zone / Cause you look even better than the photos" and "I just fucked two bitches 'fore I saw you" in songs like The Hills), it's perhaps valid to argue that he's not best-placed to start discussions about tweakment culture in celebhood.
After all, it's possible that such objectification and hyper-sexualisation contributes to a culture where women in particular may feel an urge to 'self-optimise', using tools like diet culture, tweakments and filters. It's fair to say that the quest for validation that Tesfaye claims to criticise was created by a culture which helped make his fortune.
That's not to say there aren't many fruitful discussions to be had about cosmetic procedures, and perhaps The Weeknd deserves credit for trying to spark a debate. After all, it's true that we're facing a self-esteem crisis led by celebrity culture and Instagram filters. And yes, nuanced discussions about the subject are a welcome tonic to that crisis. We should be calling for greater regulation of aesthetic clinics and outlawing filler up-selling. We should be sharing education about the fetishisation of certain facial features, and the dominance of hand-picked beauty standards. We should also be lobbying for mental health provisions to assist those who may be turning to surgery and tweakments as a coping mechanism for deeper-set issues.
But this particular project didn't feel as though it achieved any of the above. At best, it comes across as clumsy moral panic, at worst, a publicity stunt in the run-up to Tesfaye's album launch, which faintly whiffs of double standards and possible break-up spite.
I'm not alone in my discomfort – Amelia, 24, tells me her life improved "immeasurably" after she opted for lip fillers to add symmetry to what she described as a "wonky top lip". She also detected a double standard in Tesfaye's work; "I think it's just kind of a strange thing to come from a man… it feels kind of misogynistic to make such a display about something that's clearly aimed at women."
My sister, Sophie, who got Botox for her 30th birthday this year had a slightly different perspective. "Mike Marino did an incredible job of the prosthetic work – he looked like an Insta filter made real."
This content is imported from Instagram. You may be able to find the same content in another format, or you may be able to find more information, at their web site.
Sophie tells me that for her, Tesfaye's stunt didn't feel relevant to her own decision to access cosmetic procedures. "For me it isn't so literal," she said. "It seems more to be a comment on the cruelty of social media and fame – ironic given how much traffic the performance seems to have created." In other words, Sophie thinks his 'narrative' is more of an abstract, metaphorical one commenting on wider topics about what it's like to be famous, rather than a specific attack on those who opt for tweakments or surgery. For that reason, she tells me the narrative doesn't feel particularly relevant to decisions about her own body. She'd consider having Botox again, and has also undergone consultations about a tear-trough treatment in her under-eye area.
I'm relieved to hear it's possible to appreciate The Weeknd's plastic surgery spectacle without feeling personally aggrieved or shamed – after all, there are countless reasons why someone might opt to alter their face, whether deep-set, or simply to help achieve a sense of 'fitting' within widespread beauty standards. Access to aesthetic resources – alongside responsible advice and a sober debate – can be life-changing for those battling self-esteem issues rooted in a feeling their appearance doesn't match their identity.
For some people, a long-awaited rhinoplasty might save their life. Some trans individuals may opt for procedures such as hyaluronic fillers and tracheal shaving as part of their personal transition journey.
"Surgery is life changing and should only ever be entered into for the ultimate benefit of the individual, not those around them," warns Marianne Oakes, Head of Therapies at GenderGP.com (an online health and wellbeing service for trans and non binary individuals and those who support them). But she also emphasises the importance of these resources, telling me that "for trans people, the core gender confirmation surgeries are undertaken to help them to align their body with their gender identity, so it is never really cosmetic, but rather affirming."
While opening up a conversation is one thing, it's important that we don't drive these topics underground by inviting shame and moral judgements into the topic of face alteration. Whether procedures are for the purpose of identity-appearance alignment or simply out of preference, the decision lies with the person booking the consultation.
What's more, this isn't even the first stunt of its nature. Back in October 2018, MUA and drag artist Alexis Stone carried out the same online performance – albeit with different intentions. Alexis posted graphic imagery faking recovery from plastic surgery, followed by a series of transformation pictures showing a new resemblance to Jocelyn Wildenstein.
This content is imported from Instagram. You may be able to find the same content in another format, or you may be able to find more information, at their web site.
While speculation still exists that The Weeknd was 'dragging' ex-girlfriend Bella Hadid, Alexis Stone was in touch with Wildenstein, his muse, throughout the project, and explicitly told Paper Magazine "This project wasn't a mockery of plastic surgery gone wrong…I transform into Kim Kardashian, I'm on the cover of Tush magazine. I become Jocelyn Wildenstein, I lose everything. You take two beauty standards and consider that it's likely the same amount of plastic surgery and checkups for both. One is perceived to be a monster and the other isn't."
This content is imported from Instagram. You may be able to find the same content in another format, or you may be able to find more information, at their web site.
If inspired by Alexis Stone's work, it's a shame that The Weeknd didn't match Alexis Stone's efforts to clarify the meaning behind his actions and avoid any unintended hurt. When asked why he was making himself "increasingly unattractive while promoting his biggest album to date," The Weeknd told Variety: "I suppose you could take that being attractive isn't important to me but a compelling narrative is."
This content is imported from YouTube. You may be able to find the same content in another format, or you may be able to find more information, at their web site.
However, to me the deepest irony lies in the fact that Tesfaye's 'compelling narrative' didn't reach the Super Bowl show – possibly the most global stage available for his performance art. Dancing joyfully in red sequins, validated by adoring screams, and with a face full of flattering stage makeup, to me it felt clear: perhaps even The Weeknd is victim to the allure of looking beautiful once in a while.
Follow Kate on Instagram.
The latest issue of Cosmopolitan UK is out now and you can SUBSCRIBE HERE.
Like this article? Sign up to our newsletter to get more articles like this delivered straight to your inbox.

This content is created and maintained by a third party, and imported onto this page to help users provide their email addresses. You may be able to find more information about this and similar content at piano.io