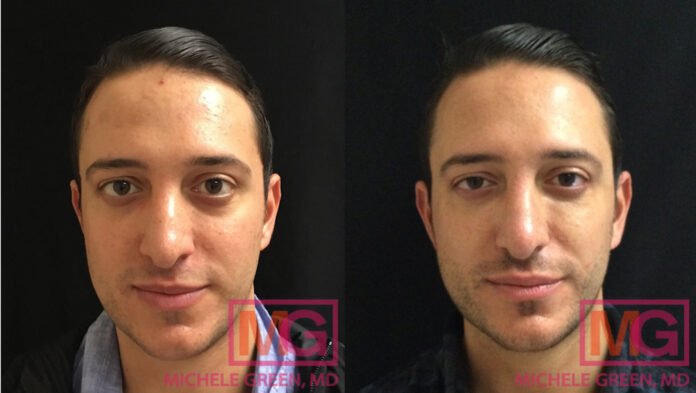 Dr. Michele S. Green is a board-certified dermatologist. Upper East Side patients and those from the surrounding areas of New York City flock to her practice for a variety of cosmetic dermatology treatments. A graduate from Yale University, with an MD from Mount Sinai Medical School in NYC, Dr. Green treats some of the most discerning, demanding women and men in the world, with issues ranging from premature skin aging to hyperpigmentation, rosacea, acne, and skin cancer.
Haute Beauty sits down with anti-aging expert Dr. Green to learn more about injecting filler into the under-eye area to address the hollow and sunken appearance the eye-bags give off.
"Injecting dermal fillers in the under-eye area is an advanced injector technique. I am an expert cosmetic injector, with over 25 years of experience in cosmetic procedures, I was also one of the first New York City dermatologists to incorporate Botox, and dermal fillers at her boutique practice," says Dr. Michele Green.

Photo Credit: Dr. Michele Green
HB: What does under-eye filler fix?
As we age, one of the most common changes is the gradual darkening of under-eye circles and thinning of the skin in this area. Because the collagen is also decreased in this area, you may develop a sunken or "hollow" look under the eyes.
HB: How does tear trough filler work?
Hyaluronic acid dermal fillers have become a popular method in the world of dermatology to revitalize the under-eye area without the need for cosmetic surgeries that a plastic surgeon offers. Hyaluronic acid fillers are injectables that use hyaluronic acid gel to stimulate collagen production in the skin, boosting volume in order to improve the appearance of under-eye hollows, dark eye circles, and fine lines in the eye area. The most popular lines of hyaluronic acid dermal fillers are Restylane, Juvederm, and Belotero, and each offers a slightly different formulation.
Types of filler used for undereye bags:
Restylane
Belotero
Volbella
In other places, you might see recommendations for Juvederm, which in fact is too thick for the delicate eye area. Juvederm can often leave patients with lumps in the under-eye area or a bluish tint which is known as the "Tyndall effect."

Photo Credit: Dr. Michele Green


HB: How long does tear trough filler last?

Generally, the treatment will last up to twelve months and provides additional volume to the area, also aiding in the reduction of fine lines and wrinkles that may appear around the tear ducts.
HB: What is recovery like?
In all cases, no downtime is required, so you can resume your normal daily routine immediately after the treatment has taken place. However, the results from these fillers are not immediate and can take up to two weeks to fully develop in some patients. Despite that, in most cases, only one injection is needed on each side.