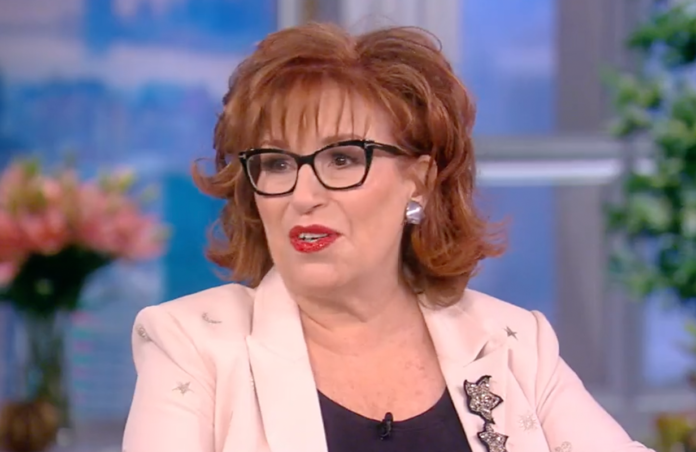 Joy Behar workshopped her "insect material" this morning. (Photo: ABC)
New!
Listen to our weekly
View in Review podcast.
After six weeks of crowd-free broadcasts, The View's studio audience finally returned Tuesday morning, and the co-hosts certainly made the most of it. The mood was light as the ladies discussed life post-pandemic, celebrity plastic surgery, and marriage do's and don'ts, topics that are tailor-made for the Joy Behar Comedy Hour. Joy kept both the audience and her co-hosts laughing for the bulk of the show, and she even left Whoopi Goldberg speechless with one particularly funny crack about stars looking like "Bozo the Clown" after getting cosmetic procedures.
Behar's morning started off relatively quietly — Hot Topics about the U.K. lifting COVID restrictions and Supreme Court Justice Clarence Thomas' wife aren't exactly fodder for comedy — but she really got going during a discussion about a Beverly Hills plastic surgeon who said celebrities are "ethically obligated to be honest" about getting plastic surgery and other cosmetic procedures. When Sara Haines said "you shouldn't see the work" if it's well-done, Behar insisted that this is not the case. "If you saw them the week before and they suddenly look like Bozo the Clown, you see the work!" she replied, sending Whoopi into a fit of giggles.
The longtime co-host went on to say that Hollywood is particularly harsh to women who age naturally. "In this country it's like you're 40 and you're done, when you're an actor," she said. "You'll notice the comedians always cop to it. Joan Rivers told everybody how much she had, Phyllis Diller, Roseanne Barr, I talk about injections. I don't care! We are not making our money about our looks — we're making our money because we're comics."
After the break, Behar sent the audience reeling during a Hot Topic about a woman who wants to tell her soon-to-be husband that she cheated on her college boyfriend years ago. "Who doesn't have sex in college?" she asked. "That's one of the reasons to go!"
"There's a difference between having had an affair and being a flea who jumps from dog to dog," she continued, earning another laugh from the audience and a shocked look from Whoopi. "Why's that funny? I'm doing a little insect material."
The insect material may not kill, but at the very least, it's better than her Trump "Cheeto" schtick.

Love/hate
The View?
You'll love/hate

our new podcast
.
Listen now:

People are talking about
The View
in our forums.
Join the conversation.
Claire Spellberg Lustig is the TV Editor at Primetimer and a scholar of The View. Follow her on Twitter at @c_spellberg.