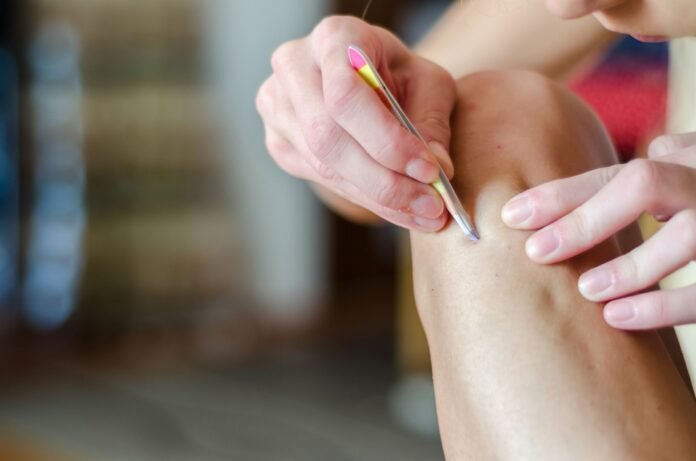 Ingrown hairs are a common consequence of the hair removal process, whether through shaving or waxing. Medically referred to as pseudofolliculitis, an ingrown hair occurs when a hair curls back into the skin during the growth process and pierces it, usually causing inflammation. Our skin has an immune system on its own outside of our regular immune system, explains Edidiong Kaminska, M.D., MBS of Kaminska Dermatology, and it's able to recognize that the hair entering back into the skin is foreign. This then causes a lot of inflammation, which is why the area around the ingrown hair can become sore, puss-filled, or painful. 
Anyone can suffer from ingrown hairs, but it can happen more frequently to people with curly or coarse hair because "it has coils or curls, and so with the curls it can pierce the skin and get back into the skin," expounds Dr. Kaminska.
When it comes to helping patients treat ingrown hairs, Dr. Kaminska tends to prescribe clindamycin, to help take away inflammation, and tretinoin, which is "a vitamin A derivative that allows the skin cells to turn over, to rejuvenate, and helps with inflammation as well." Although these are prescriptions, there are effective formulas—in the form of serums or creams—you can buy over-the-counter to address the aftereffects of hair removal.
Here are some of the best ingrown hair treatments on the market.
Best Natural: Bevel Spot Corrector
This spot corrector from Bevel is the perfect all-in-one ingrown hair solution. Not only does it target ingrown hairs, but it also reduces whiteheads, acne bumps, and hyperpigmentation.
"Ingrown hairs can cause hyperpigmentation, especially in skin of color. So, the best way to treat that is prevention," explains Dr. Kaminska. Salicylic acid and tretinoin, along with hydroquinone—which can be found in over-the-counter creams—are known to help prevent hyperpigmentation. Although Bevel Spot Corrector doesn't contain these exact ingredients, it does include Vitamin C and nine percent Lactic Acid; together they aid in controlling ingrown hairs, smoothing rough skin, and evening out the complexion. Additionally the serum incorporates shea butter, green tea extract, and is free of alcohol, parabens, sulfates, dyes, artificial fragrance, and much more. Something to note is that while Bevel is a men's grooming company, this product is unisex and can be used on all skin types. Ideally, it's meant to be used at night daily after washing your face or body. 
Final Verdict
Fur Ingrown Concentrate (available on Amazon) heals, exfoliates, cleans, smoothes, moistens, and relieves redness all at once, making it a great first choice when looking for an ingrown hair treatment. If you're new to battling ingrown hairs and want to start with something that gives you general, well-rounded treatment, Tend Skin (available on Amazon) is another great place to start.
What to Look for in an Ingrown Hair Treatment
Salicylic Acid
This is key to look for in ingrown hair treatments, especially over-the-counter ones. Salicylic acid helps to allow the skin to turn over, making ingrown hairs less likely. This ingredient is included in a lot of ingrown hair products, but those with sensitive skin should be wary of its effects. If the product you're using is irritating your skin, stop using the treatment and contact your dermatologist.
Retinoids
A derivative of vitamin A, retinoids help the skin turnover, similarly to salicylic acid. It also decreases inflammation, which is common when hair curves back into the skin. This is another ingredient to look out for when selecting an ingrown hair treatment. However, retinoids can cause sun sensitivity, so use sparingly when spending excessive amounts of time in the sun.
Area of Usage
Ingrown hairs on your bikini area should be treated differently than ingrown hairs on your legs. When looking for an ingrown hair treatment, think about the area of your body where you'll be using it and select accordingly. For your bikini area, a harsh, highly exfoliating treatment may cause irritation that it wouldn't on another area of the body.
"Products with salicylic acid can help smooth the skin to help the skin turnover. We get new skin cells every two weeks approximately, and so, when you use something like salicylic acid, it helps those cells on the surface shed faster, helps the skin to stay clear, and prevents those ingrown hairs from forming."—Edidiong Kaminska, M.D., MBS of Kaminska Dermatology
—
Why Trust Verywell Health?
Having been raised by two medical professionals, Amari Pollard understands the importance of health literacy. As a seasoned health writer, she is committed to producing well-researched and well-sourced product reviews to help people make informed medical decisions.