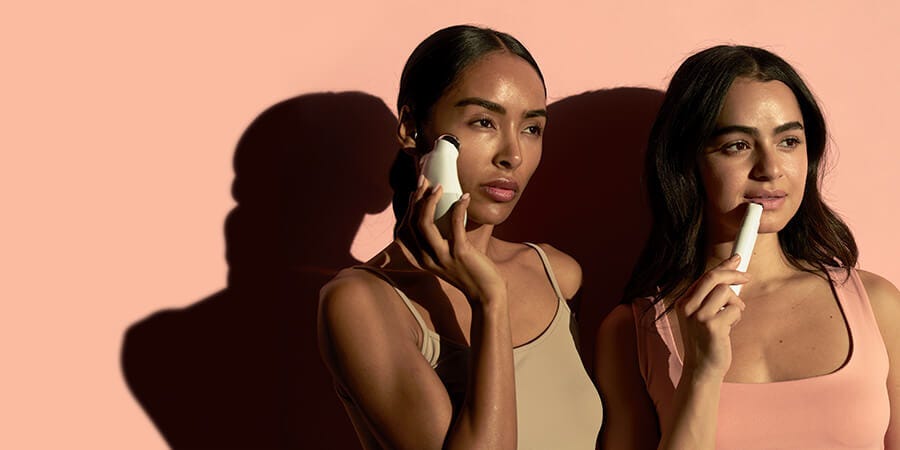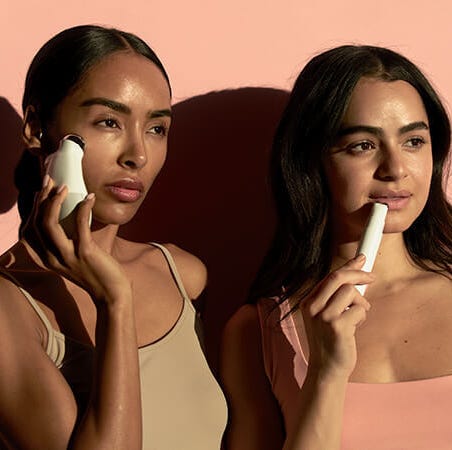 Courtesy
Between peak dry skin season being upon us and "maskne" causing millions of people (yours included) to breakout, it's safe to assume we could all use some self-care and pampering right about now. Here to swoop in and SOS is SkinStore's Presidents' Day Sale, which I'd argue wins best beauty sale on the internet right now.
Now through February 17, the e-tailer is taking up to 50 percent off hundreds of items with prom code PRESIDENT. Think: Dr. Hauschka, Wander Beauty, Kevin Aucoin, BeautyStat and so many more. It's worth noting while a handful of brands like First Aid Beauty and Dr. Dennis Gross aren't included in the sale, SkinStore is currently offering generous gifts on brands that aren't marked down.
In case you too find navigating beauty sales for the best deals to feel like investigative FBI work, fear not. To make narrowing down the best splurges an easier endeavor, I've gone rounded up the best can't-miss deals on everything from skincare to makeup to scalp treatments and beyond. Ahead, the best finds from SkinStore's sale to treat yourself to now.
Advertisement – Continue Reading Below
1
EYE TREATMENT
BeautyStat Universal C Eye Perfector 0.5 oz
BeautyStat
skinstore.com
$65 $49 (25% off)
One of ELLE.com's 2020 Future of Beauty Winners, BeautyStat's Universal C Eye Perfecter is an industry first for combining CBD with Vitamin C. Together, this makes for a powerful brightening-but-calming treatment that's safe to use day or night. 
2
SCALP TREATMENT
PhytoPolleine Botanical Scalp Treatment 0.8 fl oz
Phyto
skinstore.com
$40 $30 (25% off)
If Phyto's legendary botanical scalp treatment could talk it would say "au revoir, build up" in the most beautiful, badass French accent. Inside this unassuming bottle are eucalyptus and lemon oils that work to restore balance in the scalp and stimulate microcirculation. Editor's note: I swear by this stuff's ability to get rid of product build up. It also rarely, if ever, can be scooped up on sale.
3
HAND SANITIZER
Bergamot Pocket Hand Sanitizer 0.6 fl. oz
Noshinku
skinstore.com
$10 $7.50 (25% off)
You already know how important hand sanitizer is these days. For one that can fit into the tiniest of bags, peep this option from Noshinku which sprays on and smells surprisingly lovely for hand sanitizer. It measures slightly larger than an AirPods case. 
4
CANDLE
Ocean Mist and Sea Salt Classic Candle
NEST Fragrances
skinstore.com
$44 $33 (25% off)
There's no such thing as too many good candles, especially while we're working from home and need all the zen we can find. Here, a crowd-pleasing scent with notes of sea salt, white tea, and coconut.
5
FACE MASK
Fab Pharma Arnica Relief and Rescue Mask – 3.4 oz
First Aid Beauty
skinstore.com
$32.00
First Aid Beauty's popular Fab Pharma Arnica Relief and Rescue mask isn't on sale; however, it's worth noting that this comes with $17 worth of free First Aid Beauty gifts during SkinStore's Presidents' Day weekend sale. Aside from the free swag, this hydrating mask is worth it as it gently remedies the root of what's causing maskne for many: Dehydration. 
6
Wanderess Off Duty Palette 0.46 oz
Wander Beauty
skinstore.com
$25 $19 (25% off)
Aptly named the Wanderess Off Duty Palette, the warm nude tones in this palette can be blended together to create a variety of looks ranging from natural to smokey and bold. The nourishing ingredients in Wander's eyeshadows allow for a buttery application that lasts all day too. 
7
MOISTURIZER
Rose Day Cream
Dr. Hauschka
skinstore.com
$45 $34 (25% off)
For skin that's feeling dehydrated, weather-damaged or stressed, this rich moisturizer goes to work in protecting against dryness and irritation. It's suitable for all skin types and sensitive skin-friendly. 
8
MOISTURIZER
Lait Crème Concentré 2.54 fl. oz
Embryolisse
skinstore.com
$28 $21 (25% off)
One of ELLE.com's favorite face moisturizers, market editor Justine Carreon praises Embryolisse's Lait Crème Concentré for really working. As Justine puts it: "This is one of those stereotypical products you see on those  'French Girl' lists, but it really does work. I wear it during the day with an SPF oil layered on top, then glob it on at night like a mask for an extra dose of moisture."
9
CONCEALER
The Sensual Skin Enhancer
Kevyn Aucoin
skinstore.com
$48 $36 (25% off)
Dewey skin lovers will likely already know that Kevyn Aucion's Sensual Fluid Foundation has a cult-following. But because very few of us are putting on a full face these days, turn to the brand's concealer to cover up blemishes and zits for your Zooms and socially distanced escapades. Infused with jojoba oil, honey and minerals, the versatile formula is long-lasting and waterproof. 
10
MASCARA
Mile High Club Volume and Length Mascara 0.35 oz
Wander Beauty
skinstore.com
$26 $20 (25% off)
Another Wander Beauty find worthy of being added to your cart is the brand's best-selling Mile High mascara. This delivers volume and length in a single swoop. No clumping drama guaranteed.
11
NECK TREATMENT
Cold Plasma Plus+ Sub-D/Neck
Perricone MD
skinstore.com
$135 $102 (25% off)
Getting tech neck from craning down a laptop all day is a real thing, even if you're in your mid 20s. This neck treatment from Perricone MD works to tighten and firm the neck and jawline while also smoothing skin and helping to reduce the appearance of fine lines. 
12
BODY LOTION
Atoderm Intensive Balm 500ml
Bioderma
skinstore.com
$25 $19 (25% off)
If your skin is feeling super, super dry these days to the point where it's sometimes itchy, generously lather on Bioderma's Atoderm Intensive Balm. This has a soothing effect and and will help preventing the urge to itch too. 
13
SILK PILLOWCASE
Silk Caramel Pillowcase Duo and Delicates Bag
skinstore.com
$193 $160 (17% off)
Anti-aging and crease minimizing benefits aside, a silk pillowcase simply just looks and feels luxurious. This set from industry-loved brand Slip includes two queen-sized pillowcases and a delicates bag. 
14
HAND CARE
Made with Love Hand Cream Duo
ESPA
skinstore.com
$45 $27 (50% off)
This useful set contains ESPA's bergamot and jasmine-scented hand lotion and hand wash. Both contain nourishing properties that help retain moisture in the hands, nails and cuticles. 
15
LIPSTICK
Beautiful Color Moisturizing Lipstick
Elizabeth Arden
skinstore.com
$27 $20 (26% off)
Elizabeth Arden's hard-working Beautiful Color Moisturizing Lipstick earns its moniker for delivering long-lasting color while simultaneously locking in moisture to create a plumped and fuller appearance. This comes in a few shades, but Neoclassic Coral is a failsafe choice.
16
BODY WASH
Gingerlily Body Wash, 300ml
Molton Brown
skinstore.com
$24.00
$32 $24 (25% off)
To evoke the experience of taking a shower in a fancy London hotel room brimming with luxe toiletries, treat yourself or a loved one to Molton Brown's Gingerlily body wash. The warm ginger and spicy cedarwood scent is heavenly indeed. 
17
FACIAL DEVICE
NuFACE Trinity + Trinity ELE Attachment Set
NuFACE
skinstore.com
$429 $343 (20% off)
The NuFace device uses microcurrent technology to stimulate and perk up facial muscles. Just one treatment is like getting a mini facelift from the comfort of your bathroom.
This content is created and maintained by a third party, and imported onto this page to help users provide their email addresses. You may be able to find more information about this and similar content at piano.io
Advertisement – Continue Reading Below