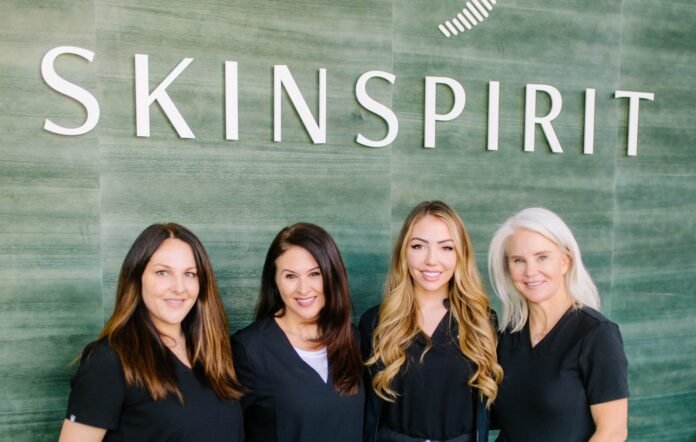 SkinSpirit, a top provider of Botox, filler, skin care and body treatments, has opened its newest location right here. Every SkinSpirit across Utah, California, Washington and Texas is designed like a spa but features cutting-edge technology. The Plano location is 2,955 square feet and has eight service rooms.
"I've been in medical-aesthetic practice management for 10 years, and have never worked for a leader like our CEO, Lynn Heublein. I am personally inspired by her vision for SkinSpirit and the opportunities the company creates for women," says Southwest Regional Manager Vivian Oh. Vivian moved last January from Washington to Austin to open SkinSpirit's first Texas location.
SkinSpirit was created by Dr. M. Dean Vistnes, a Stanford-educated, board-certified plastic surgeon, alongside Lynn Heublein in 2003. Together, they created clinics that are intended to feel like a trip to the spa, but include expert-backed treatments designed to provide real, natural-looking results. Their services span from facials to injectables and laser treatments.
The founding duo wanted to create a space that provides clients with the confidence to chase after their goals feeling fully rejuvenated, and fully themselves. SkinSpirit's objective is that clients leave feeling like their trip there was worth it, every time.
On staff at the Plano location is Misty Shedd, a registered nurse (RN) with more than 19 years of experience. She is ranked first in the Southwest and second in the country as a nurse trainer for Allergan, the makers of Botox and Juvederm. Misty is a born-and-reared Texan and enjoys mentoring other nurses who are interested in the aesthetic field.
Haley Rome, RN-BSN is also on the staff in Plano. She is an expert in facial balancing, and strives to provide the best treatment possible for people to feel confident and ready to take on the day. She is also working on her nurse practitioner degree at Texas Woman's University.
"I truly believe beauty is in the eye of the beholder," Haley says. "So I don't do cookie-cutter treatments. I customize every treatment plan for my patients depending on their desired results and anatomy." 
Andrea Henderson is the professional laser tech and laser safety officer here. With more than 20 years of experience working with advanced aesthetic and therapeutic lasers, Andrea has enjoyed watching each client's skin transformation from start to finish. She has trained surgical residents in laser and other aesthetic practices, and has worked for Baylor Scott & White as well as UT Southwestern Medical Center. She's passionate about educating her clients and creating positive skincare experiences.
"Our team of medical professionals are committed to practicing tested and trusted treatments tailored specifically to each client. Our staff is dedicated to delivering exceptional service that's safe and effective, so clients can relax knowing they're in good hands," says Vivian.
SkinSpirit now has 17 locations across the U.S., and the team is proud that Plano is the most recent addition to its family. In terms of volume, SkinSpirit is the leading provider for Botox among medical spas in the country, according to Vivian. Collagen-inducing treatments are a specialty of theirs as well, and are just one facet of many non-invasive and results-oriented body sculpting treatments.
Other treatments at SkinSpirit include micro-needling, dermaplaning, diamond tip resurfacing, CoolSculpting fat reduction, chemical resurfacing, chemical peels, Latisse for eyelashes, Kybella jawline contouring, Venus Legacy for cellulite and more.
"We want our clients to feel comfortable and confident in their own skin," says Vivian. "We are obsessed with creating an elevated client experience, and want our clients to enjoy the same experience at any of our 17 locations."
---
SkinSpirit is celebrating its grand opening. Call through March 13 to book any new treatment and receive 20% off. Guests will also receive a gift bag with more than $200 in deluxe-sized products when they come in for an appointment. Call SkinSpirit Plano (469) 829-4200 to book.
2401 Preston Rd Suite F
Plano TX 75093
The above content is sponsored.