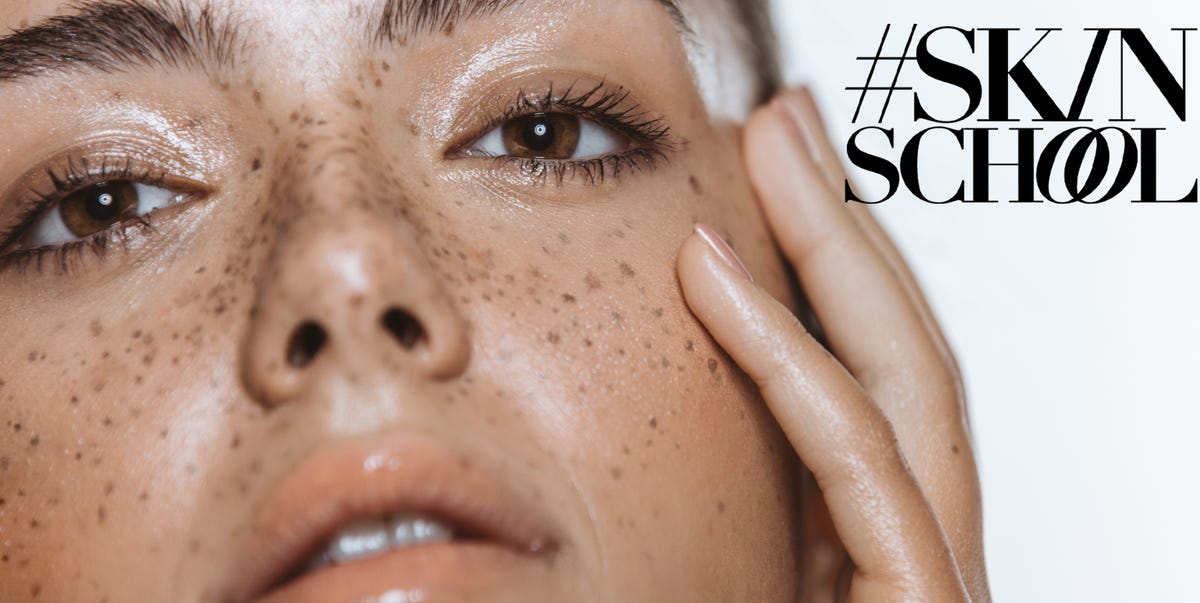 Peptides are the rising star of the skincare sphere. Previously outshone by hyaluronic acid, retinol and vitamin C, the buzzy ingredient is finally getting the recognition it deserves – cropping up in the latest serums, moisturisers and even supplements.
Not exactly new, the power of peptides has been known for some time. "The original research began in the Seventies and Eighties," says Daniel Isaacs, formulator and development director at Medik8. Studies found that copper peptides can stimulate wound healing, helping patients' post-surgery. "It wasn't until the late Nineties that companies like Neutrogena began introducing copper peptides into their skincare products."
Since then, advancements in delivery methods (how peptides enter the skin) have led to better absorption and ultimately, a resurgence of interest around this anti-ageing superstar. Here, we break down the pros of peptides and where to find the most efficacious formulas.
What are peptides?
"Peptides are short chains of amino acids that act as the building blocks of proteins, including collagen and elastin," explains Isaacs. These proteins contribute to the body's cellular functions and are responsible for the skin's natural resilience and strength. "Peptides and proteins are both produced naturally by the body," adds Isaacs, but as we age, this production process slows down.
How do peptides work?
"Peptides act like messengers," says skin specialist, Sarah Chapman, "they trigger skin cells to do a specific function for a particular benefit." Mainly, peptides boost collagen and elastin production in order to "firm the skin, support its structure, smooth wrinkles and much more," adds Isaacs.
Are all peptides equal?
"There are many different types of peptides with a variety of different effects," explains Chapman. Not all equal, "some stop your muscles contracting – a little like Botox – while others improve fluid drainage or stimulate collagen production." Overall, peptides can be categorised into four functions:
Signal peptides
"Otherwise known as 'cell communicators', signal peptides tell the skin to do something, for instance – boost collagen," says Isaacs.
Carrier peptides
As their name suggests, these peptides carry trace elements (like copper) to areas of damage to help with wound healing.
Enzyme-inhibiting peptides
These press pause on the body's natural breakdown of collagen that already exists in the skin. "Tyrosinase is one, helping prevent an overproduction of melanin," explains Isaacs.
Neurotransmitter-inhibiting peptides
They block the messages between nerves and muscles to prevent the muscle contraction of expression lines.
Do peptides in skincare work?
"Peptides are quite large molecules," says Chapman, "so it can be hard for them to penetrate the skin." While this was a problem in the past, advancements in delivery methods mean peptides can now travel differently. "Drone delivery is one cutting-edge method," says Chapman. "This is where peptides are engineered into a specific shape to connect with certain types of skin cells, where they're most needed."
Another pioneering method is something called a platinum delivery system. "In my Platinum Pep8 Stem Cell Serum, peptides have been fused with tiny, ultra-penetrative platinum particles that drag the peptides deeper into the skin, where they can be most effective." Medik8 use a combination of drone delivery and encapsulated peptides.
How to use peptides correctly
While peptides are powerful on their own, the experts recommend combining them with other hero ingredients for best results. "Peptides play a really important role as a booster," says Isaacs. "They don't compete with other actives," he continues, "rather, they come in and accelerate the results of your core routine".
"If you're looking to improve skin's overall health and youthfulness, combine peptides with vitamin A," recommends Chapman. "This power couple will help reveal a fresh, smooth, firmer complexion while normalising sebum production." For anyone with sensitive skin who steers clear of vitamin A, Isaacs adds that peptides can be used instead of this traditional anti-aging ingredient – as they're very well tolerated. "Reactions to peptides are very rare and their efficacy is not really diminished by other actives," says Chapman.
Looking to add peptides into your skincare regimen? "They can be incorporated at every stage," says Chapman, "from cleansing all the way through to moisturising".
The best peptide products to try now
Products boasting this skin-savvy ingredient usually contain either natural or synthetic peptides. While the former are extracted from things like rice, soya or seaweed, the latter are entirely lab-produced. Both are effective and both are well tolerated by the skin.
Because of this, peptides can be found in eye creams as well as serums, moisturisers, face masks and cleansers. To find out if peptides play a starring role in a product, check the ingredient list to ensure it features high up. And, as Chapman suggests, look at the delivery system being used to ensure the peptides will be able to penetrate the skin.
To target a multitude of skincare concerns, the pros recommend combining peptide products with other skin staples like vitamin C and hyaluronic acid, to make these ingredients work harder. Alternatively, look for products that already combine a cocktail of ingredients. See our verdict on the very best peptide products to try now…
Medik8 Liquid Peptides
This lightweight serum boosts elasticity and softens fine lines with a 30 per cent peptide complex featuring copper peptide encapsulated in a polymer shell that binds with fibroblast cells to stimulate collagen synthesis. Apply post-cleanse, every day, for supple, smooth results.
Drunk Elephant C-Tango Multivitamin Eye Cream
Blended with eight peptides, five forms of vitamin C and cucumber extract, this rich eye cream packs a potent punch, firming and strengthening skin around the delicate eye area. The results? A more youthful-looking, bright-eyed appearance. The airtight bottle keeps ingredients super fresh, too.
Sarah Chapman Skinesis Platinum Pep8 Stem Cell Serum
Powered by eight potent peptides along with stem cells and hyaluronic acid, this concentrated serum kickstarts collagen production, visibly smoothing wrinkles and plumping skin over time. The best part? It has an auto-fill pipette that delivers the perfect dose every time.
The Inkey List Peptide Moisturizer
Purse-friendly peptide products do exist. Case in point: The Inkey List's Peptide Moisturizer. Formulated with two forms of peptides (royal epigen to speed up skin renewal and hexapeptide to help hydrate), this dreamy cream smooths and strengthens skin in just 28 days.
111Skin The Firming Concentrate
For a quick-fix, treat skin to a seven-day program of single-dose ampoules blended with skin smoothing biomimetic peptides including a tyrosinase inhibitor to help fade pigmentation. After use, skin appears firmer, brighter and more even. Tick, tick, tick!
Elemis Peptide4 Thousand Flower Mask
For a cushiony soft complexion, give this face mask from Elemis a whirl. Combining peptides with Brazilian black clay and Nordic peat, this radiance-enhancing treatment gets to work in 15 minutes to gently exfoliate dead skin to reveal brighter, smoother skin.
Beauty Pie Triple Hyaluronic Acid Lipopeptide Serum
Kill two birds with one serum with this hydrating and wrinkle-fighting formula. Blended with three weights of hyaluronic acid as well as gravity-defying peptides, this everyday essential leaves skin refreshed, revitalised and radiant.
This content is created and maintained by a third party, and imported onto this page to help users provide their email addresses. You may be able to find more information about this and similar content at piano.io