Severance Hospital said Tuesday that it has been designated as the Intuitive Epicenter to provide training for single-port (SP) robotic surgeries to healthcare providers.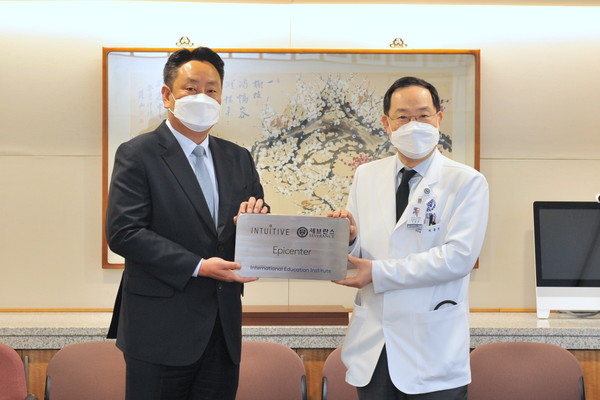 At Severance Hospitals' thyroid and endocrine surgery clinic, designated as the Intuitive Epicenter, all surgical methods are being performed with SP robotic system.
Severance introduced Intuitive Surgical's SP system following the U.S. in 2018 to perform surgery and brought in an additional model a year later. In 2020, the hospital became the first medical institution to operate 1,000 surgeries with the system.
Intuitive Surgical, a company developing the surgical robot, provides SP robotic surgical devices designed to allow deep access to human tissues through a single incision. Hospitals designated as an epicenter provide training for Intuitive's robotic surgical system.
At Severance, surgical procedures using the SP robotic system are controlled by surgeons. The medical robot uses three surgical instruments and a camera to help surgeons operate the surgery.
Intuitive Surgical chooses hospitals and healthcare providers equipped with high-quality robotic surgical devices, and its medical personnel with extensive surgical experiences mentor the trainees.
"With the recent epicenter designation, we got to work with Intuitive Surgical again before operating 30,000 robotic surgeries for the first time in the world," Ha Jong-won, director of Severance Hospital, said. "Severance Hospital and Intuitive Surgical should chase values derived from robotic surgeries and clinical studies, researches, and academic achievements and drive the development of robotic surgery globally."
Intuitive Surgical's Clinical Sales Director Kim Jun-woo said, "Intuitive Surgical will drive the development of its technologies and support training healthcare providers for better surgeries and improve patients' life quality."
Severance Hospital plans to expand the use of SP robotic surgery in other departments, including otolaryngology, obstetrics and gynecology, urology, hepatobiliary and pancreatic surgery, breast surgery, and plastic surgery, Kim added.