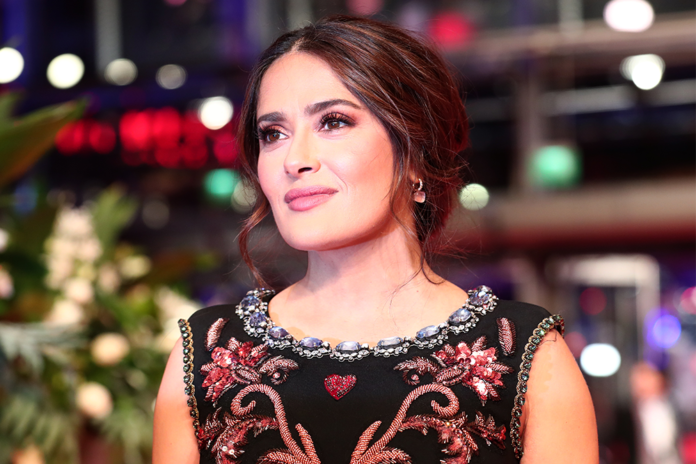 Salma Hayek just took to Instagram to post a much-needed #tbt, but it wasn't the normal shot of her chiseled and toned 54-year-old self her grid has become somewhat known for. Instead, the throwback photo of her in her 20s gave off some very "from-the-'90s" vibes, as the actress threw followers for a loop by sharing that, "back in the day, they used to say I looked like Winona Ryder," which prompted some very opinionated comments.
Regardless of what you may think of the comparison of the two women, Hayek doesn't look all that different, although her 2014 NewBeauty cover interview proves she's grown a lot since the good old days. Something she wishes she could've told her younger self: Make time for yourself.
"I have a child and a husband who always need me, and the one thing I can't do is relax and take time for myself," she told us. "The only place I feel I can do this is when I take a bath or I am in the shower, because no one can find me there. Sometimes, in the morning, I lay down flat in the shower and let the water rush over me. Even if you do it for five minutes, it's really lovely."
Another lesson she wishes she could have known is that "even the most steadfast of beauties are not without their battles." Having acne so severe she was prescribed Accutane to treat it, she thought she would never see the clear-skin light at the end of a long, dark tunnel of insecurity. 
"There were days I used to wake up, look in the mirror and go straight back to bed because my acne was so bad, so I get it," she said. "I think adult acne is something that, while it affects a lot of people, most brands still don't want to give a solution because they think it's not chic—it's actually shocking. I think that's terrible."
With a makeup line added to her repertoire along with many years in the beauty industry, the star has come a long way since this picture, but she hasn't lost her spark.
Find a Doctor
Find a NewBeauty "Top Beauty Doctor" Near you