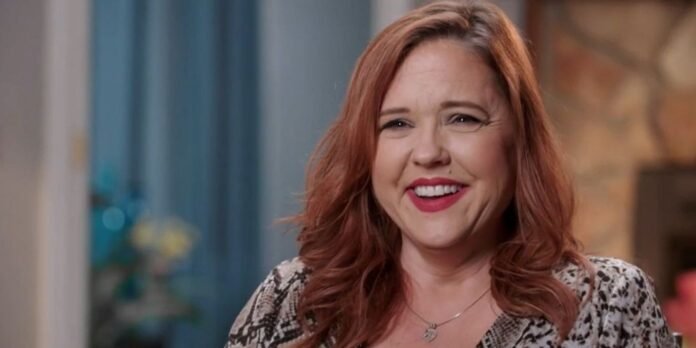 90 Day Fiancé star Rebecca Parrott has slimmed down considerably over the years. The wife of Zied Hakimi is sharing her weight loss efforts online.
90 Day Fiancé franchise star Rebecca Parrott has slimmed down since her start in the franchise, as evidenced by her Instagram photos revealing her new figure and appearance. She has been candid with 90 Day Fiancé fans about her weight loss and cosmetic procedures, which she frequently posts about on Instagram. This provides fans with a clear chronicle of Rebecca's weight loss journey.
American grandmother Rebecca has always been interested in younger men. Her infamous ex from Morocco was in his late teens when he dated Rebecca, who was then well into her 40s. Rebecca then married Zied Hakimi, despite the Tunisian man being half her age. This led to Zied becoming a grandfather at age 27. Perhaps because she prefers younger men, Rebecca has been preoccupied with getting procedures that minimize the impact of aging or help her to slim down. The wife of Zied has publicized and profited from her weight loss efforts.
Related: 90 Day Fiancé: Inside Rose Vega's Boyfriend Greg's Real Estate Empire
Rebecca has managed to dramatically slim down since she first entered the franchise. The 90 Day Fiancé star promotes Sono Bello TriSculpt procedures that she says keep her figure trim. Meanwhile, like 90 Day Fiancé star Molly Hopkins, Rebecca also promotes Plexus supplements for weight loss. Rebecca has been very open about also receiving filler in her face and injections in her lips to achieve a more youthful appearance. Meanwhile, she is also a fan of using photo filters to change up her look. However, her weight loss is advertised online, thanks to her social media account.
First Results
Rebecca started off the first day of 2021 by sharing her first before and after photos. On January 1, 2021, she partnered with Sono Bello to reveal the difference in her stomach. The minimally invasive liposuction surgery has since been praised often by the 90 Day Fiancé star. "I can't believe this is MY BODY," a shocked and pleased Rebecca captioned the image.
Rebecca is a major advocate for the Sonobello TriSculpt procedure. After some of her initial swelling subsided, she shared more before and after photos in March 2021. These images showed a noticeable reduction in belly fat. "It was life-changing to have the extra skin removed on my lower stomach," Rebecca wrote before telling her fans that she will next target her legs and thighs. See Rebecca's post HERE.
Body Pride
Rebecca took to Instagram in May 2021 following her next Sonobello procedure. The mother was absolutely thrilled with her results and showed off her legs and stomach in a form-fitting outfit. "I have never felt so good about my body. I can't wait to see what I look like in a few months when I'm healed up," 90 Day Fiancé star Rebecca gushed to her followers. 
Related: 90 Day Fiancé: Why Deavan's New Baby Announcement Is Being Criticized
Current Look
Rebecca's latest social media post makes it clear how far she has come on her weight loss journey. Though her body is only partially visible, Rebecca's face looks far slimmer than it did two years ago. Rebecca also has a youthful glow to her thanks to her fillers. Overall, Rebecca appears to be extremely satisfied with her appearance and has embraced newfound confidence since appearing on 90 Day Fiancé.
Next: 90 Day Fiancé Cast Members Called Out For Promoting Weight Loss Products
Source: @tlc_90day_rebecca/Instagram
Which 90 Day Fiancé: Before The 90 Days Couples Are Still Together?
About The Author