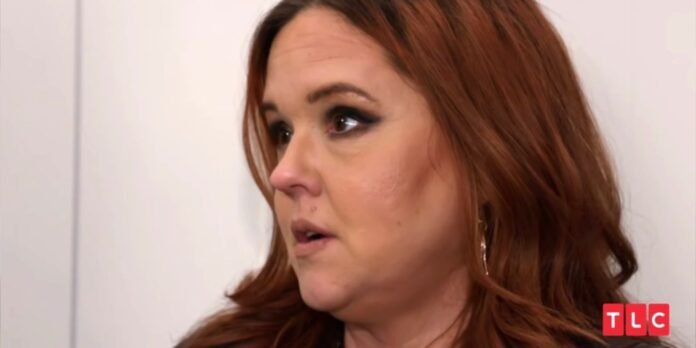 After two cosmetic procedures, it looks like Rebecca still wants to play with some photo filters. Check out her new "Facetuned" picture on IG.
It appears that the 90 Day Fiancé star Rebecca Parrott's heavily edited pictures are back, as she recently posted a photo on Instagram which didn't look like her at all. Many fans noticed the drastic change right away and called out Rebecca for her "new face." Even though the reality TV star had two major cosmetic procedures performed in the past few months, it looks like she is still quite fond of using photo filters on her pictures. After looking at her "Facetuned" picture, one of the fans sarcastically asked, "So where's Rebecca?"
Last month, Zied Hakimi's fiancée told her Instagram followers that she opted for weight loss surgery. The procedures she chose included laser liposuction and body contouring, which are less invasive than some other forms of weight loss procedures. Rebecca was very happy with the results, and her "before and after" pictures showed a slight change in her body. Just before celebrating her 50th birthday, she had her lips injected with Dysport, which helped to smooth out her laugh lines.
Continue scrolling to keep reading
Click the button below to start this article in quick view.
Related: 90 Day Fiance: Former Couples Who Have Bad Blood & Aren't Quiet About It
Many 90 Day Fiancé viewers feel that Rebecca Parrott is eternally youthful, and believe that she doesn't need to have these temporary procedures to look younger. However, it may be true that the Georgia native still feels insecure. She recently posted a picture on her Instagram to promote a brand, and she wears a black top and blue jeans in the photo. While she's glowing in the pic, many fans had trouble focusing on the product she was endorsing, because they were distracted by her "new face." See the post below:
As many viewers have watched Rebecca on the show, they know how she looks without photo filters. So, these fans feel that it's simple to notice if she is using Facetune or other apps or programs to tweak her pictures. In this particular picture, she has probably removed wrinkles. Her jawline looks sharper and her cheekbones appear to be higher.
A fan who is actually a loyal supporter of hers said, "but that's not your face." Another follower wrote, "Damn all these photoshop apps got you really thinking/believing this is how you look." Somebody else said, "Who is that in the picture."
Other 90 Day Fiancé fans also think that she has photoshopped the hat onto her head, and some have even advised her to stop getting temporary cosmetic surgeries. They don't want her to "go all plastic," just like many other reality TV stars. After watching the latest 90 Day Fiancé episode, it's evident that the "filter queen" Rebecca does feel insecure about Zied, who recently flaunted a handsome look. She got pretty jealous when her daughter's blonde friend Hannah offered to help him move the furniture.
Next: 90 Day Fiance: Rebecca Suffers Makeup Malfunction On 'Facetuned' Face
Source: Rebecca Parrott/Instagram
90 Day Fiancé: Big Ed Confronts Rose on Alleged Relationship With a Woman
About The Author