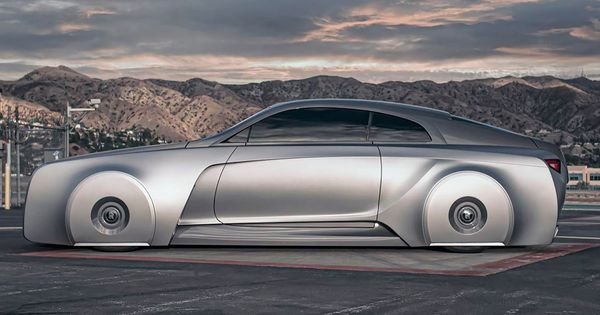 For more than 100 years, people have been obsessed with cars. From the smell of gasoline and the thrill of acceleration; to the beauty of design and the genius of engineering, cars will be appreciated by people for years to come.
Celebrities are no exception to this obsession, and when you've accumulated a significant amount of cash, you're bound to walk into a car dealership and pick out something sweet.
Take Lady Gaga, for example. The singer's came to fame – and her driver's licence – later in life, but now her vehicle collection is a bevy of fabulous classics, mostly in a wonderful shade of baby blue. But we can't all be Lady Gaga, and neither can any other celebrity.
And when we say that, it's because we want to underscore that money is no guarantee of taste. All too often do we find those with surplus cash to be in a deficit of style. Many celebrities take to modifying their cars to look even more outrageous and unique, but unfortunately, these people rarely have the edge over the vehicle's designer like they think they do.
Here are five celebrities with questionable taste in car mods.
Justin Bieber's Rolls-Royce
In an effort to make the vehicle look like the concept car Rolls-Royce unveiled a few years back, Canadian pop star Justin Bieber recently took his brand-new Wraith to the folks at West Coast Customs to chop up and modify. The end result is — yeesh.
Starting with the bog-standard Wraith, WCC basically chopped the entire body off and fabricated a new one from scratch. Wild wheel covers were added to the front and the back in order to give it a true floating look, like a ghost.
In order to make the front wheels still turn underneath the wheel covers, the builder was forced to give the suspension positive camber like a pre-war sports car, meaning the Rolls probably handles a lot more like a classic, authentic Rolls-Royce than any modern BMW-designed model.
Sonny and Cher's Ford Mustangs
George Barris is a legend in the "kustomizing" community, but there have been a few times where his design choices have proved a little bit questionable. Even his Ferrari 308 is kind of — thought-provoking.
But the worst offender is probably the Sonny and Cher Mustangs. The matching convertibles were painted in gold and pink, and given weird side panels reminiscent of Country Squire wagons. The biggest change was to the front fascia, where the perfectly designed grille and headlight combo was swapped out for a set of square sealed-beam units, and a weird grille section.
Of course, we can't blame the incomparable Sonny or Cher for the distasteful mods — but we can blame Barris, and that's close enough. They can't all be as good as the Batmobile!
Kanye West's Lamborghini Urus
Lamborghinis are ripe for poor customization, but often we just find them with bad wraps and bright colours. Hardly ever does a Lambo get painted in a boring colour, but when it does, it looks terrible.
One of the worst Lambos we've seen belongs to Kim Kardashian's ex-husband Kanye West, who took to painting it  drab and adding a set of gaudy shoes.
Kanye seems to love taupe for some reason; his entire lineup of clothing features the shade of tan, but also tatty edges and ripped seams. We sure wish somebody would rip up this Urus, and toss it in the trash.
The wheels are also awful; they're bland, and the polished aluminum doesn't jive with the body colour. Unfortunately, the rapper didn't add any body modifications to the Urus — it's possible those might have improved the styling.
Will.I.Am's Delorean
Black Eyed Peas singer Will.I.Am has half-decent taste in vehicles, but unfortunately, the other half of his tastes are completely sour. When it comes to his personal cars, they often start out well, but quickly take a turn for the worse.
Look at this DeLorean, for example. Will.I.Am decided the car's iconic stainless steel body was too flashy, and decided to give it a makeover, seemingly out of origami. The entire body has been replaced with a creased mess by California-based West Coast Customs. The vehicle wouldn't look out of place in Cyberpunk 2077, but we're hoping it glitches out of existence. At least the looks match the performance of the Peugeot-sourced V6 now.
This isn't the first vehicle Will.I.Am has customized; he also turned his craftsman's eye to a 1958 Volkswagen Beetle, giving it a wild custom body that looks like somebody drunkenly tried to build a Morgan sports car. Apparently, he had plans to start his own car company, but we're extremely thankful that he did not.
Richard Rawlings' De Tomaso Pantera
What in Grand Theft Auto 3 is this? It's a De Tomaso Pantera that's been ruined by the Ringbrothers, that's what. Who asked? While his "celebrity" status may be dubious, it was Richard Rawlings who bought this vehicle at auction for $330,000. Yikes.
When you attempt to update a classic design, it almost always fails. The De Tomaso Pantera is one of the most timeless designs in automotive history, blending chiseled good looks with voluptuous hips and fine details. Adding big stupid wheels, a bad grille, and a horrendous interior does not a beautiful classic make.
Too many people try and turn the Pantera into a "budget GT40," when what they should really do is just sit in their house and watch Netflix all day. At least that way they won't cause retinal damage to others.
---
LISTEN: How EVs have saved Canada's automotive manufacturing sector.
Subscribe to Plugged In on Apple Podcasts, Spotify, Stitcher, and Google Podcasts.