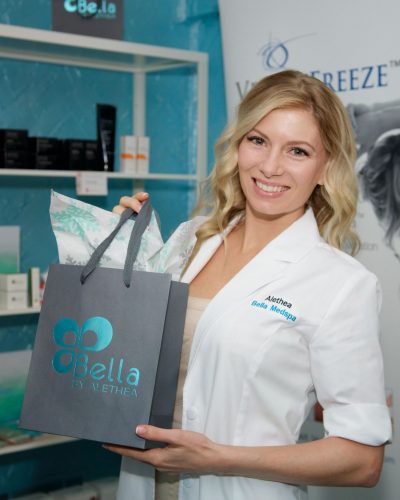 Bella Medspa is expanding with its new location in Downtown Alpharetta to deliver anti-aging treatments to clients based north of Atlanta and in North Georgia. The success of offering innovative treatments at Bella's original location, which opened on Wieuca Road in Buckhead in 2010, led owner and licensed expert medical aesthetician Alethea Tinkle to expand her business.
Alethea Tinkle has nearly 20 years of expertise with laser and skincare treatments and is recognized for giving dramatic anti-aging and aesthetic results for clients across Atlanta and the Southeast. Bella is a sought-after destination for exclusive services that are also available at the new Alpharetta location.
The services include Plasma Pen, the latest noninvasive treatment alternative to blepharoplasty delivered through fibroblast therapy, TCA Cross to repair a variety of scars and divots in skin tissue, CryoSlimming to reshape the body, as well as HydraFacial MD, the next-level hydra-dermabrasion facial with personalized prescriptive-rated infusions.
Located at 1020 Powers Place, Bella is open for private consultation about laser, injectable and skin treatment options. Premier skincare lines including Alastin, Bella, iS Clinical and Revision are available in the boutique or by phone order.
"As an entrepreneur, I'm thrilled to give clients the convenience of a second location and provide services and skincare products to my friends and new clients who are based closer to my home in Milton," said Alethea Tinkle. "I'm ecstatic that Bella's philosophy of 'Repair, Protect and Maintain' has resonated with enough people to warrant expansion."
"Over the last year, my staff and I have experienced the remarkable mindset shift among both women and men to prioritize their skincare and wellness. Every week, we have out-of-state clients visit for treatments. Opening Bella in Alpharetta is a testament to our clients' faith in our business and my vision to reach more people seeking healthier skin and the greater self-confidence that comes with that."
A portion of the proceeds from select treatments and Bella product sales will benefit She Is Safe, a Roswell-based charity founded and run by Alethea's parents, Michele and Daniel Rickett, addressing the abuse and exploitation of women and girls.
About ASB Communications