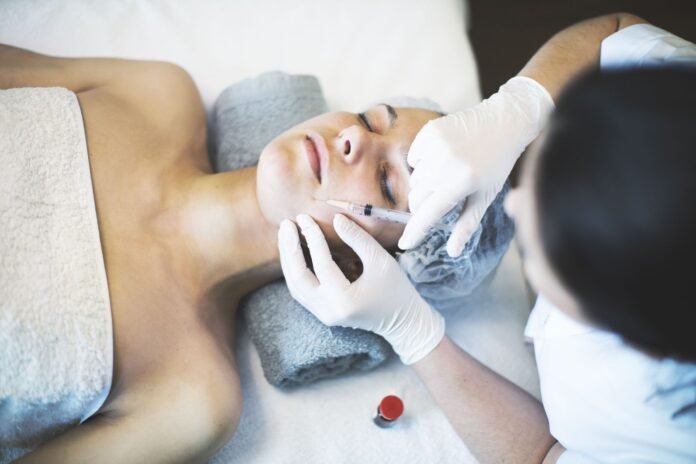 Key Takeaways
There's been a steady demand for cosmetic procedures during the COVID-19 pandemic, especially for facial procedures.
The interest in plastic surgery during this time may stem from increased video calling as well as the ability to stay home and wear masks during recovery.
Telemedicine is a key factor in keeping plastic surgery patients safe in an efficient manner.
While other surgical specialties have experienced a decline due to patients' fears of COVID-19 exposure during the pandemic, some plastic surgeons are seeing a greater demand for their services.
According to the American Society of Plastic Surgeons (ASPS), an estimated 18.1 million cosmetic procedures (both surgical and minimally invasive) were performed in 2019. While there's no data yet for the number of procedures performed in 2020, in June, ASPS reported that 64% of plastic surgeons had seen an increase in their patient consultations through telemedicine. Further, 49% of Americans who had never had plastic surgery said they were open to getting it in the future.
"When we re-opened, we had a significant backlog of surgical cases that required rescheduling," Andres Bustillo, MD, FACS, a board-certified facial plastic surgeon based in Miami, Florida, tells Verywell. "In addition, there were many new patients that had a desire to undergo cosmetic surgery."
What This Means For You
Considering that the demand for plastic surgery was already high pre-pandemic, you may want to seek consultation in a timely manner to avoid a long wait if you're considering plastic surgery.
Increased Demand for Facial Procedures 
According to ASPS, the most common cosmetic procedures in 2019 were liposuctions, tummy tucks, and breast augmentations.
However, this June, ASPS reported that Botox, an injection to correct wrinkles, was the most requested cosmetic treatment during the COVID-19 pandemic.
Therefore, it appears that more patients are changing their focus from procedures below the neck to above the neck. 
Elliot Hirsch, MD
We are spending so much time staring at ourselves on Zoom or FaceTime that we're really starting to notice the things that bother us that we can change.
— Elliot Hirsch, MD
Some surgeons believe increased video calling, coupled with flexible recovery due to stay-at-home orders, may be leading to a higher demand for facial procedures.
Video Calls and Conferences 
"We are spending so much time staring at ourselves on Zoom or FaceTime that we're really starting to notice the things that bother us that we can change," Elliot Hirsch, MD, board-certified plastic surgeon and chief of plastic surgery at Providence Cedars-Sinai Tarzana Medical Center in California, tells Verywell.
For this reason, he says facial procedures have become more popular. 
Common Facial Procedures
Blepharoplasties to repair droopy eyelids 
Facelifts to tighten facial tissue and diminish visible signs of aging
Fillers to reduce facial lines and create more fullness in the face
Some facial procedures, such as fillers or Botox, are minimally invasive, providing results in a matter of minutes or a few days. Minimally invasive procedures often require little recovery time, potentially allowing some patients a quick quarantine procedure. 
Stay-At-Home Orders 
More invasive facial procedures, such as a facelift, may require downtime that can extend into weeks. Being able to stay at home can help you heal privately and comfortably.   
"So many of us are working from home right now with kids in homeschool that it just makes sense to take advantage of this time to have surgery," Hirsch says. He adds that during this extended period of time at home, patients have been able to get more invasive body procedures, such as breast revision surgeries. 
Masks 
For those recovering from facial plastic surgery, wearing a face mask not only protects from COVID-19, but also covers your scars.
"Wearing a mask is now ubiquitous, [which] allows patients to recover without anyone noticing," Bustillo says. He also says, in addition to facelifts, rhinoplasty (cosmetic nasal surgery) is a very common surgical procedure at his practice right now.
New Safety Measures to Measure the Influx of Patients
Telemedicine is helping plastic surgeons effectively manage the increased demand for procedures while keeping patients safe. 
"I'm seeing more consultations virtually than we were before," Bustillo says. "Also, I'm following up with many of my out-of-town patients virtually to cut down on the need for travel."
In-person consultations are still taking place with increased safety measures.
"We have taken all the normal precautions at the office, such as masks, limited visitors, temperature check, and avoiding patients in the waiting room," Hirsch says. "This is a difficult time for all of us. Being able to fix something and make yourself feel better with a procedure can go a long way towards better mental health."