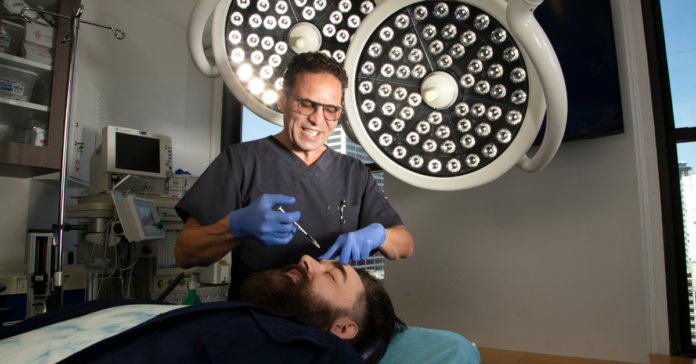 Medical pros find refuge
While Shafer is certified by the American Board of Surgery and the American Board of Plastic Surgery, under New York state law "licensed medical professionals" are allowed to administer Botox or dermal filler. That includes registered nurses, as long as they are under the supervision of a physician, dentists, physicians and nurse practitioners.
According to research from polling firm Morning Consult, 18% of health care workers have quit their jobs during the pandemic, and 31% have considered quitting. In New York some have found refuge in the shiny Botox bars that have sprung up across the boroughs.
"People can burn out in those situations," said Shafer, who employs nurses and nurse practitioners who formerly worked in the city's hospital system. "It's not what you were expecting to do."
Amber Campbell is a registered nurse and senior medical injector at the Chelsea location of Plump, a boutique cosmetic injectables and skin care studio that specializes in noninvasive treatments for the face and lips. Before joining Plump, Campbell worked as a nurse in oncology for seven years at Staten Island University Hospital and New York-Presbyterian/Weill Cornell Medical Center.
While she had always had an interest in plastic surgery, the conditions ultimately caused her to quit her job without another gig lined up. Campbell was persistent and had trained with her cousin who worked in injectables. She took a training course and eventually landed her current job.
"I worked through the pandemic at a Covid hospital and went in voluntarily," Campbell said. "At Plump, it feels like a team. At a hospital, you're a body filling a space to get a job done."
While Campbell, who works part time at Plump, said she's "not ballin';" she pointed out that if she worked full time, she would have a "notable bump" from her hospital salary. The quality of life is "not comparable" to her time working at hospitals, she said.
"We don't work weekends, we don't work holidays, we don't work overnights. There's no ratio issues," Campbell said.
While most studios require certification or additional training and offer their own in-house education and fellowship programs, some consumers remain skeptical.
Grace Ann Sweeney has a nine-step daily skin care routine. Her arsenal consists of a NuFace facial toning device that deploys low-level electrical currents to the facial muscles to prevent wrinkles, a gua sha (a flat, smooth-edged tool used to conduct a traditional Chinese healing method), chemical peels, cleansers, daily sunscreen, masks and microneedling.
"We're aging like the president," said Sweeney, 30. "These have been some stressful years."
Sweeney recently invested in a package of laser facials at LaserAway, an aesthetic dermatological services provider. She was surprised when she received complimentary units of Botox with her purchase. Despite her valiant battle against gravity, she wasn't interested.
"These new places make it seem like you're going in to get a manicure, but you can take a manicure off in a week," Sweeney said. "You can't take your Botox off in a week."