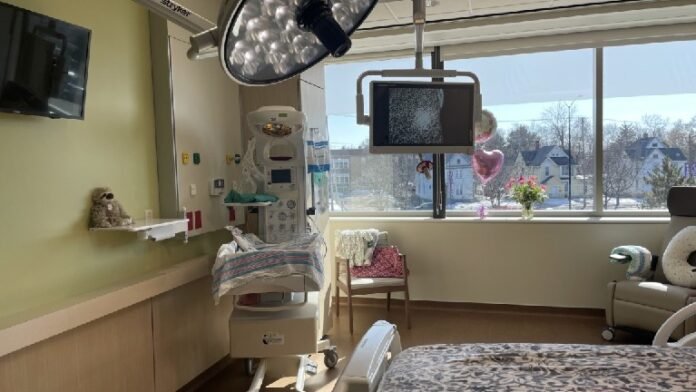 ROCKFORD (WREX) — SwedishAmerican, a division of UW Health, celebrated the opening of its new Women and Children's Hospital with a ribbon-cutting ceremony Thursday.
The $55 million facility at 1350 Charles Street will open its doors to its first patients later this month.
Located next to the Heart Hospital on the south side of the main SwedishAmerican hospital campus, the Women and Children's Hospital is a four-story building that has been under construction since July 2018.
The new hospital is 120,000-square feet and will be home to an expanded 24-bed Level III NICU, Labor and Delivery, Mother/Baby, Maternal Fetal Medicine and pediatric specialists from UW Health.
"SwedishAmerican is proud to open this state-of-the-art facility designed specifically to provide an improved experience for our patients," said SwedishAmerican President and CEO Tom O'Connor. "Not only will the Women and Children's Hospital better serve our mothers and babies, but this location will offer UW Health pediatric specialties that our patients previously had to drive to Madison or Chicago to receive.
UW Health pediatric specialties offered include pediatric otolaryngology, cardiology, general surgery, hematology, oncology, plastic surgery, pulmonology, rheumatology, neurology, gastroenterology, audiology, fetal cardiology and urology.
Additional facts and features of the new hospital include:
Project partners include Ringland Johnson and Cannon Design
Created approximately 400 union labor construction jobs and dozens of new permanent healthcare jobs inside SwedishAmerican
Level III NICU with 24 private rooms
Offering UW Health pediatric specialty services including pediatric otolaryngology, cardiology, general surgery, hematology, oncology, plastic surgery, pulmonology, rheumatology, neurology, gastroenterology, audiology, fetal cardiology and urology
Home to Maternal Fetal Medicine
Two large state-of-the-art operating rooms and recovery rooms in Labor and Delivery
14 private labor and delivery rooms that include beds for support person
20 mother/baby suites
Family lounge and two family overnight rooms for families who live an extreme distance away or have a critically ill baby
Monitors in each labor and delivery room that allow for moms to see the live birth
Lactation consultants available seven days a week, including outpatient appointments
Uplifting views, soft lighting and healing art with themes drawing from the surrounding Forest City environment to reflect river, meadow, forest and sky