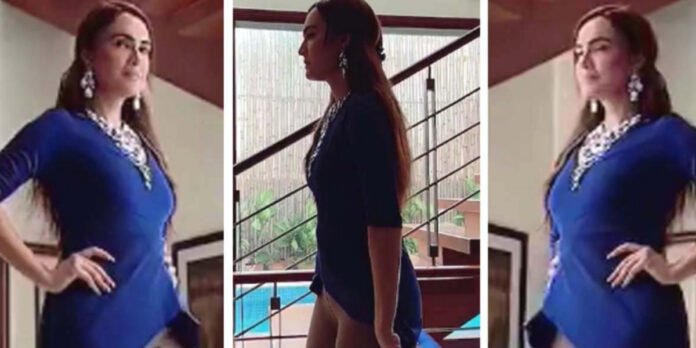 Nadia Hussain is a Pakistani actress, model, presenter, fashion designer, and businesswoman who has appeared on Pakistani television. The diva began her career in showbiz at a young age in the 2000s.
Nadia is the only Pakistani model selected by Rizwan Beyg, Pakistan's leading designer, for Sarajevo Fashion Week, which featured designers from all around the world.
Nadia has acted in many drama series. She is the owner of Nadia Hussain Salon and Medspa and also a dentist. Botox, fillers, and injections are among the skincare services and treatments available.
Nadia Hussain is frequently in the headlines due to her scandals and fashion choices. As a fashion model, she has a unique sense of style that may be alluring at times but can sometimes be offensive to the audience.
She is a candid and outspoken media personality who can say anything on camera and has the bravery to own her words.
Nadia's outfit in her most recent video has now sparked public outrage. Her outfit consists of a short navy blue dress and a skin-coloured tight. Her tightness is obnoxious and brash, and it has sparked public outrage.
Many netizens stated that Nadia isn't wearing anything and that she should pay more attention to her appearance. Whether some believe that media superstars performed such actions to get public attention.
In the video, have a look at Nadia's outfit.
For the latest Entertainment News follow BOL News on Google News. Read more on Latest Entertainment New on bolnews.com