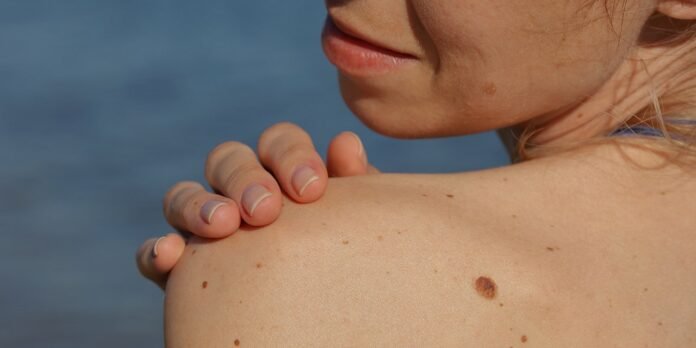 The area will be measured, mapped, and sometimes photographed before your doctor does the actual removal, Samantha B. Conrad, M.D., a dermatologist at Northwestern Memorial Hospital, tells SELF. Your doctor will also explain what, exactly, they plan to do during the procedure and answer any questions you may have, she says.
Then, your doctor will clean the surface of your skin, usually with an alcohol pad, and inject the area with local anesthesia like lidocaine, Dr. Lipoff says. "This should be the only part with any discomfort," he adds. "There may be a pinch and a burn." After that, the anesthesia should kick in, and your mole plus the surrounding area should be nice and numb.
You shouldn't feel much during the actual removal other than (maybe) some pressure, Dr. Goldenberg says.
Usually your doctor will use an instrument like a scalpel to remove the actual mole and surrounding tissue if necessary, Dr. Goldenberg says. Thanks to the anesthetic, you shouldn't feel pain or sharpness during the procedure—if you do, let your doctor know.
The procedure itself can take anywhere from a few minutes to an hour depending on the size of the mole and the depth to which your doctor needs to cut, Dr. Goldenberg says. Typically, your doctor will give you a heads up in advance about how long they expect the whole thing to last. (If they don't and you're wondering, ask!)
If you had to have a deeper cut, you'll probably need stitches once the mole has been excised, Dr. Lipoff says, but that should only take a few minutes. Again, due to that anesthetic, you shouldn't feel much discomfort here.
As with any procedure, the recovery time for mole removal varies. You should feel back to normal within days to weeks, depending on whether or not you got stitches.
When it comes to overall healing time, you're looking at anywhere from a few days to a few weeks based on how big the mole was and how deep your doctor had to cut, Dr. Lipoff says. If you had stitches put in, they'll usually come out in two weeks, Dr. Goldenberg says.
You shouldn't experience any severe pain as the area heals, but you might deal with soreness or itching, Dr. Conrad says. Regardless of the type of mole removal you had, your doctor should instruct you on how to keep the area as clean and soothed as possible. For patients without stitches, Dr. Goldenberg recommends running a mixture of water and gentle soap over the wound at least once a day, gently patting it dry, then applying a thick ointment like petroleum jelly or an anti-bacterial cream before putting on a fresh adhesive bandage.
If you had stitches, your doctor will recommend that for a few days you keep the area as dry as possible and avoid doing any heavy exercise, Dr. Conrad says. (Both of these factors can throw a wrench into things if you're super active—be sure to discuss that with your doctor if it worries you.) If you had a pretty quick and easy removal, you should be fine to return to any usual habits like working out the next day, but it's still smart to run that by your doctor first.
Lastly, know that you're probably going to have some kind of a scar after mole removal. The size of the scar ultimately depends on the size of your mole and the type of procedure you had done, but this almost always happens with mole removal, Dr. Goldenberg says.
If you're experiencing pain after your mole removal or you notice that your mole is growing back, call your doctor so they can take another look. And if you got the mole removed in order for it to be biopsied, you should have your results within a week so that you can either put the entire thing behind you or move forward with a treatment plan if necessary.
Related: