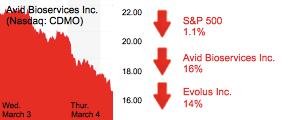 Indexes fell in midday trading as tech stocks continued to decline despite better than expected weekly unemployment claims. 
The S&P 500 slid 1.1% to 3,8776.67. 
The Dow Jones Industrial Average was down 0.9% to 30,997.92.
The Nasdaq slumped 1.9% to 12,743.92.
Crude oil rose 5.8% to $64.81 a barrel.
Gold declined 0.6% to $1,705.30.
The yield on a 10-year Treasury climbed 3.9% to 1.528%.
HEALTHCARE
Orange County healthcare firms saw declines in Thursday midday trading, led by contract manufacturer Avid Bioservices Inc. (Nasdaq: CDMO), which was down 16% to $18.25 a share for a $1.1 billion market cap. Shares of the Irvine-based firm are still up 53% since the beginning of the year, on news of Avid gaining new clients developing COVID treatments. 
Newport Beach-based aesthetic maker Evolus (Nasdaq: EOLS) declined 14% to $11.90 a share with a $404 million market cap. Shares for the Botox competitor are currently trading at about two thirds of their daily average volume.
Inari Medical Inc. (Nasdaq: NARI) of Irvine fell 10% to $94.36 and a $4.6 billion market cap. Shares of the blood clot removal device maker had climbed 11% since Jan. 4.