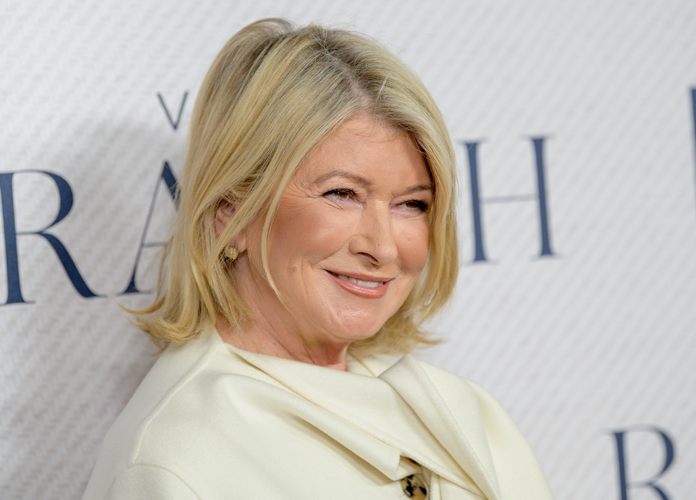 From that pool selfie to her friendship with Snoop Dogg, Martha Stewart gave a pretty revealing interview to People in its latest issue—touching on topics like starting her business, her early days of modeling, going through a painful divorce and even some beauty and aesthetics advice.
"I work primarily with two very excellent dermatologists, who are very conservative about anything that they would do to my face," the 79-year-old shared. "A little Juvéderm injections here or there every now and then, maybe twice a year, and that's basically the skin treatments that I get. I've never had a facelift. I have the same lady doing my pedicure for many years. And my feet are like a young person's feet because of her. I have all my own teeth."
Stewart went on to say that, for her, it's all about practicing self-care: "I really care about maintaining an aura of good health, which is basically the food I eat. And genetics has a lot to do with it. My dad was a gorgeous man with very good skin. So was Mom. She was fantastic until she was 93 years old. My hope is that unless I kill myself with too much hard work, I will probably survive very nicely for a long time."
And, as for that viral pool selfie, she says "social media can be a blast," but this specific shot was a bit of a fluke.
"I took a pool selfie photo by mistake. I was trying to take a picture of the beautiful turquoise planter at the end of the pool, but the camera was on me, so I just snapped it. It looked so good, so I posted it. I didn't know what a 'thirst trap' was, but now I do. Now I'm looking for the next thirst trap. I love doing those promiscuous, provocative things, because it's just fun."
Find a Doctor
Find a NewBeauty "Top Beauty Doctor" Near you