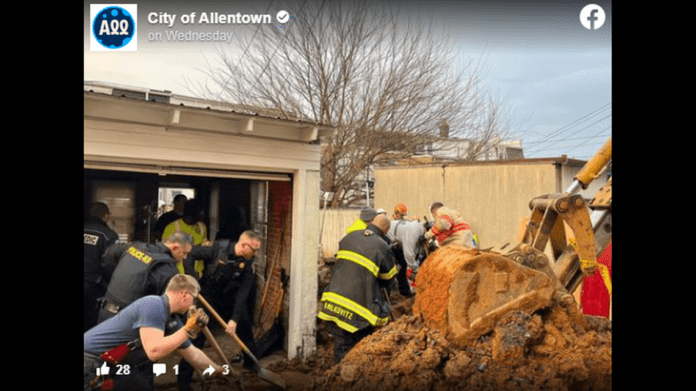 After spending more than eight hours up to his neck in mud and dirt, a Pennsylvania man was safely removed from a collapsed trench in Allentown, officials say.
But being rescued wasn't the only good news of the day.
City of Allentown officials said a construction trench collapsed around 2 p.m on Jan. 11, trapping two workers inside. The first worker was rescued shortly after using a ladder, but the second was stuck, according to lehighvalleylive.com.
A City of Allentown EMS post on Facebook said the man was roughly "6 feet deep, covered in soil to his face." The man was reported to be conscious and responsive as emergency services began to slowly dig him out.
By 9 p.m. the city reported that workers had successfully excavated the man down to his ankles but were still working to get the last bit of his body uncovered.
Allentown Fire Capt. John Christopher told lehighvalleylive.com that the rescue team had been "rotating on an hourly basis," mostly digging the man out by hand to avoid power tools hitting a part of the man's body that was still buried.
He also said the fire department was monitoring the air quality in the trench to protect the man and the rescue crew, and EMS provided an IV with warm fluids and pain medication to the trapped worker as soon as they were able to gain access to the trench.
Not long before the rescue was complete, emergency services allowed the man's family to come and speak to him. That's when the worker got incredible news.
He is going to be a dad.
"Every story deserves a happy ending," the city said in a Facebook post. "Shortly before we were able to lift him out of the trench, the rescued man's wife told him she was pregnant with their first child!"
The man was finally removed from the trench at 10:18 p.m and taken to Lehigh Valley Cedar Crest Hospital, joined by his family.
City officials thanked all who made the rescue possible, including a local pizzeria that provided food and drinks to the rescue teams throughout the excavation.
"This was a true team effort and couldn't have been accomplished without all of the support," officials said.
Massive landslide dumps boulders and debris on Nevada highway, video shows
Climber scales 200 feet up spire in Arizona. Then her leg gets stuck in crack
Video shows rushing floodwaters trapping two on top of submerged truck, CA officials say