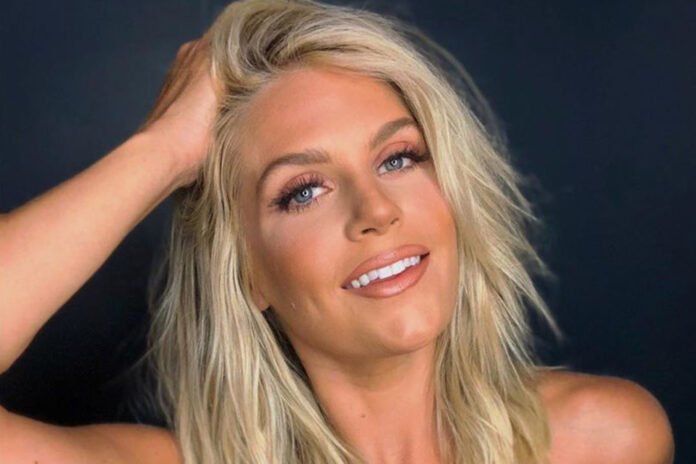 Madison LeCroy is sharing more details about her decision to have plastic surgery. After getting breast implants as part of her "full mommy makeover" last year, the Southern Charm cast member revealed why she opted to undergo the cosmetic procedure in a recent Instagram post.
On February 13, Madison took to Instagram to get real about her experience with plastic surgery and exactly what led to her decision to get some work done. The Charleston mom shared a black-and-white photo of herself smiling while going rocking jeans and no shirt.  
"Plastic surgery. Two words I hadn't given much thought to. I never thought I would need, much less want, plastic surgery," she wrote alongside the snapshot. "However, after giving birth to an 10lb baby eight years ago, I no longer felt confident in my own skin."
Though the Southern Charm-er says she's always been "fitness-obsessed" and conscious of maintaining a healthy diet, she explained, "There are areas that don't quite bounce back to where they were originally.  Recently I was introduced to Dr. Patrick O'Neill and he gave me my confidence back and transformed the parts of my body that I was most self-conscious about."
She went on to conclude, "Women should never be shamed for doing anything that makes themselves more confident or love themselves more. If it makes you feel better about yourself, do it! If your sister, mother, daughter or friend is considering doing something to boost their confidence and self-worth, then support them!"
Want more Southern Charm?  Catch up on every episode ever through the Bravo app.
Bravo's Style & Living is your window to the fabulous lifestyles of Bravolebrities. Be the first to know about all the best fashion and beauty looks, the breathtaking homes Bravo stars live in, everything they're eating and drinking, and so much more. Sign up to become a Bravo Insider and get exclusive extras.