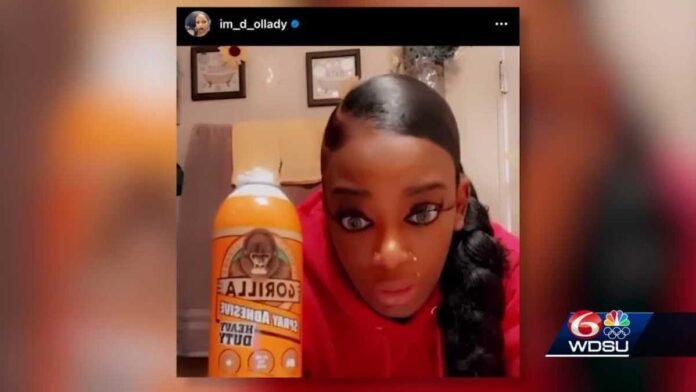 Tessica Brown was headed for a night out last month when she ran out of hair spray. "I went running around the house. I looked at the top of the refrigerator and there was the gorilla spray," Brown said. She used the spray version of Gorilla Glue on her hair to hold it in place for the night. "I figured by the time I come back home I could just wash it out. But when I got back, it didn't wash out," she said. Brown says nearly a week went by before she told her mother what happened. "We started trying all kind of different olive oils. I even put cooking oil. I didn't move. That was the only reason I went to social media. I figured someone out there could help."She never imagined what happened next. The video went viral overnight. Brown didn't get the help she was looking for, but a flurry of hurtful comments instead. She regrets posting the video. Even her kids are feeling the impact "People talk about it at their school all day. Teachers, parents, students."Brown went to a local hospital for help but the process was long and excruciating with little results. She has struggled with pain and headaches as the glue continued to tighten and harden."I cut my whole pony tail off. That gave it some relief. But where the glue still is, it's like red ants."Brown will be with a surgeon in California this week who may be able to help. While Brown is ready to put this entire ordeal behind her, she admits the scars will linger for a while. "I'm the person who has this thick skin. Nothing bothers me. But for people who don't even know me saying all the stuff they are saying, I can't really get with it."
NEW ORLEANS —
Tessica Brown was headed for a night out last month when she ran out of hair spray.
"I went running around the house. I looked at the top of the refrigerator and there was the gorilla spray," Brown said.
She used the spray version of Gorilla Glue on her hair to hold it in place for the night.
"I figured by the time I come back home I could just wash it out. But when I got back, it didn't wash out," she said.
Brown says nearly a week went by before she told her mother what happened.
"We started trying all kind of different olive oils. I even put cooking oil. I didn't move. That was the only reason I went to social media. I figured someone out there could help."
She never imagined what happened next. The video went viral overnight. Brown didn't get the help she was looking for, but a flurry of hurtful comments instead. She regrets posting the video.
Even her kids are feeling the impact
"People talk about it at their school all day. Teachers, parents, students."
Brown went to a local hospital for help but the process was long and excruciating with little results. She has struggled with pain and headaches as the glue continued to tighten and harden.
"I cut my whole pony tail off. That gave it some relief. But where the glue still is, it's like red ants."
Brown will be with a surgeon in California this week who may be able to help.
While Brown is ready to put this entire ordeal behind her, she admits the scars will linger for a while.
"I'm the person who has this thick skin. Nothing bothers me. But for people who don't even know me saying all the stuff they are saying, I can't really get with it."