Ask any NASCAR fan about Dale Earnhardt Jr and they'll give you a perfect sketch of how he looks, that's just how popular and relevant the former driver still is to this day.
However, it seems FOX Sports didn't really recall how Dale Jr. looks considering the cartoonish version of him that appeared in a recent race broadcast.
A fan shared a picture of the screen in which Earnhardt Jr looks less like himself and more like a side character from the villain's camp from Swat Cats. This was clearly a mistake from the animator's end, or perhaps, this was the point after all, to make one of NASCAR's most famous names of all time, and deliver a cartoonish cartoon of them.
ADVERTISEMENT
Article continues below this ad
Regardless, this led to many NASCAR fans making fun of FOX for turning Dale Jr. into what they did, while some poked fun at the cartoonish depiction itself.
FOX REALLY doesn't care anymore

— LAKings874 (@LAKings874) April 23, 2022
Who TF made him like that LMAO

— Carter Courtney (@carter_nation18) April 23, 2022
No one is more equipped than Dale Earnhardt Jr to call Talladega
Dale Earnhardt Jr was announced to be joining the FOX Sports booth for the Cup Series race at Talladega Superspeedway. This year, FOX have employed a strategy of rotating guest analysts along with the constants of Mike Joy and Clint Bowyer.
"We've had guest analysts (during the season); how about this guy? NASCAR Hall of Fame inductee Dale Earnhardt Jr., Mr. Talladega, six wins there, including four in a row," studio host Chris Myers said.
ADVERTISEMENT
Article continues below this ad
Dale Jr. will be part of the pre-race show as well as being live on the track before joining Joy and Bowyer in the booth.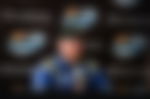 AVONDALE, AZ – JANUARY 31: Monster Energy NASCAR Cup Series driver Dale Earnhardt Jr. addresses the media during NASCAR testing at Phoenix International Raceway on January 31, 2017 in Avondale, Arizona. (Photo by Jennifer Stewart/Getty Images)The President of Production and Operation and Executive Producer of FOX, Brad Zager, also had some pretty hefty words for the NASCAR Hall of Famer.
ADVERTISEMENT
Article continues below this ad
"Dale joining us in the booth says so much about his love of the sport of NASCAR, and there is absolutely no one more equipped to call a race at Talladega," he said.