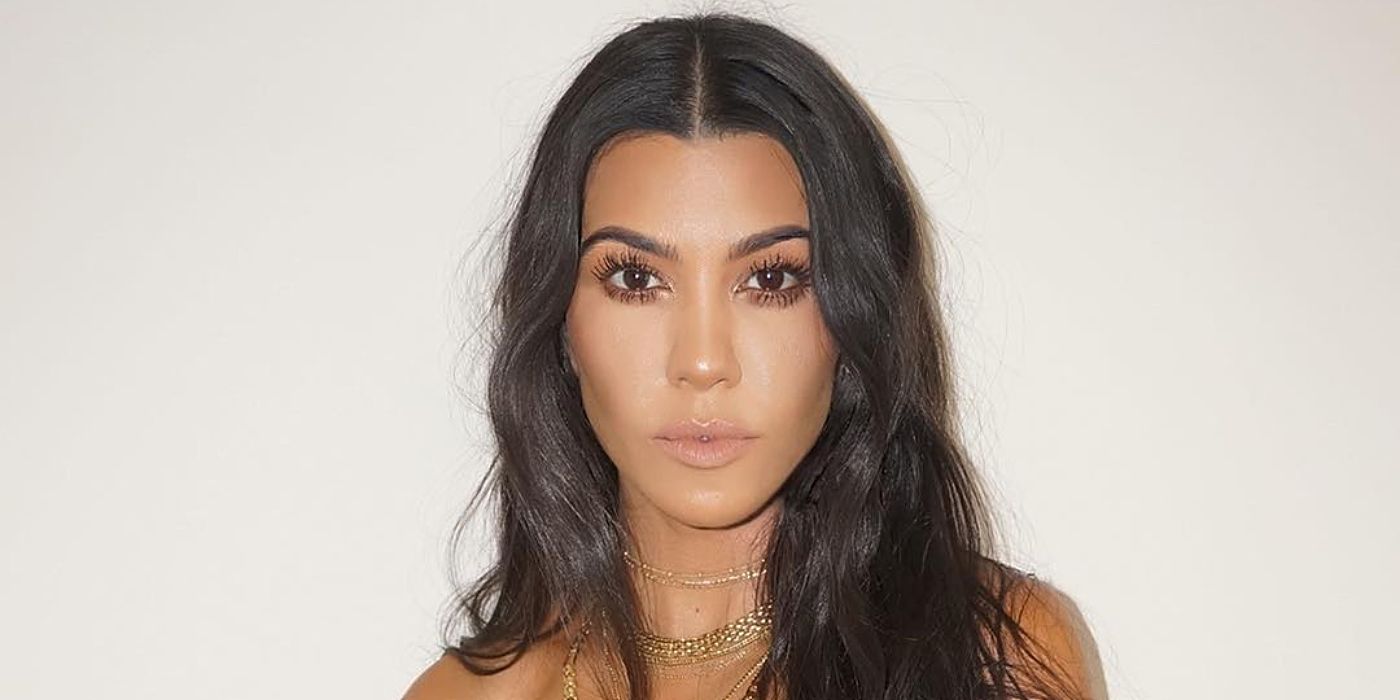 Keeping Up With The Kardashians star Kourtney Kardashian recently dished some of her skincare secrets and it surprisingly includes needles.
At 41 years old, Kourtney Kardashian appears to be aging backwards. The Keeping Up With The Kardashians star is often praised for her spotless face and slim figure after having three children. In a recent Instagram post, Kourtney dished some of her skincare secrets.
Amid reports of her budding romance with Blink-182 drummer Travis Barker, Kourtney has been showing off an edgier style and new vibrancy in 2021. It was just last month when fans began to speculate that a romance was brewing between her and Travis. The two have been friends and neighbors for years and had already denied rumors of them dating back in 2018. However, the comments that the "All The Small Things" rocker was seen leaving under Kourtney's Instagram pics left many fans convinced that the two were seeing each other. By the end of the month, the two seemingly confirmed their romance by posting up the same poolside view pic on Instagram. Since then, fans have been tuned in to see if the Poosh founder teases anything about her newfound romance.
Continue scrolling to keep reading
Click the button below to start this article in quick view.
Related: Kourtney Kardashian Is 'Waiting to Post' Travis Barker On Instagram
Instead of showing off her romance on Tuesday, Kourtney promoted a skincare product she's selling on her Poosh website. "Last April when we were all home with not much to do, I discovered this skin tool, a stamp with tiny needles," she shared in a lengthy promo caption. "It comes with a serum that pours into the stamp, which infuses it deeper into your skin since stamping is a form of microneedling." The caption was included under a photo slide that showed two sultry shots of Kourtney holding the tiny skincare bottle. "After my mom and Khloé were raving about my glowing skin over FaceTime, it instantly became one of my absolute favorite skin tools and product combinations," she continued while advertising her new vegan skincare product. "We decided to partner up and make a vegan skin brew which comes with the stamper tool."
Like her sisters, Kourtney often share posts promoting her business. Her Poosh brand focuses on selling organic wellness products that help to enhance your lifestyle. She looked stunning in the latest promo pics as she wore a gold bikini top with a matching scarf tied around her neck. Many of her fans shared comments telling her how beautiful she looked in the images. Her post comes amid reports of her and Travis' very real romance. Despite not posting about their relationship online, insiders say it is still very new and they're in no rush to let outsiders in on what they have going on.
They both co-parent their children with their former spouses. Kourtney and Scott Disick have remained close friends while raising their three children. Travis and his ex-wife Shanna Moakler even wrote a book together about why they broke up. They still remain amicable while co-parenting their two children.
Next: KUWTK: Why Fans Think Kourtney's Turning Into Kris Jenner
Source: Kourtney Kardashian
90 Day Fiancé: How Photos Proved Geoffrey & Varya Are Still Together