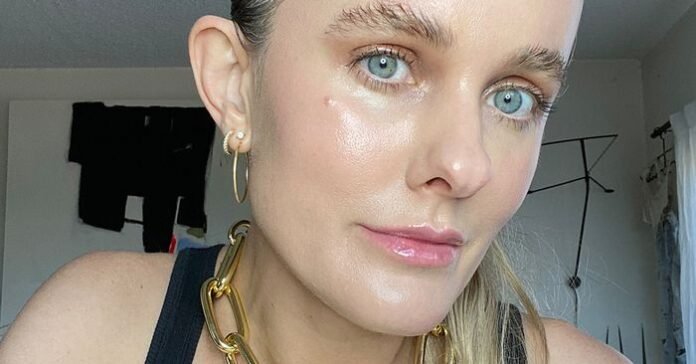 Outside of my under eyes, the one place where it was the most noticeable was my lips, and this year on my 40th birthday, they just seemed thinner than usual. (This is because the collagen and hyaluronic acid production start to slow down in your late 20s and 30s.) Now, I have tried lip filler before, but it was always very subtle, and this time I was ready for something with a bit more volume, something that could also restore some definition, too, because your lip pigment also starts to fade as you age. (I'm seriously considering seeing the famous Brow Jelly to bump up the color.)
I was first introduced to the keyhole lip filler while browsing Bell Yoo's, MSN, FNP-C, Instagram.
The board-certified nurse practitioner at Facile Dermatology + Boutique in West Hollywood is a renowned master at lip filler, and I knew immediately upon seeing this image that I wanted to try it out for myself. But as with many buzzy medical trends, I wasn't sure if this keyhole look would suit me or if my lips were suited to the treatment. 
Facile has stringent COVID-19 rules it follows in accordance with government recommendations, so I felt comfortable booking an appointment with Yoo to chat through the procedure. As a side note: if you're sticking to at-home treatments currently, I'd recommend this DIY facial that gives professional results.
It turns out, keyhole lip filler isn't right for my lip anatomy (more on that later), but thanks to her unique lip-filler technique, we were able to achieve a very similar result. Read on to learn more about my experience with lip filler, what keyhole lip filler is, what filler is used to achieve it, how much it costs, and what to expect during and after treatment, including the recovery time. Feel free to DM me @skinlexicon if you have any questions!