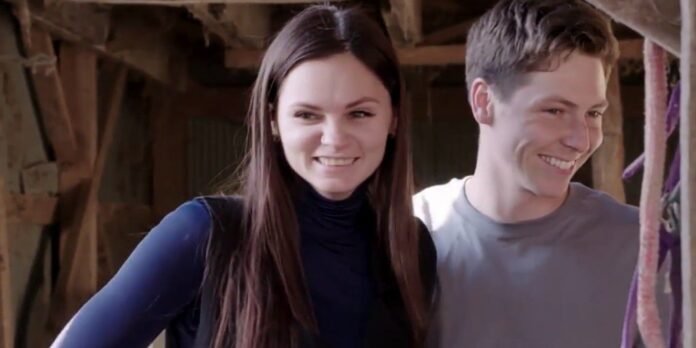 90 Day Fiance devotees love the fact that Julia Trubkina is willing to share her thoughts with them. Find out what she's been saying lately.
Season 8 of 90 Day Fiancé may be on hiatus this week, but Julia Trubkina is providing fans with new information on Instagram. The fiancée of Brandon Gibbs shared some information about her beau and plastic surgery, while rumors continue to swirl about the couple's relationship status.
Brandon and Julia have faced a bumpy time together in the United States due to Brandon's overbearing parents, Betty and Ron. The couple has made Russian Julia's time in Dinwiddie, Virginia stressful by forcing her to abide by their strict rules and perform tough farm work. Julia presented Brandon with an ultimatum: move out of his parents' house with her or she's going back to Russia. Brandon halfheartedly stood up to his parents, which has led to speculation that the couple got their own apartment together. However, recent online rumors have suggested that the couple actually split and Julia is back in Russia. While they aren't able to confirm their relationship status, Julia was able to answer some fan questions on February 9.
Continue scrolling to keep reading
Click the button below to start this article in quick view.
Related: 90 Day Fiancé: Online Rumors Suggest Brandon's Julia Is Back In Russia
Julia continues to impress TLC fans thanks to her growing English skills, and the Russian beauty has been answering questions in both Russian and English on her Instagram Story. While many 90 Day Fiancé cast members have undergone plastic surgery, Julia said "no never" when it comes to plastic surgery or implants. The Russian beauty has previously shared her fear of needles and firmly stated that her looks are all-natural. She also said that she no longer dyes her hair, though she did in the past, a long time ago. Unlike co-star Yara Zaya, Julia is not a fan of cosmetics. "Honestly, I don't paint, only when it's necessary," she told a fan who inquired about her makeup and skincare preferences. "I don't know how to paint, I don't use makeup." Julia also shared a brief clip of herself stating that all of the questions about her and Brandon are exhausting, as she cannot reveal her living situation or relationship status until the season finishes airing.
Julia also shared some more information about Brandon. Whether or not the couple is still together, Julia has always spoken lovingly about the farm boy. In the past, she has referred to Brandon as extremely kind and good-hearted. In her most recent Instagram Story, she shared that her favorite thing about him is that "there is no envy and anger in him." She also shared that she is kept cozy in the United States by her "son," who happens to be a German Shepherd dog. The photo Julia shared with the gorgeous pup may be an indication that she is still living on the farm, as Brandon's parents breed German Shepherd dogs there.
The Russian beauty, who occasionally speaks Korean, shared that she never formally learned English. She wrote that she started listening to Brandon and memorized the words he spoke, which is an impressive feat. Therefore, whether or not the couple is still together, it appears that Julia has gained a lot from her time with Brandon. While some fans are rallying for her to break free from farm life, others hope the couple can work things out apart from Betty and Ron. Fans will ultimately have to stay tuned to new episodes of 90 Day Fiancé to see how their romance fares.
Next: 90 Day Fiance: Will Brandon Gibbs Change His Whole Life To Keep Julia?
Source: Julia Trubkina/Instagram 
Selling Sunset: Everything To Remember About Heather Young In Season 1
About The Author