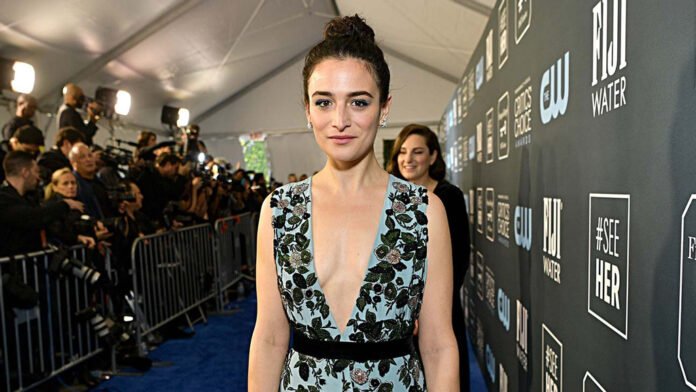 "What a beautiful thing that happened to me," she shared with Jimmy Kimmel on giving birth during a pandemic.

This week, Jenny Slate announced that she gave birth to her first child with fiance Ben Shattuck a little over a month ago.
After exclusively revealing the news to Entertainment Tonight on Wednesday, the 38-year-old actress discussed the pandemic pregnancy and birth with Jimmy Kimmel on his late night show later that day.
When asked by the host how old her child was, the Great North actress revealed her daughter, named Ida Lupine, was just six weeks old. "What a beautiful thing that happened to me," she told Kimmel.
Slate shared that her fiance was allowed to be in the hospital with her as she gave birth to their daughter but noted it's a "major time to have a baby right now" due to safety protocols that must be followed over COVID-19 concerns. The actress then joked that it was good they both had masks on. "I was making a lot of faces that I might not want him to remember," she said.
Slate first announced she was pregnant in early December during an appearance on Late Night With Seth Meyers.
"On night one of the lockdown we had a really romantic night of being together, real sweet with my fiance," she told Meyers. "Then I did what everyone else did. I kind of hunkered down and baked a lot of bread. But I just want to say I think I might have baked too much bread or eaten too much bread."
This is Slate's first child with artist and writer Shattuck. The two got engaged in France in September 2019.
Watch Slate's appearance on Jimmy Kimmel Live! below.