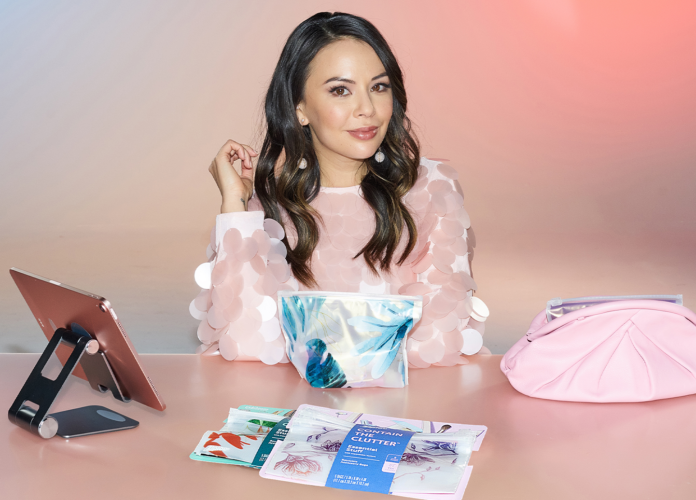 Janel Parrish had a busy weekend. Between the Netflix release of To All the Boys I Loved Before: Always and Forever to virtually attending the Jason Wu show for NYFW week, the Pretty Little Liars star didn't fully have the luxury of partaking in a little "lazy Sunday." We recently caught up with the 32-year-old over the phone from Vancouver—the city she's been calling home base for a few weeks while she's filming a new project—to talk all things beauty as she prepped for the show, her new collab with Ziploc (spoiler alert: the brand is getting in on the makeup-accessory game and it is chic) and the sun-damage laser she swears by. 
I'm sure you're asked to work with brands a lot. Why Ziploc?
When Ziploc came to me with their idea of the Hot Mess Makeup line, I was like, "Okay, I totally relate." My purse is so unorganized—and I have ruined so much makeup because of it. It just falls to the bottom and then it breaks or disappears. I love the fact that you can create your own lineup by just reorganizing items you already have and then popping them into the Ziploc accessory bag. I'm obsessed—I love them because they're super, super cute, they're durable, they're reusable, and they're easy to clean. Plus, the bags are also the official accessory of New York Fashion Week. Because of the digital world that we're in, I am able to attend the Jason Wu show and I'm going to be wearing a makeup look that I create using my own Hot Mess Makeup line. I'm going to document everything, which is going to be really fun.
How does glam work with the whole virtual thing? Will you work with a makeup artist or do it yourself? 
I'm going to be doing it myself since, but I'm going to have some help on Zoom from the amazing, talented makeup artist Vincent Oquendo. He's going to be guiding me to create a look using the makeup that I'm going to organize and rediscover from my messy purse.
What are some of your must-have beauty products?
Off the top of my head, I always have to have my mascara. I'm obsessed with mascara because even if you don't put much else on your face, it immediately makes your eyes pop. I'm obsessed with all of the L'Oréal mascaras. I always have to have lip balm in there, too, especially with the long days on set. You have to keep those lips hydrated.
You post a lot of your bold-eye makeup looks on Instagram. What is your philosophy on sharing on social media? 
I'm a really open person. I really like to share all the things that make me happy with my friends, my family, my followers. Beauty is a big part of that, and so is cooking, so is travelling. I just really like to document the things in my life that make me happy.
You even post your laser treatments! Are there any beauty-related treatments you really love or anything you'd like to try?
Yes! The older I've gotten, the more I've started to see the effects of sun damage. I've been going to Kate Somerville to get their IPL treatment, which is a laser treatment designed for helping with hyperpigmentation. I've also been getting their Genesis Laser, which I love. It sort of helps improve overall skin tone and evens out your pores. It's kind of a nice thing, too, about having this time at home. My skin has had much more time to just breathe—so whenever I can go makeup-free and kind of let my skin do its own thing, the happier it seems to be.
How has your beauty routine changed during COVID? 
I'm definitely more into self-care moments, especially now that we have all of this time to really reorganize our lives, reorganize the things that we already have. I used to love going to makeup stores and browsing the aisles and picking things up—but now it's like I finally have the time to go underneath my sink, to the area that I have that has always been full of makeup, and look at what I have and reorganize everything. We finally have all this time to take care of ourselves, so I've been really enjoying that.
What was the last beauty-related thing you did for the first time?
I took the broken lipstick that was in the bottom of my purse—it was real sad—and I put it into this new little pack and now I can use it again. It's so exciting.
What other projects are you excited about as the year rolls out? 
Well, this [past] Friday was exciting because it's the day that To All the Boys was released on Netflix, which is super exciting. It's just wholesome, wonderful, happy, loving content, which we can all use right now! Also, I'm on location right now, shooting a really fun romantic comedy. There are some other things that are in the works that I can't talk about just yet, but I'm excited!
Find a Doctor
Find a NewBeauty "Top Beauty Doctor" Near you