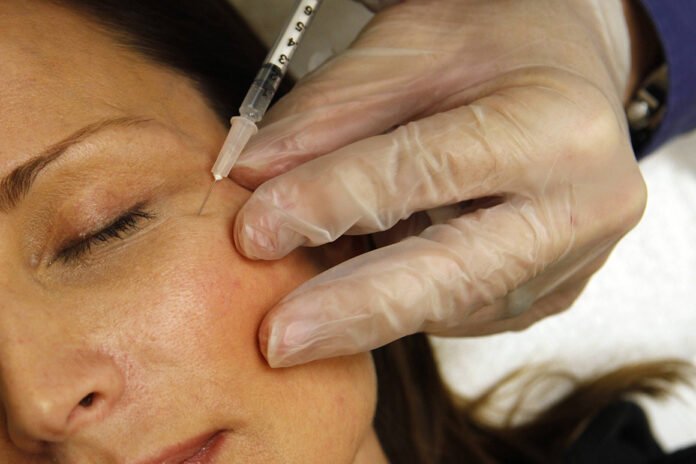 "There's billions of dollars at stake here," said Ira Loss, senior healthcare analyst with Washington Analysis.
Trade secret experts said that if Allergan and Medytox are successful, more companies — particularly in the pharma and tech industries — are likely to bring similar cases to the ITC.
"What we're going to see is companies choosing trade secret protection over patent protection and using the ITC enforcement mechanism," said Sharon K. Sandeen, a professor at the Mitchell Hamline School of Law in Minnesota who specializes in trade secret law. "It is problematic from a competition point of view."
Botulinum toxin, the most toxic substance known to man, is derived from a bacteria, C. botulinum, and can kill people if accidentally ingested by freezing a person's lungs so they can no longer breathe. U.S. Army researchers identified a particularly virulent strain of the bacteria in the 1940s that is still used today.
Doctors in the 1970s began testing the "miracle poison," as it became known, as a treatment for muscular eye disorders like crossed eyes. In 1989, the Food and Drug Administration gave its approval for that use. Allergan, then a Los Angeles pharmaceutical company focused on eye care, acquired the treatment and renamed it Botox.
As doctors continued experimenting with the toxin to treat eye twitching and facial spasms, they noticed a surprising side effect: injections reduced the appearance of facial wrinkles and frown lines. Dermatologists began to offer it in the 1990s for that off-label use, though the FDA didn't officially approve Botox for cosmetic and aesthetic uses until 2002.
Today, Allergan's Botox is approved to treat frown lines, crow's feet and 11 medical conditions including eye muscle disorders, chronic migraines, bladder disorders and cervical dystonia — a rare condition that causes involuntary neck spasms or contractions.
The company brought in nearly $1 billion in revenue last year from Botox wrinkle treatments in the U.S. alone. Overall, Botox injections brought in about $3.8 billion in global revenue from both cosmetic and medical uses.
At least two other companies offer Botox alternatives: France's Ipsen Biopharmaceutics, which makes Dysport, and Germany's Merz, the maker of Xeomin. Both Ipsen and Merz first introduced their products to the U.S. as medical treatments and only later sought FDA approval for cosmetic uses, Loss said.
Last year, U.S. doctors administered about 7.7 million botulinum toxin injections, according to the American Society of Plastic Surgeons annual report, a number that has steadily grown each year and is expected to continue its upward trajectory.
Unlike its competitors, Evolus only sought FDA approval for cosmetic uses, introducing its wrinkle treatment Jeuveau in February 2019.
In 2018, Allergan's Botox made up about 75 percent of the market for aesthetic treatments with Ipsen's Dysport making up 19 percent and Merz's Xeomin a distant third at 6 percent, according to an Evolus investor presentation. By the end of 2019, Evolus said it had surpassed Xeomin and expected to overtake Dysport as the second-most frequently used injection for wrinkles and frown lines by the end of this year.
Jeuveau has managed to make a dent in Botox's empire, in part, by offering lower prices. Mark Koepsell, the owner of Xanadu Med Spa in Fort Collins, Co. offers both Botox and Jeuveau.
"Without Evolus, Allergan pretty much has free reign in the marketplace," Koepsell said in an August letter to the ITC. "Evolus helps keep them 'honest.'"
The ITC was founded in 1916 to help protect U.S. companies against unfair foreign pricing practices, such as selling below the cost of production. But companies can also ask the trade body to investigate other forms of unfair imports. Most often, the disputes relate to alleged patent, copyright or trademark infringement, though companies can also bring trade secret theft or antitrust claims.
The ITC's process has two advantages over litigating in federal court: its proceedings operate on a tight schedule, the average case takes only 18 months, and there is only one possible remedy — infringing goods are blocked from entering the U.S.
"These exclusion orders are pretty strong," said Shubha Ghosh, a professor of antitrust and intellectual property at the Syracuse University College of Law. "They are essentially confiscating the goods at the border."
If the ITC issues an exclusion order, companies have one potential escape hatch: the president can overrule the trade agency's decision. Since 2005, the president has delegated authority for ITC decisions to the U.S. Trade Representative.
Such vetoes are extremely rare. In 2013, the USTR overturned an ITC order that would have blocked older Apple iPhones and iPads from the U.S. because they infringed on patents owned by Samsung — the first time the ITC had been overruled since 1987.
According to Medytox and Allergan, a scientist by the name of Dr. Byung Kook Lee worked at Medytox from 2004 to 2008 when he left the company to pursue a graduate degree. While at the university, Lee worked in the same lab as an employee of Daewoong. In 2010, Lee began working as a Daewoong consultant advising them on safe handling of botulinum toxin, before moving to the U.S. to study at Indiana's Purdue University.
That same year, Daewoong filed for approval of a new botulinum toxin treatment with Korean drug safety officials based on a new strain of the bacteria the company said it discovered from a soil sample. The treatment received Korean approval in late 2013, and Daewoong entered into a partnership with Evolus to bring the neurotoxin to the U.S.
Suspicious of Daewoong's explanation of the new strain, Medytox sued Daewoong in California and Korean courts for trade secret theft. The California case was dismissed, but the Korean litigation remains ongoing.
In March 2019, Medytox and Allergan also filed a case at the ITC alleging trade secret misappropriation against Daewoong and its U.S. partner Evolus and seeking to block U.S. imports of Jeuveau.
Medytox and Allergan allege that Lee stole its botulinum toxin and information on manufacturing processes when he left the company in 2008 and later sold them to Daewoong. Both Daewoong and Lee deny the allegation.
In his decision, the ITC's administrative law judge found that there wasn't evidence that Lee actually took the strain. Instead, he found genetic evidence showed Daewoong's bacteria strain was "remarkably similar" to Medytox's strain and the similarity "reasonably points only to a finding of misappropriation."
Trade secret experts argue that finding is flawed.
The judge "basically extrapolated a finding of misappropriation based on the finding that the DNA sequence is remarkably similar — not that it's identical, but remarkably similar," said Mitchell Hamline's Sandeen, who isn't involved in the case. "That's not the basis on which to make a finding of misappropriation."
Roger Milgrim, who authored the most widely cited legal treatise on trade secrets, also questioned why the judge found Medytox's botulinum toxin strain to be a trade secret given the strain that has been available since its development in the 1940s.
"You have to have a trade secret to have it misappropriated," said Milgrim, who was lead counsel for GlaxoSmithKline in one of the first pharmaceutical trade secrets cases at the ITC in 2003. "The reason why this case is upside down is because the very thing that Medytox and Allergan claim as a trade secret can't meet trade secret standards by any stretch of the imagination."
Milgrim, who retired from the law firm Paul Hastings, now consults on cases and submitted a statement in the ITC case at the request of Daewoong. Although the company solicited his letter, Milgrim said his statement "reflects my most genuine deepest beliefs that the ALJ was completely mistaken in finding this commonly known, widely circulated bacteria as a trade secret."
Syracuse's Ghosh, who also submitted a statement to the ITC, said the decision invites "monopolists to buy their way into ITC cases in order to prevent their foreign competitors from competing with them."
"The idea behind the exclusion order is to keep infringing goods out, not just keep goods out," said Ghosh, whose program focuses on helping entrepreneurs, start-ups and universities commercialize their innovations. "The ITC needs to look at what the consumer harm" of its decision could be.
In addition to blocking Jeuveau, Aeon Biopharma — a California biopharmaceutical company that has some of the same investors as Evolus but is a separate corporate entity — warned that the ITC order could hamper it from developing the neurotoxin for further medical uses. In September, Aeon obtained FDA approval to begin Phase 2 clinical trials next year to offer a Botox alternative for cervical dystonia.
Allergan, now owned by Abbvie, didn't respond to a request for comment about the case. But in filings with the ITC, the company said an exclusion order won't harm the market since other Botox alternatives exist.
Washington Analysis's Loss was less concerned that a Jeuveau ban would negatively impact consumers. Revance Therapeutics, another California biotech firm, is in the process of seeking FDA approval for its neurotoxin to be used for cervical dystonia. The company has also been working with Mylan to gain FDA approval for a generic version of Botox, known as a biosimilar, and the FDA is expected to issue a decision later this month.
"Competition is not something new to Botox," Loss said.