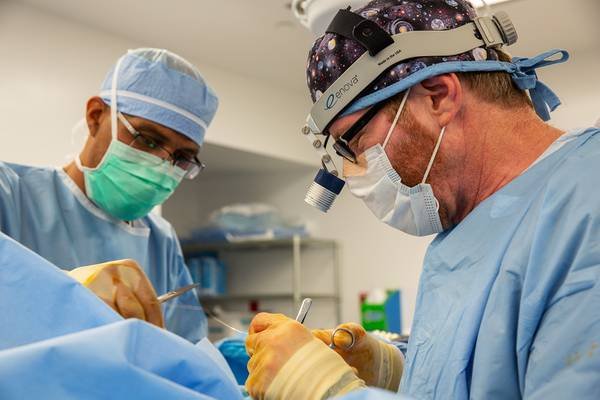 When the economy began to falter early last year because of the coronavirus pandemic, one Las Vegas plastic surgeon braced for the worst.
During the financial crisis a little over a decade ago, business at Lane Smith's plastic surgery clinic dropped by nearly 50%.
Smith, who heads the Smith Plastic Surgery Institute on West Sahara Avenue, said he expected the same this year, but that hasn't been the case.
"I was worried we might have to lay off some staff members," said Smith, whose clinic has about 40 employees. "It's been the exact opposite. There's been boom in plastic surgery."
The institute has had several record months, including November and October, a typically a slow time, Smith said.
Other plastic surgeons in Smith's circle have noticed similar trends, he said.
Andrew Silver, a doctor at Plastic Surgery Vegas, said a likely reason for the steady stream of business in 2020 is that people are looking at themselves more — literally.
With more people working from home, Zoom calls and other video conferencing meetings have skyrocketed in popularity.
"People are mentioning that directly," Silver said. "People are looking at themselves from a camera positioned below them, often with poor lighting. You can see a lot of things you don't like."
Last year, nearly $17 billion was spent on cosmetic procedures in the U.S., according to the American Society of Plastic Surgeons.
Nearly a third of all procedures performed in 2019 occurred west of the Mississippi River. Las Vegas — an entertainment-heavy city where a certain look can be important for employment — is located squarely in the plastic surgery hot zone.
Smith said he doesn't think the Zoom factor is the only reason for the uptick in business. He suspects many people have used government-issued stimulus funds to get some work done.
Many people also have time now to get surgery now, including some Las Vegas entertainers who have been sidelined because of the pandemic.
"I did a bunch of Cirque du Soleil performers recently," Smith said. "They're not performing now, so they have a lot of time to recover. You can't have a breast augmentation and swing from a rope any sooner than six-to-eight weeks."
Smith said breast augmentations are the most popular procedures at his practice, but they still only make up about 25% of his business. Facelifts and nose reshaping are also common.
What he calls a "mommy makeover" — which often includes "tummy tucks" to remove excess midsection fat for women who have gone through childbirth — is also popular.
It's not only face and breast work that's popular, though.
Another procedure gaining in popularity is the Brazilian butt lift, Smith said.
"There's been a quadrupling in demand for those in the past two years," he said. "Every woman wants their bum bigger now. There's been a huge push in that direction."
At the Smith Institute, a breast augmentation typically costs between $5,000 and $8,000. A butt lift also runs several thousand dollars.
The price tag on a mommy makeover starts at more than $20,000.
Smith said he suspects advancements in the safety of plastic surgery procedures in recent years have also likely led to more interest in getting work done.
Ashley Adams, a local schoolteacher, took advantage of her winter break to get a thigh lift and a reverse tummy tuck at the institute.
Adams, 30, had her first plastic surgery procedure in 2017. A big part of the reason was because she had lost weight and wanted to have something done with some of the excess skin, but she also had breast implants.
"It's unreal all the options that are available," Adams said. "There are people who can be judgmental about plastic surgery, especially in a place like Tennessee, which is where I'm originally from. It's absolutely becoming more accepted, though."
Because of the pandemic, people are wearing masks in public, which can be in a patient's favor because there's an easy avenue to hide facial work during recovery periods.
But that can also work the other way, Silver said.
"I've heard people who are upset that they have to wear the face mask," he said. "After they're done healing, people want to show off what they had done when they're out and about."