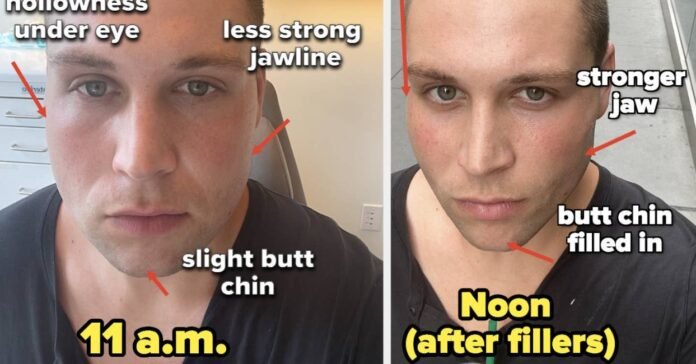 — Make sure you're working with a doctor or injector you trust. They shouldn't push things on you. They should check in with you — since they're literally altering your face. Dr. Dennis Gross didn't push for me to get anything else, and Dr. Dendy would check in on me and my results. I'm not saying all doctors are gonna be this way, but you definitely want someone who doesn't just view you as a number.
— Look at their before and afters — do they do procedures/treatments that you'd want? If someone's an expert on lip fillers, it doesn't necessarily mean they're also the best at jawlines and facial contouring. 
— Be wary of Groupon injections offering "80% off Botox or Filler." It's usually a red flag, where the filler or botox could be expired or about to expire.
— Keep in mind — this took me months to figure out. My timeline wasn't days or weeks, and if you have a certain budget, it may change as you go. 
— If there's one thing I'd do differently, I'd get filler AFTER Kybella, just to save money. Now, because this is for BuzzFeed, I didn't pay, so I had the luxury and privilege of being able to decide after the fillers that I wanted Kybella. In my normal person's opinion, you want to get Kybella first, so that once you get your fillers, you can see them for their full duration without any Kybellification™ swelling.
— In my opinion, these are not totally a substitute or one-time fix for eating healthy and exercising. I like to think of them more as enhancements, rather than total substitutions! In fact, as I was getting these fillers and treatments, I felt more inspired to live a healthier, active lifestyle. Therefore, my results may reflect weight loss as well.
— And lastly, you don't always necessarily want to "look like" you've had work done. One common phrase people in the industry use is that you want people to just be like, "You look good!" rather than "OMG, what did you do?"