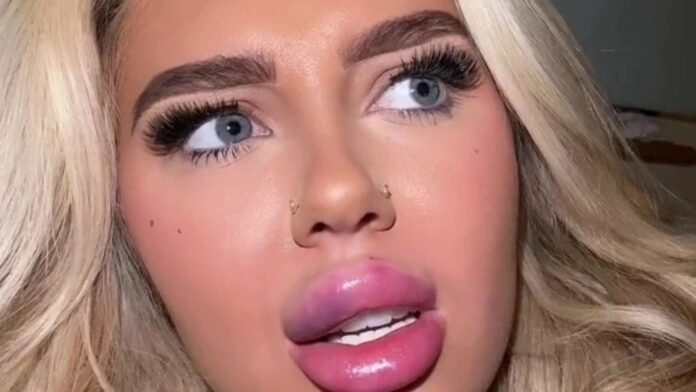 AN INFLUENCER who documented her lip filler dissolving journey has now been trolled for having "hot dog lips" after getting them redone.
Ellie Scales got her first dose of lip filler five years ago after feeling like she had "paper thin" lips.
But the 23-year-old gave fans an insight into getting her lips dissolved earlier this month.
However, the result was not what she wanted and the self-styled "botched queen" said having no lip fillers ruined her self confidence.
She has now had her lips refilled and took to social media to show off her new pout.
Ellie joked: "Hot dog lips make a return."
After one week of letting her dissolved lips settle, she had another millilitre of injected in.
The look raised a few eyebrows as Ellie posed on Tik Tok when replying to a comment asking: "Were you the one with the overfilled hot dog lips?"
Fans noticed that her lips looked much larger than before she had five years worth of filler dissolved.
They also pointed out that her new filler had "already migrated" behind her lips and was "ruining her face".
But Ellie assured this is because she was "fresh off the needle" and experiencing swelling.
One person criticised: "So you dissolved them and have migration already? 
"You need a new injector. 
"This isn't normal. 
"You're ruining your face."
Ellie clapped back: "They're swollen, chill out."
The influencer further clarified: "This is after 1ml and extremely swollen.
"Not the finished look hence bruising and swelling!"
Filler migration occurs when it moves to a different location from where it was intended post-injection.
The issue is particularly prominent in lip filler.
Fortunately, Ellie had people supporting the return of her plump pout to drown out the noise of critics.
One praised: "Your lips look cute to me."
A second agreed: "They're beautiful and I'd love to have them.
"Why are people so dramatic?
"Don't like it then don't look."