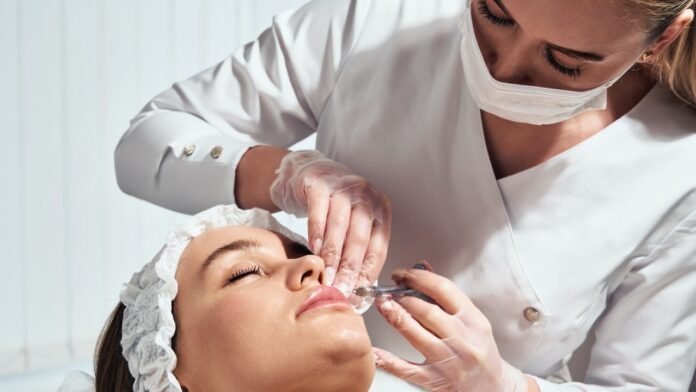 She's asking new patients aiming to get on her calendar to agree to a free Zoom consult beforehand, as she noted that it can take a little while to evaluate a face. "I like to watch people speak and smile so I can see the effects of their different muscles," she says. A video chat will safely allow for this while curtailing iffy in-person interactions when the patient eventually comes for treatment.
In Medford, Oregon, board-certified dermatologist Laurel Geraghty is already back at work. "The demand for dermatology where I live is completely unmet, so after the lull, we have a crush of patients wanting and needing to get in."
In her office, too, the lion's share of immediate cases involve delayed skin-cancer treatments. "We have an obligation to prioritize medical needs before cosmetics, make sure the pandemic curve remains relatively flat without a lot of new case spikes, and ease our way slowly back into aesthetics," she says.
Once Geraghty feels ready to pick up a syringe again, she says the patient is going to have to wear a mask to have injections. "Botox and other neurotoxins will be the first cosmetic treatments to return in my practice," because they take less than five minutes to perform and typically target uncovered expanses like the forehead, crow's feet, and glabella between the eyebrows.
For skilled injectors, she doesn't foresee an eyes-up approach presenting a barrier to getting beautiful results. However, some have questioned this piecemeal method: Could treating the upper face alone while temporarily ignoring the lower two-thirds lend a lopsided look? The physicians we spoke to don't seem to think so. "An artist can unquestionably produce a more beautiful picture when the whole canvas is available," says Lara Devgan, a board-certified plastic surgeon in New York City. "But that doesn't mean there isn't value in addressing the face one area at a time."
Echoing her sentiment, Sunder points out that in everyday practice, "It's very common to stagger treatments and address different areas [at different times] — upper face in one visit; chin and jaw during a separate appointment; midface, cheeks, tear troughs in a third — to achieve a globally unified look in the end."
What's more, experts say, certain issues, like sunken temples, are frequently corrected in isolation anyway and don't necessarily need to be offset by other shots to create a harmonious effect. "I certainly think this is a reasonable approach," says board-certified Bryn Mawr, Pennsylvania, board-certified facial plastic surgeon Jason Bloom — "especially if that's the area that is most concerning to someone," as this is typically where he likes to start building results.
Why a Filler Reboot Raises the Stakes
In many practices, fillers will simply take longer to reenter the rotation. Though it may seem like these gels can be placed with the same ease and efficiency as Botox, they typically take longer to inject, according to Ashley Gordon, a board-certified plastic surgeon in Austin, Texas — particularly in zones that demand meticulous sculpting, like the jawline and chin.