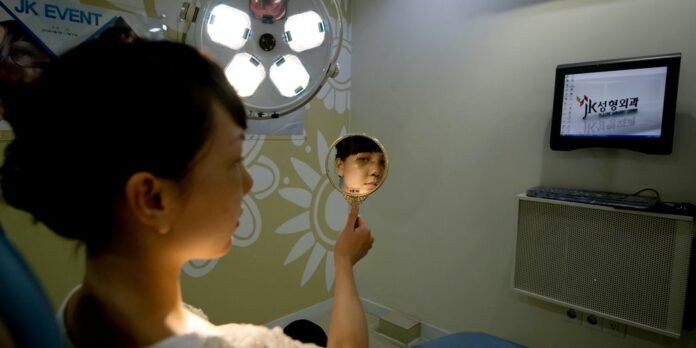 "Doctors are busy doing five to 10 surgeries a day at this time," says Kang Shin-woo, general manager at All About Mei, a Seoul-based platform connecting prospective patients with clinics in Asia's plastic surgery mecca. Lunar New Year, known locally as Seollal, meant February was especially hectic for clinics in the capital, which has avoided imposing a full lockdown since the pandemic broke out.
South Korea's medical aesthetic industry grew 9.2 percent year-on-year in 2020 and is now worth over 10.7 billion, according to Gangnam Unni, the country's largest online cosmetic surgery platform. Gangnam Unni says its user base grew 63 percent to around 2.6 million last year; the number of users that requested counselling sessions doubled from 2019.
In neighbouring Japan, an upswing in demand for procedures coincided with a global shortage of medical supplies. Staff reportedly proceeded with surgery despite not having the usual amount of gauze and disinfectant on hand, pushing the country's Society of Aesthetic Plastic Surgery to release a statement discouraging non-essential cosmetic treatments, Kyodo News reported.
2020 was a good year for plastic surgery in Asia, where the industry's growth was outpacing other regions long before the pandemic, and a memorable year for the sector globally. As authorities introduced social distancing measures to curb the spread of Covid-19, people took up home workouts and interior redecoration with fervour. Others saw being homebound and the emptying of their social calendars as an opportunity for more drastic — and in some cases, permanent — change.
But amid booming demand for everything from non-invasive facial treatments to double eyelid surgery, not all clinics are reaping the rewards. Even after global lockdowns are lifted and international travel resumes, some recent shifts are here to stay. Other trends could be more fleeting.
In Southeast Asia, border closures put cosmetic and medical tourism on hold, driving customers to local clinics. People in countries like Singapore, who traditionally journeyed to Thailand or Malaysia for cheaper treatments, are now paying more at clinics closer to home and may continue to do so once travel bans are lifted.
China saw perhaps the biggest boost: according to a report co-released by local medical aesthetic marketplace and social media platform SoYoung and think tank NBD, the mainland's already burgeoning market for medical cosmetology grew 30 percent year-on-year in 2020 to hit 197 million yuan ($30 billion). The country now makes up 17 percent of the global market and is expected to overtake the US market this year.
Growth across markets is being driven by a range of factors: for one, social distancing and mask-wearing are giving people more time and privacy to recover from treatments at home, which Kang noted often takes two to three weeks. Meanwhile, isolation, heavier social media usage and Zoom meetings have drawn more attention to perceived imperfections, like hyperpigmentation and wrinkles. In China, the topic "appearance anxiety" drew over 100 million responses on Weibo; platforms like Xiaohongshu have become hubs for users keen to read reviews of treatments or share their own experiences.
In China, the topic "appearance anxiety" drew over 100 million responses on Weibo.
In the wake of Covid-19, a renewed focus on skin care has spurred growth on treatments targeting skin health. According to the SoYoung report, skin-related treatments made up 44 percent of last year's transactions in Shanghai; injectables accounted for 29 percent, while eye and nose surgeries represented 3 percent respectively.
One of the beneficiaries of this uptick is PhiSkin, a chain of minimal invasive medical aesthetic clinics with locations in Shanghai, Beijing, Hangzhou and Ningbo. "We used to have a lot of competitors coming from Korea, Taiwan, Japan," says Tony Zhang, co-founder and managing director.
PhiSkin's clientele are wealthy and can afford to travel for treatments. Post-pandemic, this demand has been repatriated to clinics at home and the chain has seen an almost 40 percent boost in 2020, compared to 2019.
But not all businesses reaped the rewards of repatriation. The SoYoung report estimates that the value of China's medical aesthetic industry declined from around 189 billion yuan ($29 billion) to 152 billion yuan ($23 billion) as a result of the pandemic. But the pandemic has highlighted major opportunities in the field, from digital consultations to AR filters simulating post-surgery results; surviving players may be primed for a bigger windfall. The growth of confidence in local clinics will likely lead to an uptick in investor interest, Zhang predicts.
The government has also played a role in boosting China's market for cosmetic procedures. Its Ministry for Education has made several proposals to develop the field, from establishing aesthetic medicine as a discipline under medicine as well as introducing it as an undergraduate degree.
Bigger players are already gaining ground. Sichuan-based garment maker Lancy Co, for one, ventured into medical aesthetics in recent years to great success and has seen its stock prices soar as a result. Bloomage BioTechnology Limited, which develops hyaluronic acid products, has also profited. Last year, Inmode Ltd., the Israel-headquartered manufacturer of minimally invasive aesthetic medical products, received regulatory approval to expand its business in markets including China and Korea.
A resumption in international travel will likely reshore some demand back to markets like Korea — Zhang anticipates that governments and clinics are priming promotions for when borders are lifted. "Many people [still] believe that Korean or Japanese doctors have better aesthetic sense than the local doctors," he says. "[A] larger portion of these patients would be more willing to travel."
Even so, clinics specialising in minimally invasive procedures are relatively insulated from such a shift. Unlike one-time surgical operations, clients often have to repeat less invasive procedures once or even twice a month. Customers that have gotten used to the convenience of regular treatments at local clinics are likelier to become long-term patrons, Zhang adds — this could be mirrored in other markets benefiting from repatriation, like Singapore.
Moreover, pricing is key. For one, the consensus is that excluding other travel costs, Korean clinics are pricier than procedures done in the mainland, according to 51AiMei, a Chinese medical aesthetic news and consultation platform. Meanwhile, an article on Yuemei, a similar site, claims that services in Japan are more expensive than those in Korea.
If reshoring sticks, the shift could temper the "revenge spending" that clinics in South Korea, Japan and Taiwan are hoping for when flights resume, for which China's domestic travel rebound serves as an optimistic bellwether.
But not all businesses are being hard hit by travel bans. In Korea, bigger travel operations typically rely on medical tourism for over 50 percent and often up to 70 percent of their business, says Kang. Meanwhile, smaller clinics, of which there are over 1,600, depended on foreigners for less than 5 percent of their sales, insulating them from shifts in medical tourism. It remains uncertain how travel will recover and the extent to which the sector will benefit.
To be sure, American tourists, rather than Chinese visitors, make up the bulk of All About Mei's foreign users (70 percent of these customers are Asian Americans, Kang noted.) While US visitors can still obtain visas for medical tourism, quarantine requirements predictably had a diminishing effect. However, increased interest among foreign expats has helped offset losses suffered from travel restrictions, says Kang.
Unlike these Korean businesses, clinics in China can thrive purely on local demand due to the sheer size of the market, Zhang noted. But the pandemic has given Chinese businesses an opportunity to upgrade their services; he anticipates that the industry's post-pandemic enhancement will prime it to become a global destination in its own right. "In five to 10 years max, we can be as competitive."
But China isn't the only market undergoing a revamp during the pandemic. Even Korea's medical aesthetic industry, with its cutting-edge technologies and association to K-pop's cultural appeal, could emerge from Covid-19 stronger. According to Kang, illegal brokers accounted for more than 80 percent of the country's medical tourism market, but the bulk of these operations have ceased in the wake of border closures.
Due in part to extra fees charged by brokers and agencies, dramatic price discrepancies have always been an issue for tourists. Kang hopes that when travel restrictions are lifted, more clinics will work with digital platforms rather than illegal brokers and bring some much-needed transparency to the sector.
"We believe that this will be the starting point to bring the Korean market to the next level," says Kang.
Related Articles:
Inside China's $25 Billion Plastic Surgery Market
Can China Save Travel Retail in 2020?
Where Plastic is Fantastic: The World's Cosmetic Surgery Capitals