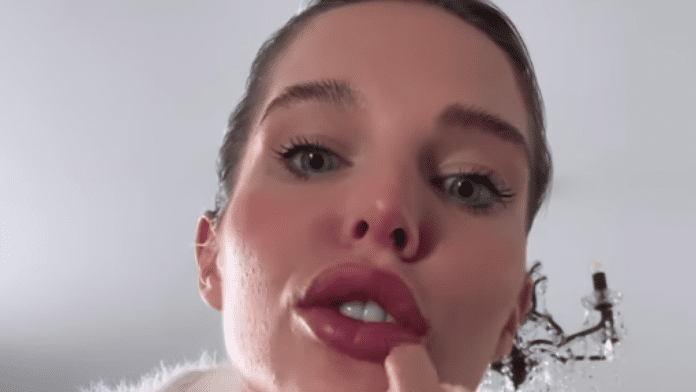 HELEN Flanagan has shown off her new pout after getting lip filler.
The former Coronation Street star, 32, shared an Instagram story today in which she applied red lipstick.
While doing so, she explained why she felt the need to get the treatment.
Helen said: "I've actually got really big lips but I've had filler in my top lip. My bottom lip is naturally really full, my top lip was noticeably much smaller so I've had some filler in it.
"When it comes to aesthetics, Botox, obviously I don't think you should be doing anything when you're too young, but I'm 32, so obviously I have Botox and that's my choice, and I support women in whatever decisions they choose to make."
Over the weekend Helen showed off her new boobs after going under the knife.
The mum-of-three posed in her bathroom as she wore a black bra with matching undies.
The actress had one leg in her bathtub while she promoted a shaving cream company.
Helen told how the op, at Manchester's Pall Mall clinic, was in a bid to feel "more confident" after going from an E-Cup to a B-Cup, and claiming her boobs were "saggy."
Helen, who split with her footballer husband Scott Sinclair last year, spoke openly about her struggle to pick up her youngest son Charlie, one, after the surgery.
Last week, the Rosie Webster actress said: "Just went just to do the food shop. Been feeling good this morning, and them I'm not used to obviously walking around, and then they started to feel painful.
"I've just come home now and trying to have a chill and catching up on emails."
We pay for your stories!
Do you have a story for The Sun Showbiz team?