In January, Charles Gregg, CEO of Pinehurst Surgical Clinic, reached out to the Tufts family with a request. The clinic wanted to honor the family name in its upcoming, cutting-edge Health Performance Institute.
James Walker Tufts built a legacy in Moore County that started with his belief that no other place was better for "the outlook of health and wellness," according to Rick Tufts in a letter approving PSC's request.
With the same visionary tenets, real estate ambition and dedication to health, Pinehurst Surgical intends to honor the legacy of the Tufts family and create a legacy of its own with plans for its Morganton Park Medical Campus.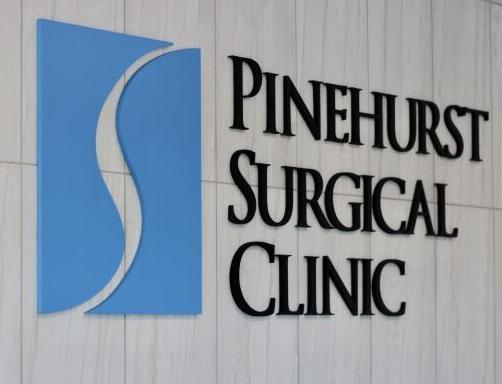 With locations stretching from Asheboro to Sanford to Laurinburg, Pinehurst Surgical saw 87,200 individual patients in 2021. That translated into 317,558 visits, up 10 percent from the prior year. With the addition of its just-opened Morganton Road building in Southern Pines — and another approved next door but yet to break ground — those numbers are almost certain to rise this year.
The newest Pinehurst Surgical building is accepting patients in ophthalmology, plastic surgery, audiology, and its metabolism and weight management center.
The Morganton Road site is becoming something of a medical campus for Southern Pines. Pinehurst Medical Clinic is set to open a similar-sized structure across the driveway from Pinehurst Surgical, and Sandhills Pediatrics also has plans to build a new southern Moore facility on the site.
PSC hopes to continue its footprint of "exciting opportunities to prioritize health and wellness," Gregg said.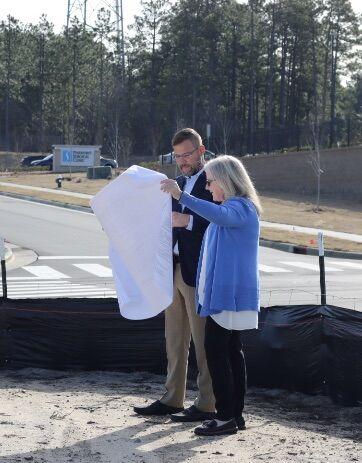 While Pinehurst Medical owns its land and building on the same campus, PSC owns the remainder of the property and has big plans. Leslie Laws, chief operating officer for the practice, has been with the clinic for three years and knows this piece of property "very, very well."
"Realistically, we are looking at breaking ground on 3N in three months and opening 12 to 14 months from then," she said.
One of Laws' favorite parts of the practice's vision is the notion that "we are driving change in healthcare for everyone. From the cradle to lawn bowling, we can offer you the best care." 
Right now, what's driving much of Pinehurst Surgical's vision is an innovative concept called the Human Performance Institute.
Consider it a comprehensive approach to medicine. This one­ stop-shop will offer prevention, evaluation, management and rehabilitation for athletic health, with an emphasis on sports medicine and golf fitness. Encompassing the entire first level of 3N, a dramatic open­-concept atrium will house comprehensive, non-surgical options for the professional and leisure athlete.
While all sports and exercise health will be included, golf fitness will be emphasized, including motion learning technology, golf simulators and force plates to see virtually all biomechanics.
What will differentiate the Health Performance Institute is that the sports medicine and functional medicine providers onsite can diagnose and order imaging studies. These tests can rule out congenital defects and other injuries that may limit the performance of the patient. 
Dr. Toni Washington is thrilled to add functional medicine to her long list of services and will be moving to the new location from her current Pinehurst location.
This unique clinical model addresses chronic disease and promotes well-being and longevity through doctor-patient alliances. Washington believes that "modifiable lifestyle factors like nutrition, exercise and movement, sleep and relaxation, stress management and improved connection are the keys to optimal wellness." 
Planned for inclusion in the Performance Institute will be something Gregg, for now, is calling "the brain room." After tours and meetings at some of the world's leading human performance institutions, Gregg wants the clinic's brain room to join the list. The training and equipment within the room will enhance attention, coordination, reflex, composure, recovery and peak performance. The idea is that all this therapy could be of use not just to athletes but also students struggling with ADHD, professionals suffering from burnout and patients suffering from Parkinson's, PTSD and traumatic brain injuries.
The physical therapy division of Pinehurst Surgical is also planning a move to the Performance Institute. As part of preparation for the move, more than half of Pinehurst Surgical's physical therapists have been certified through the Titleist Performance Institute. 
Overall, the building will cost about $12 million, with about a third of that going to the Institute.
But the new building will include more than just the Institute. The clinic is partnering in the project with Cary Skin Center, and some space will be available for lease. According to Gregg, this "blank slate is open to oral surgeons, dentists, chiropractors, or any healthcare service that complements the community needs for such services."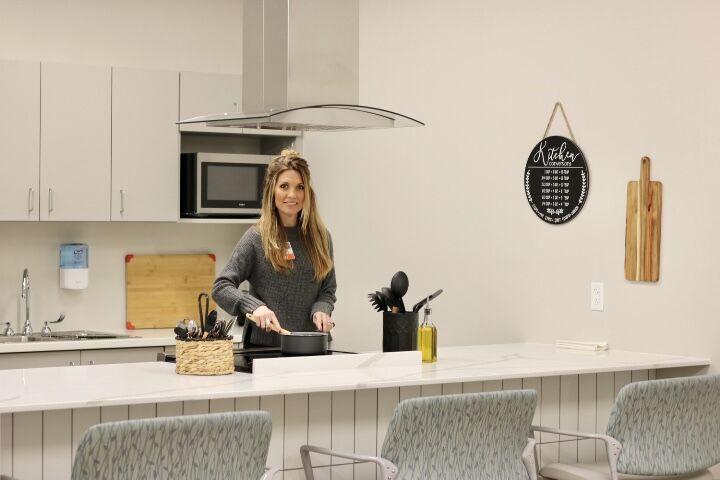 Up the hill at the newly opened 2N building, Pinehurst Surgical is housing a venture with First Health, the Metabolism and Weight Management Center.  It includes a state-of-the-art kitchen situated among dieticians, nutritionists, and bariatric specialists, 
"This incredible space is even better than this vision I had been carrying around for ten years," said Program Manager and Certified Bariatric Nurse Christi Embler. The office, she said, is "ready to help our community find healthy solutions to nutrition and weight concerns." 
Other features on the first level include new space for plastic and facial plastic surgery and an audiology center. On the second floor is a massive ophthalmology center that will add capabilities for pediatric surgical ophthalmology. That specialty, Gregg said, "is something we have wanted for quite some time."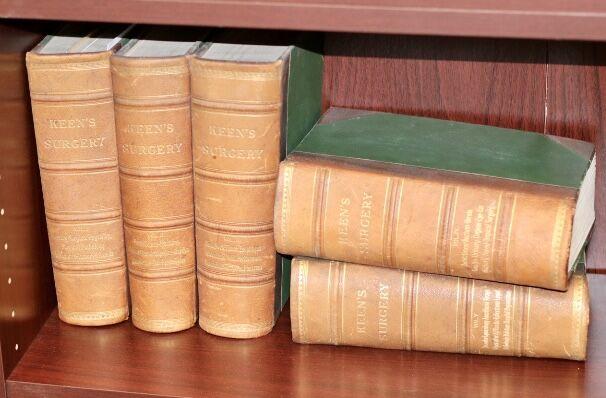 Gregg knows the lineage of Moore County healthcare goes beyond the Tufts  family. He points to one of the most treasured items in his office, copper-colored 1909 medical books he rescued from a donation pile. With the Mayo brothers listed as contributors, the large volumes belonged to Dr. Clement R. Monroe, the first doctor to practice in Moore County. Monroe was the medical pioneer behind Pinehurst Surgical Clinic and what was then Moore County Hospital.
"Aren't they amazing? I don't think anyone realized what they were," Gregg said of the books. "Monroe is one of my heroes. He was so dedicated to serving this community and bringing the best healthcare to Moore County. I look at those books and know that he would be proud of what Pinehurst Surgical is today."