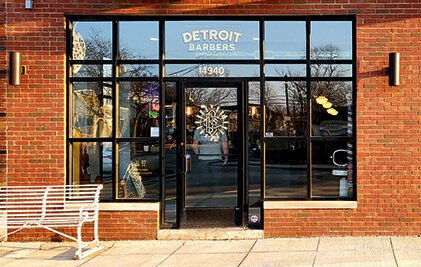 THE GROSSE POINTES — With voting closing Tuesday, March 15, six service-related Grosse Pointe businesses are nominated as finalists in HOUR Detroit Magazine's Best of Detroit 2022 contest. Vote at hourdetroit.com/best-of-detroit-2022-online-ballot to show metro Detroit who some of the best services are in Grosse Pointe.
Daniela Rodriguez Plastic Surgery
Born and raised in metro Detroit, Dr. Daniela Rodriguez practices plastic and reconstructive surgery on patients in the Grosse Pointes. She serves patients by "enhancing the natural you," as can be seen on her website, drdrodriguez.com.
Rodriguez is a finalist in the best cosmetic surgeon category. She competes against Anthony Youn, Charles Boyd, Giancarlo Zuliani and Neal Sakwa.
Detroit Barber Co.
Detroit Barber Co., with a location in the heart of Detroit and a second at the border of the Park on Kercheval, is nominated this year for best hot shave. Previous years have shown Detroit Barber Co. as the top barbershop in the area.
Detroit Barber's hot shaves follow an old, classic tradition of quality technique.
"We take the shave back to the way it was done back in the day," owner Chad Buchanan said. "We do an old-school hot shave. We utilize the techniques that a barber would've done back in the 1920s: Hot lather, hot shave oil (and) we use a straight razor, not a thick razor or any sort of new-style razor.
"We prepare the skin to where the shaving has the best opportunity for no cuts, nicks or anything like that," he added. "(We use) tons of hot towels, hot steam and then we finish it off with a cold towel to close the pores back up."
They end the shave with a nicely scented aftershave to finish the old-school barbershop feel.
Detroit Barber Co. competes against 6 Salon, Hair Bandit, Lefty's Barbershop and Union Barber for the best hot shave crown.
Grosse Pointe News
Serving the Grosse Pointes since 1940 — more than 80 years — Grosse Pointe News is a finalist in the running to be crowned best local newspaper in the metro Detroit area.
Grosse Pointe News stands out, said owner Sean Cotton, because of its staff and the Grosse Pointe community.
"The amazing community writes the paper for us," he said. "We are just there to record and make sure everyone knows how wonderful it is to choose to live here."
Added Cotton, the paper's local focus allows staff to be immersed in the community, bringing readers the latest scoop on all things Grosse Pointe.
Also nominated in the category are Detroit Free Press, The Detroit News, The Jewish News, Macomb Daily, Michigan Chronicle and The Spinal Column.
Thyme & Honey
Thyme & Honey, a gourmet food company based out of St. Clair Shores, is nominated to be named best caterer in the area, with competition Chive Kitchen, Forte Belanger, Skosh Catering and Vince & Joe's Gourmet Market.
Thyme & Honey owner and chef Cat Shapiro said of her company it never fails to please: "Once our food hits your plate you'll be back to the grazing table for seconds."
Shapiro outlined the mission of the company is to provide a "delicious, colorful, wholesome and gourmet experience" always, regardless of budget.
"We work extensively with our customers to help bring their culinary vision to life and work our magic around their space," Shapiro said via email. "Our catering experience offers complexity and depth, which allows something as simple as our fried chicken sandwiches or sliders to stand out on their own.
"… We see food through rainbow-colored glasses," she added, "often receiving compliments that it's almost 'too beautiful to eat.'"
Full Lotus Yoga
Full Lotus Yoga, nominated for best yoga studio, stands out due to its commitment to the community, owner Liz DeFour said.
"We've done a lot of different projects and a lot of collaborations with other businesses to support each other, especially through the pandemic," she said. "We did work with the Detroit Abloom garden on the east side. We also raised money to give free yoga classes to healthcare workers during the pandemic. We have free community yoga classes every Sunday where we pick a different local nonprofit and students are able to pay whatever they can afford to attend classes and then we give the money to the nonprofits.
"We try to give back as a studio," DeFour added. "I think that's a really important aspect of being a yoga studio, is supporting the community."
Also nominated for best yoga studio are Body Language Fitness and Yoga Center, Citizen Yoga, Community Yoga Studio, Detroit Yoga Lab, Thrive Hot Yoga and Yoga Shelter.
Yoga Shelter
Also in the running for best yoga studio is Yoga Shelter, with locations across metro Detroit, including one in The Village.
Yoga Shelter believes in yoga as a daily practice, "doing good, building community and sharing yoga," "breaking the mold and showing up as yourself" and "the transformative power of showing up and doing our best each and every day," according to the business's website.